Referring to Hue, we think of many ancient architectural works and natural scenes with poetic and charming features in the relaxed and quiet space of the old capital. Let's immediately visit a series of 17 beautiful attractions you may not know in Hue and hit the road!
17 attractive tourist attractions in Hue about the land of the old capital
Hue Citadel
Address: Phu Hau, Hue City, Thua Thien Hue
Located right on the banks of the romantic Perfume River, Hue Citadel is a complex of cultural relics recognized as world cultural relics. The complex of Hue Citadel includes the Imperial Citadel and the Forbidden City, surrounded by the Citadel area.

Visiting the complex of Hue Citadel relics, Hue tourist attractions, you will admire the magnificent palaces, monuments, and temples bearing the bold architecture of the Nguyen Dynasty. Not only do you have the opportunity to learn more about history, but you are also spoiled for photography in this unique architectural space.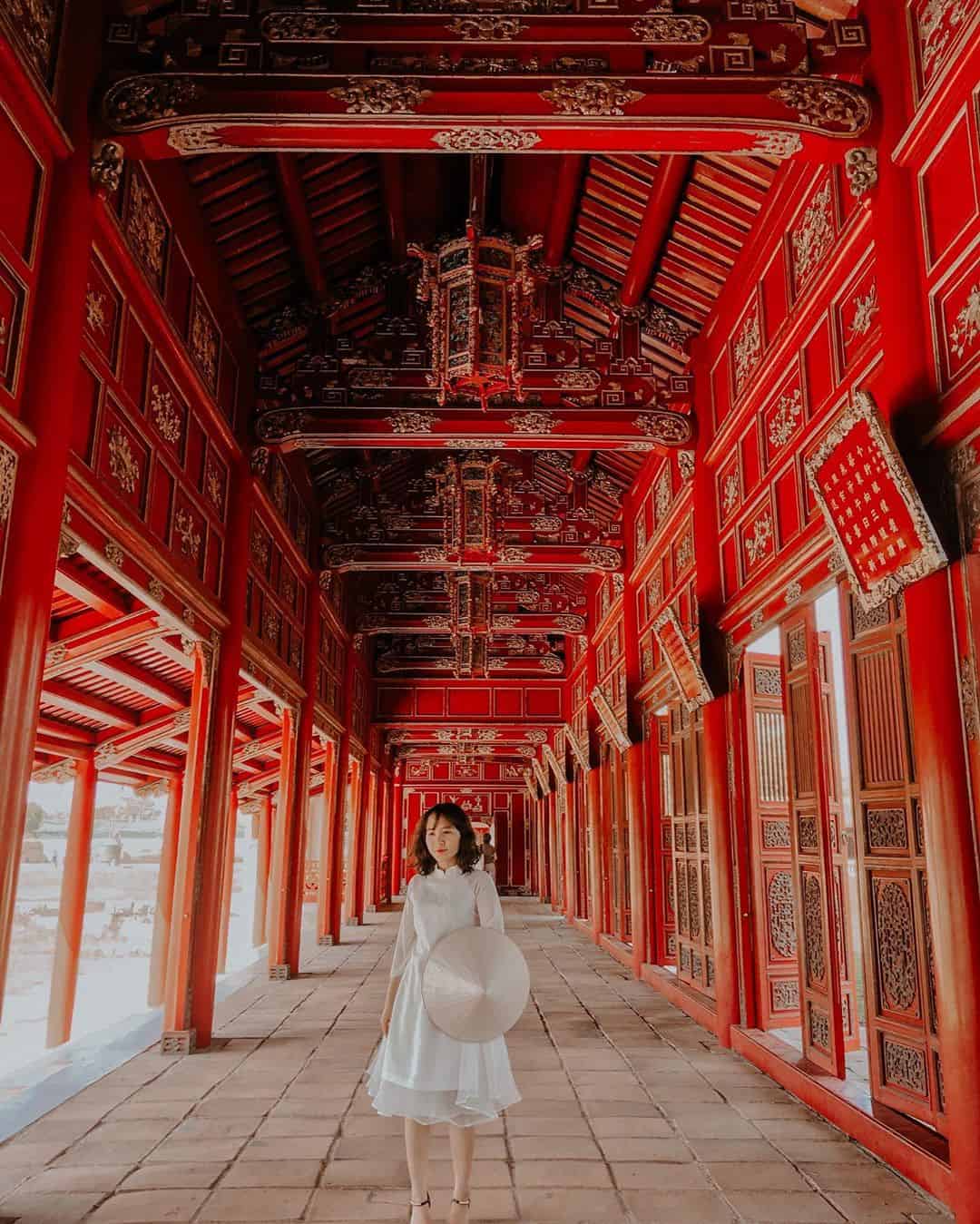 The ancient architecture made from ironwood is still intact and has never been lost by time. Photo: @ngocmaii25
Read more:
More specifically, recently, Hue Citadel has officially opened to welcome visitors at night from 19 to 22, and this is an opportunity for you to "own" beautiful photos with brilliant, shimmering buildings' light spirit.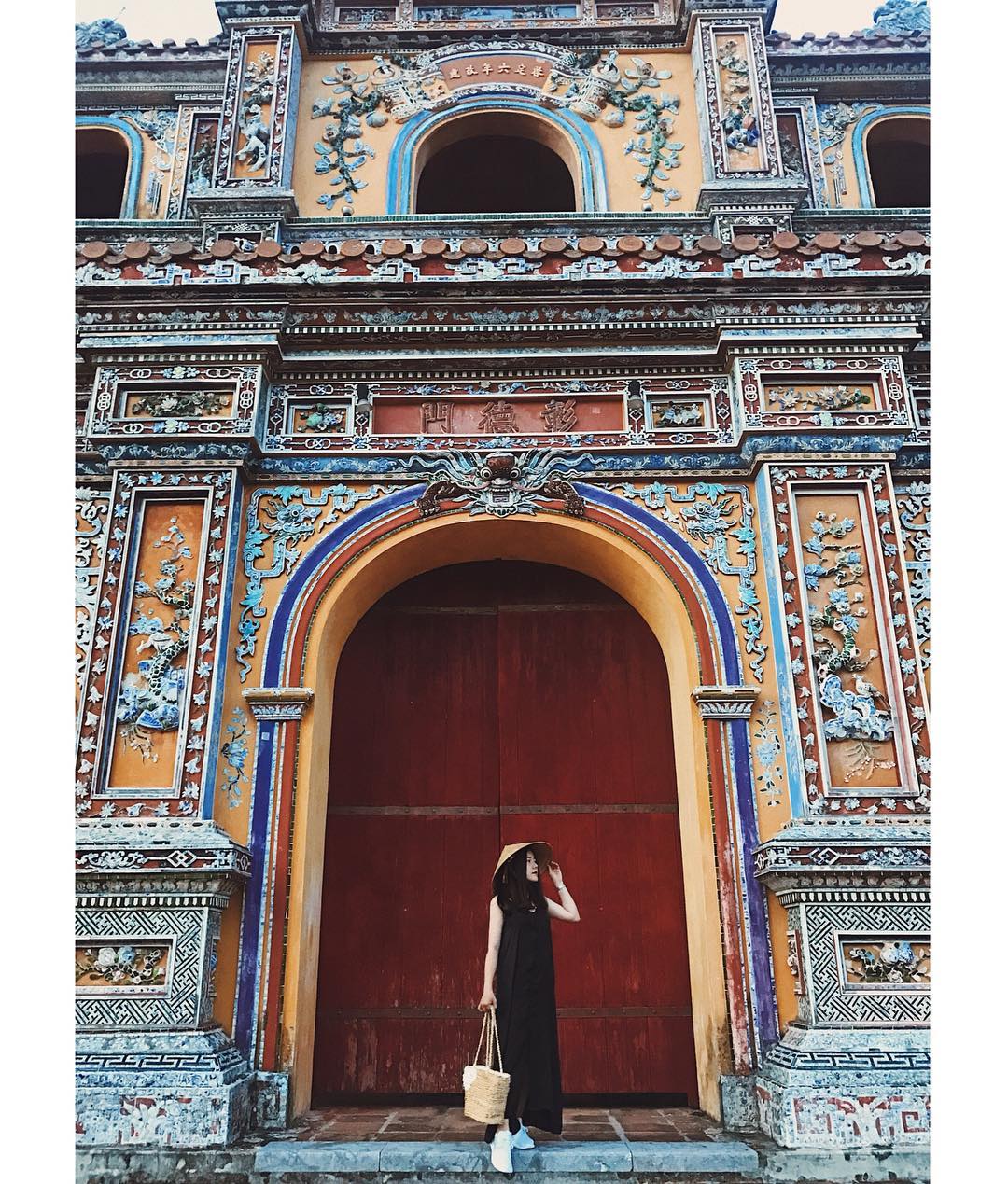 Hue Imperial Citadel is majestic and noble. Photo: @letrang248
You can immediately book hotels near the Citadel area for your travel convenience.
Hue mausoleums
During the Nguyen Dynasty, there were 13 kings, but only seven mausoleums were built. The king chose each mausoleum area for the location and architecture, so each mausoleum has its architectural features with sophisticated and unique carvings. The most unique must mention the Tomb of Tu Duc, Tomb of Minh Mang, and Tomb of Khai Dinh.
Tomb of Tu Duc
Tu Duc Tomb (also known as Khiem Lang) is probably the most beautiful mausoleum of the Nguyen kings because of the harmony between the natural scenery and immense architectural space. Surrounded by lush green trees and near a large lake, Tu Duc Tomb appears with ancient features and sophisticated architecture immersed in poetic nature and strangely peaceful space.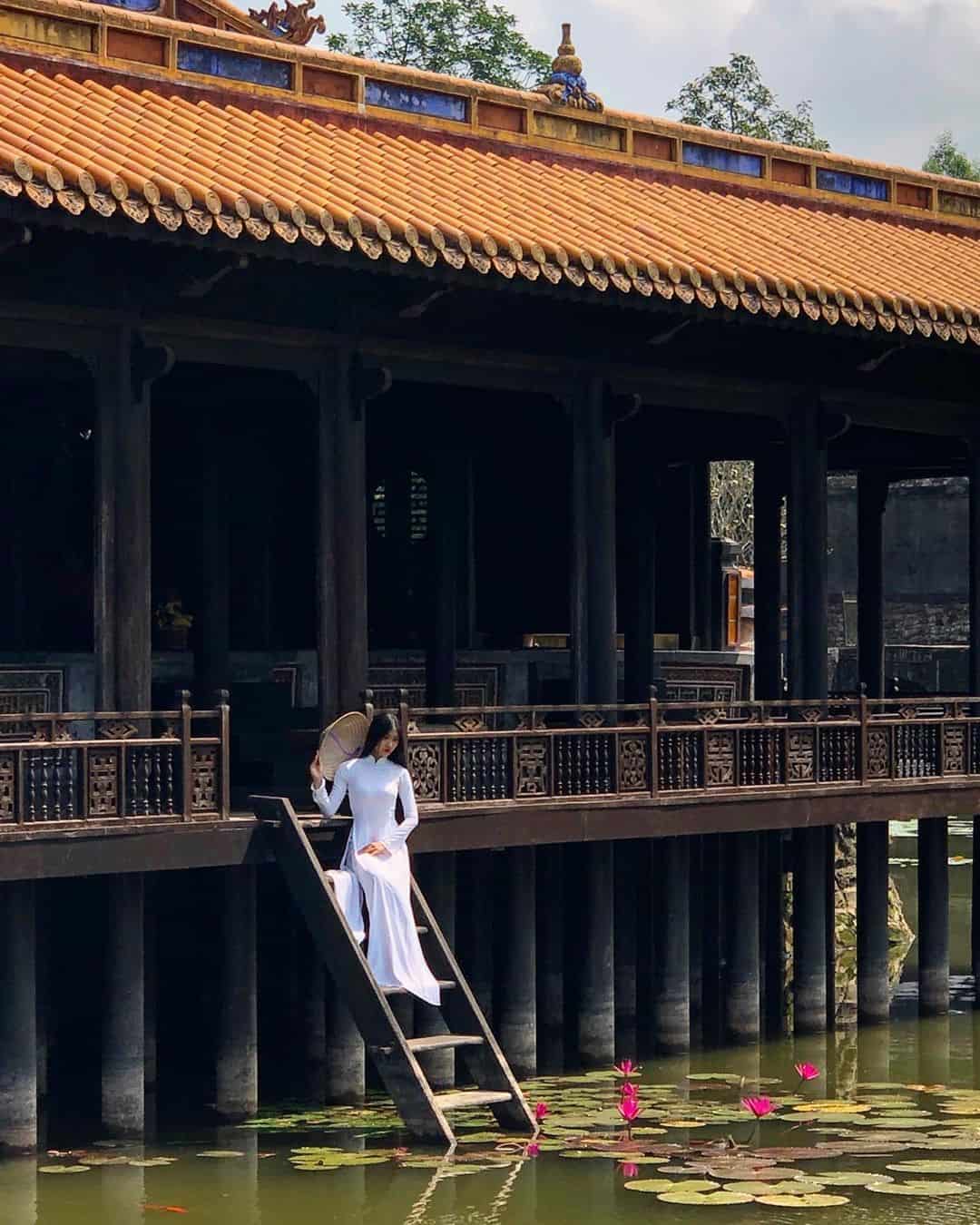 Tu Duc Tomb is peaceful and poetic. Photo: @cuadernosdeviajebea2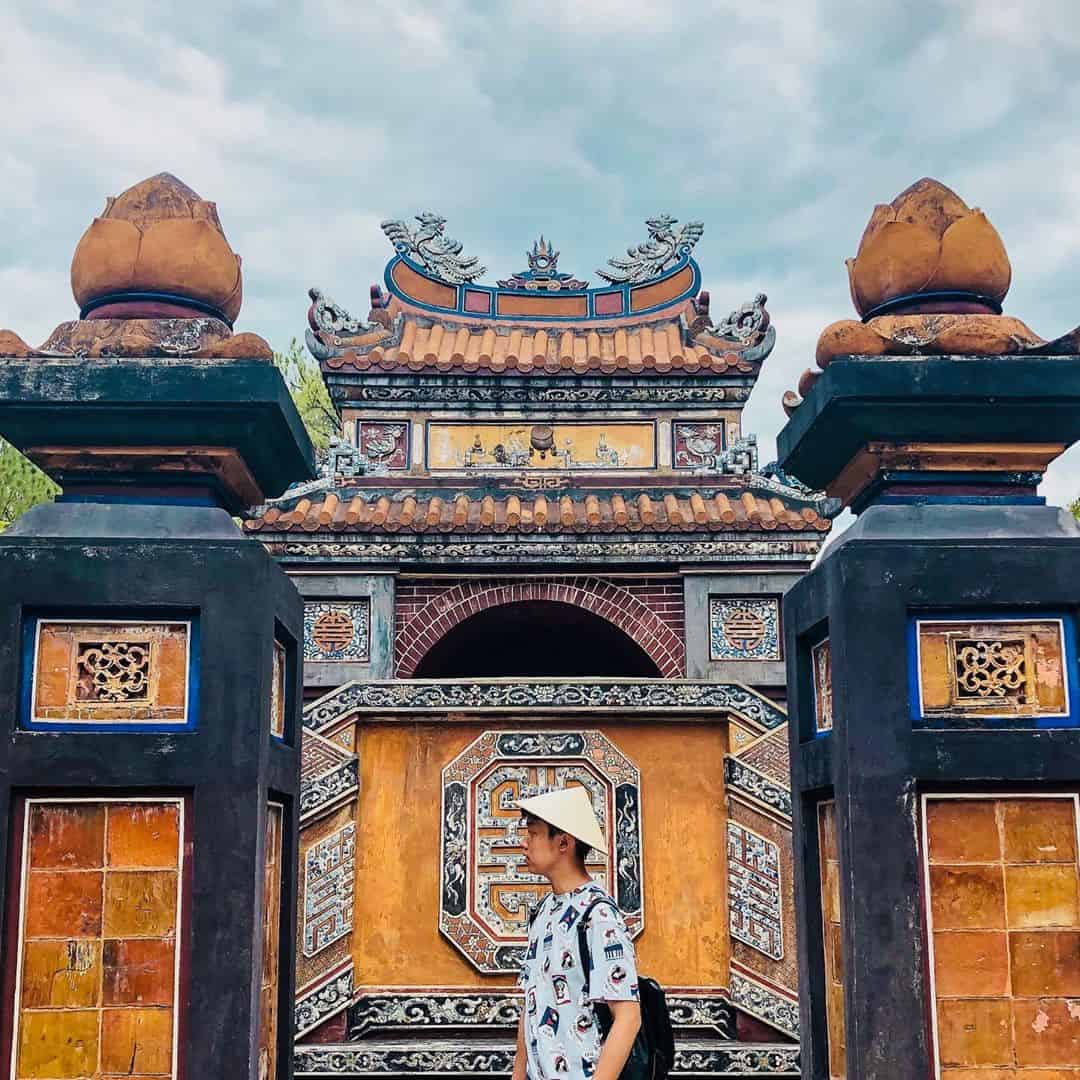 Impressive unique ancient architecture at Tu Duc Tomb. Photo: @travel_buddy206
Minh Mang tomb
Minh Mang Tomb is a mausoleum that visitors can hardly ignore with static lines in the architecture harmoniously combined with the space of painting and poetry and the natural scenery of flowers and leaves full of lyricism. It shows the majestic, authoritarian, but equally romantic personality of the king.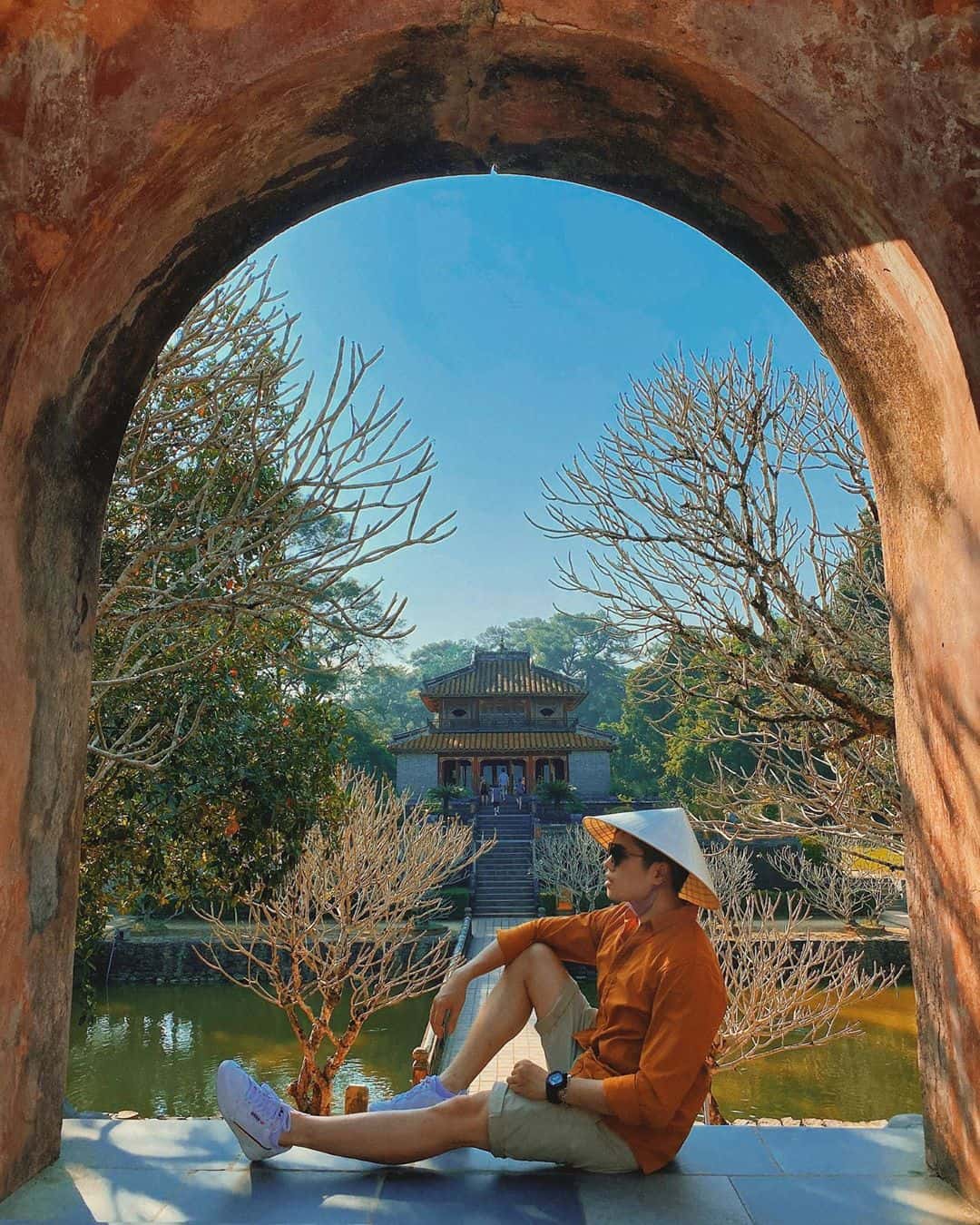 Tomb of Minh Mang in an autumn afternoon. Photo: @duong_tuan
Khai Dinh mausoleum
Built on Chau Chu mountain, Khai Dinh Tomb is the 12th emperor of the Nguyen Dynasty. Although smaller in size than the mausoleum of previous kings, Khai Dinh's tomb was built in a highly elaborate and sophisticated way for up to 10 years.
Khai Dinh Tomb is the only mausoleum work with the architecture of interference between East and West cultures. That is reflected in the splendid bas-reliefs meticulously assembled with ceramics and glass, tea trays, crowns, and modern decorative items at that time, such as tennis rackets, oil lamps, etc.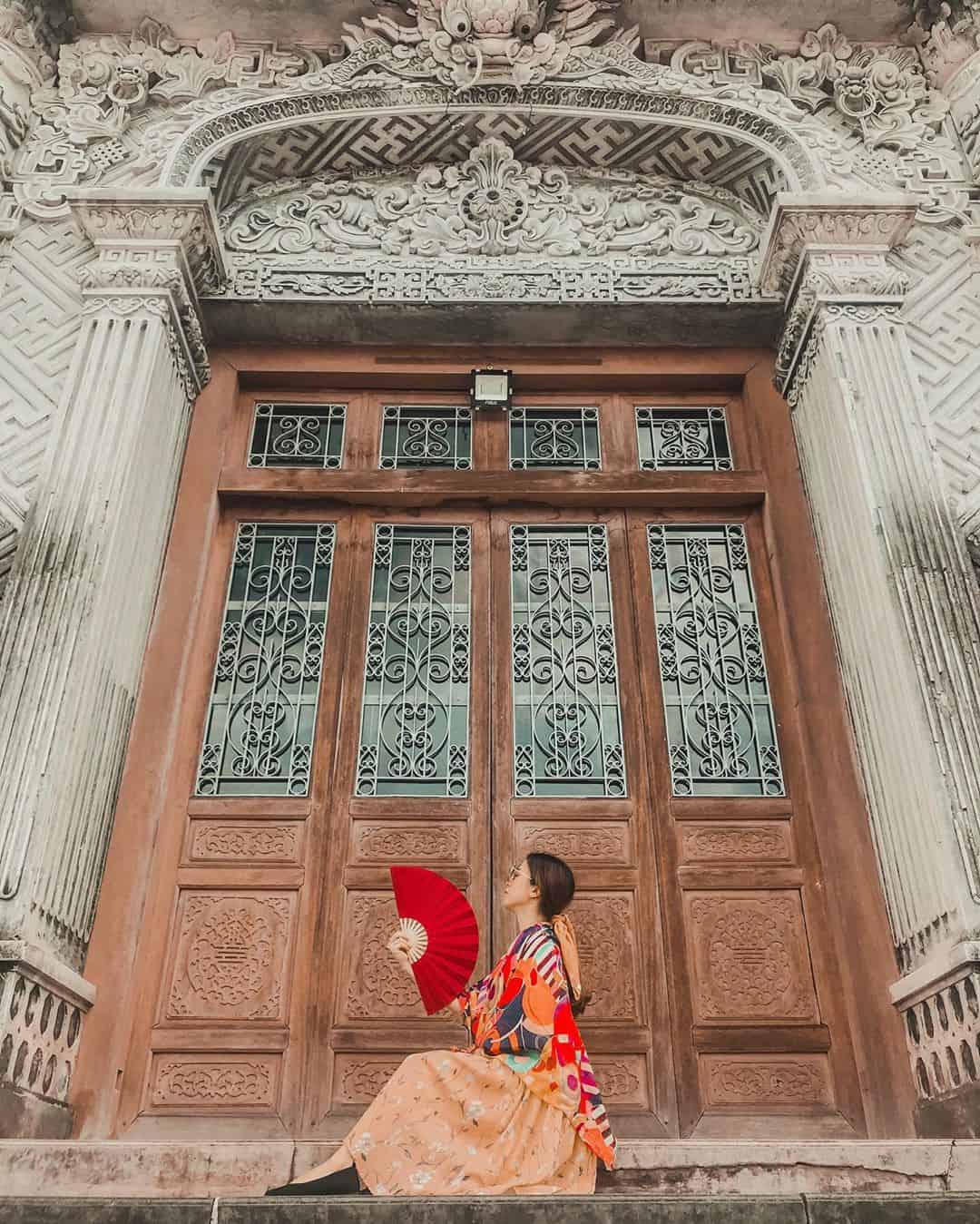 Khai Dinh mausoleum. Photo: @tiembanhmia
Thien Mu Pagoda
Located on Ha Khe hill, on the left bank of the Perfume River, Thien Mu Pagoda appears amid a poetic natural space and is the inspiration for many works of poetry and music.
From afar, Phuoc Duyen tower stands tall as a symbol that anyone will remember when coming to this ancient capital city. Coming to Thien Mu Pagoda, listening to the pagoda's echoes in your ears and the poetic natural scenery, you will find your heart lighter and more relaxed in front of the chaos of life.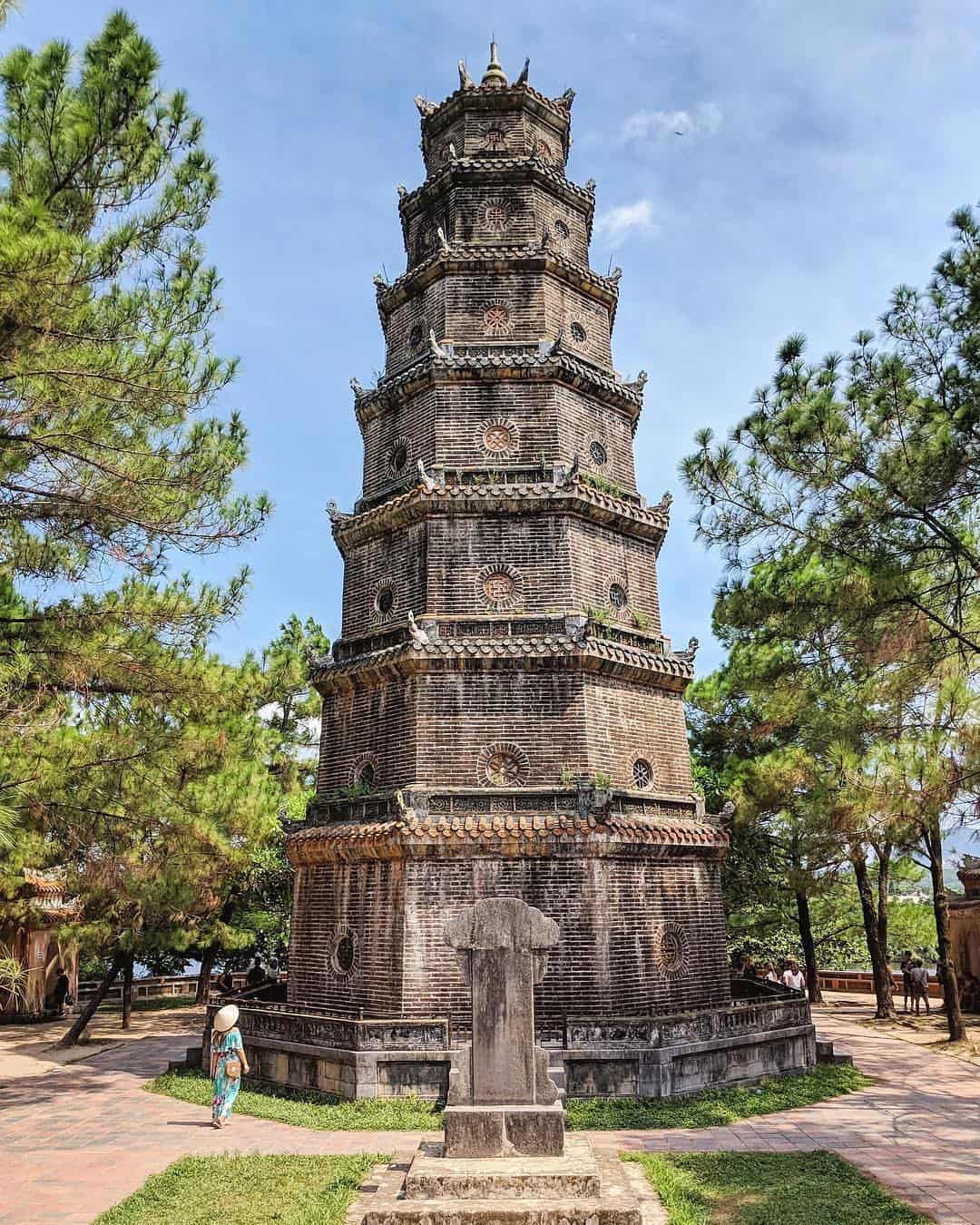 It is often said that if you love each other and go to Thien Mu pagoda together, you will break up. Photo: @letgovietnam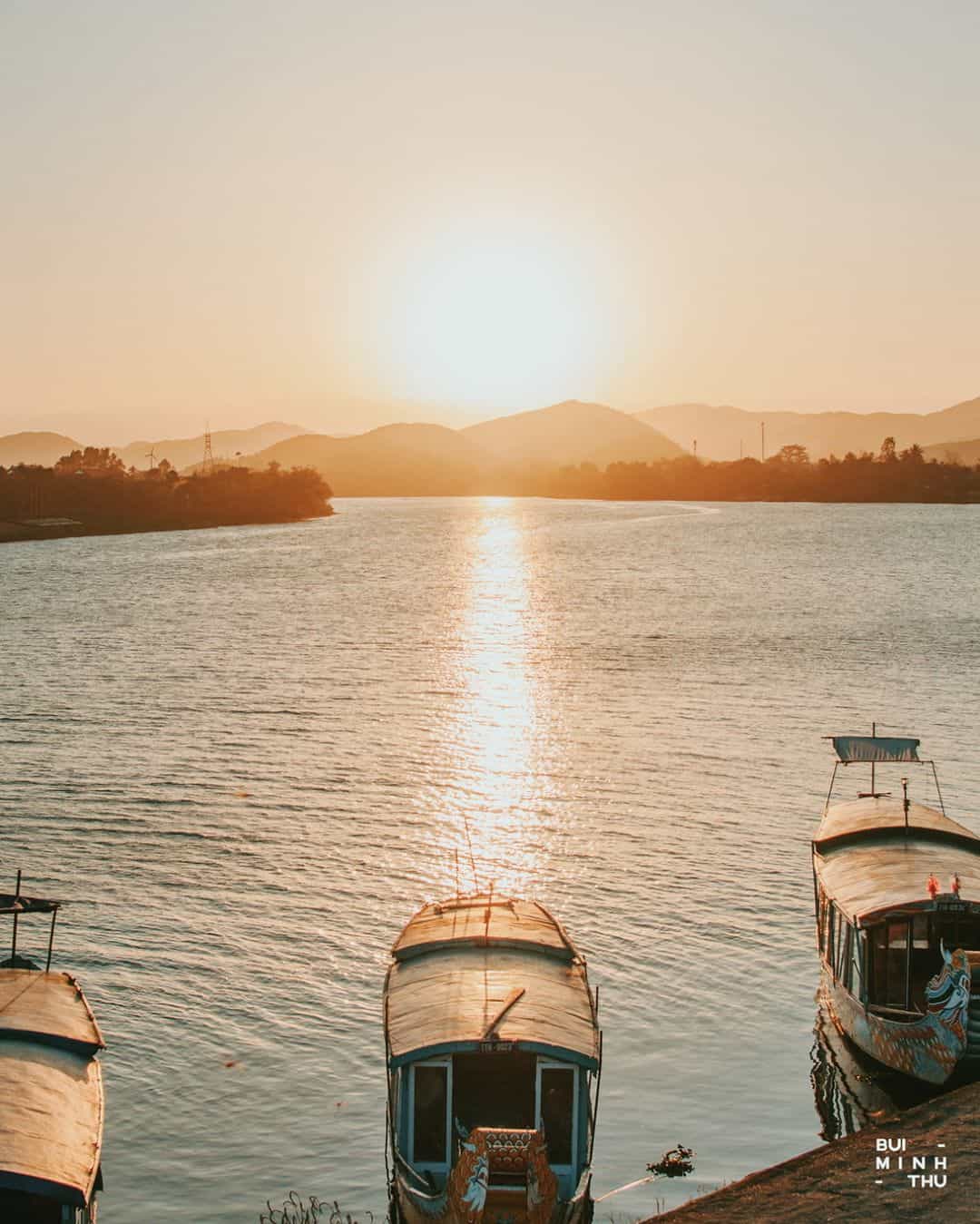 Sunset by the river Thien Mu pagoda. Photo: @meoluoicuon
Read more:
Huong river
As a symbol and the pride of the Hue people, the Perfume River is as gentle as a long, soft silk strip in the middle of the dreamy land of the old capital. Perfume River is emerald green, clear as a reflection of the poetic city scene under the calm water and sparkling in the sunlight. While on a cruise to admire the peaceful Huong Giang and listen to traditional Hue folk songs, many artists have found abundant inspiration to compose immortal poems.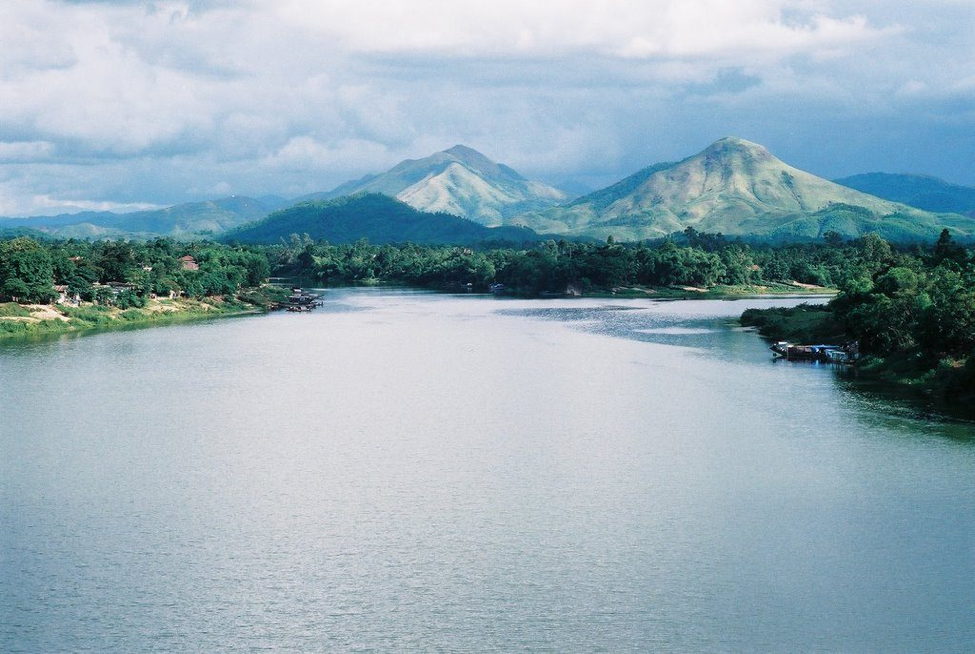 Perfume River flows, boats drift.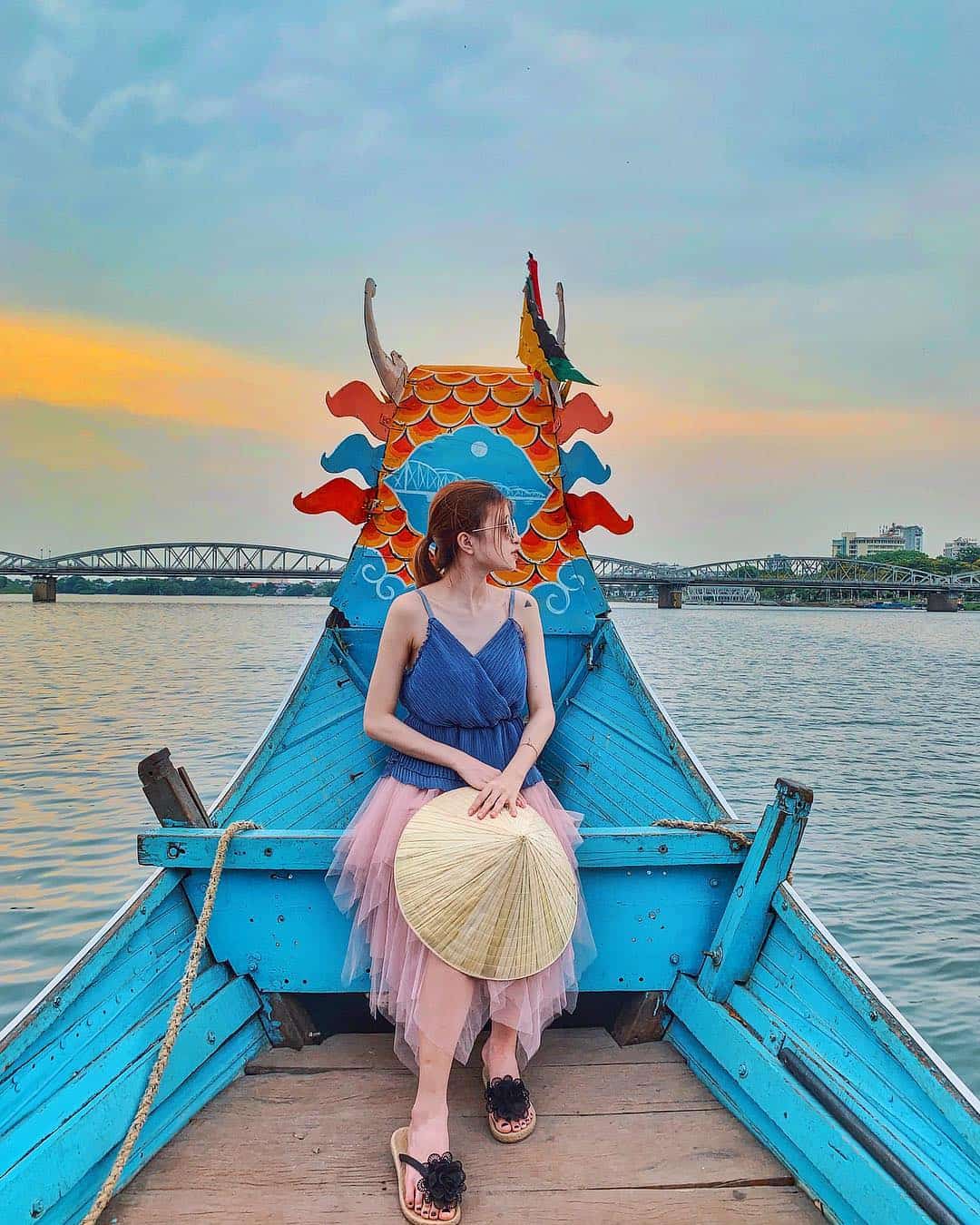 Enjoy the view of the Perfume River on the boat. Photo: @thaoquyetlinh
You can choose the hotels along the Perfume River to enjoy the trip thoroughly.
Vong Canh Hill
If you are looking for a place to admire the panoramic view of the city from above, go to Vong Canh Hill. From the top viewpoint of Vong Canh Lau, you will see the landscape of the poetic Perfume River and ancient tombs and temples. Should you zoom your view a bit, far looking out into the distance are the majestic mountains. If you have the opportunity, visit Vong Canh Hill at dawn or sunset, you will see a whole corner of Hue's sky glowing in the shimmering sunlight.

Ngu Binh Mountain
In addition to the poetic Perfume River, Ngu Binh Mountain is also a natural symbol and pride of the Hue people. Referring to the Perfume River, one cannot forget to mention Ngu Mountain. Standing on the top of this beautiful mountain, you can zoom out and admire the picturesque landmarks and natural scenery of Hue city. From the foot to the top of the hill is covered with verdant pine trees mixed in the cool breeze, bringing a chill space and a feeling of ultimate relaxation.

Trang Tien Bridge
Trang Tien Bridge (also known as Truong Tien Bridge) crosses the Perfume River with soft, flexible curved spans and is one of the typical symbols of the ancient capital of Hue. Trang Tien Bridge is also associated with over 100 years and witnessed many vicissitudes of national history, tourist attractions Hue visits historical witnesses. Today, the bridge is installed with a modern lighting system, and it shines brightly and colorfully every night.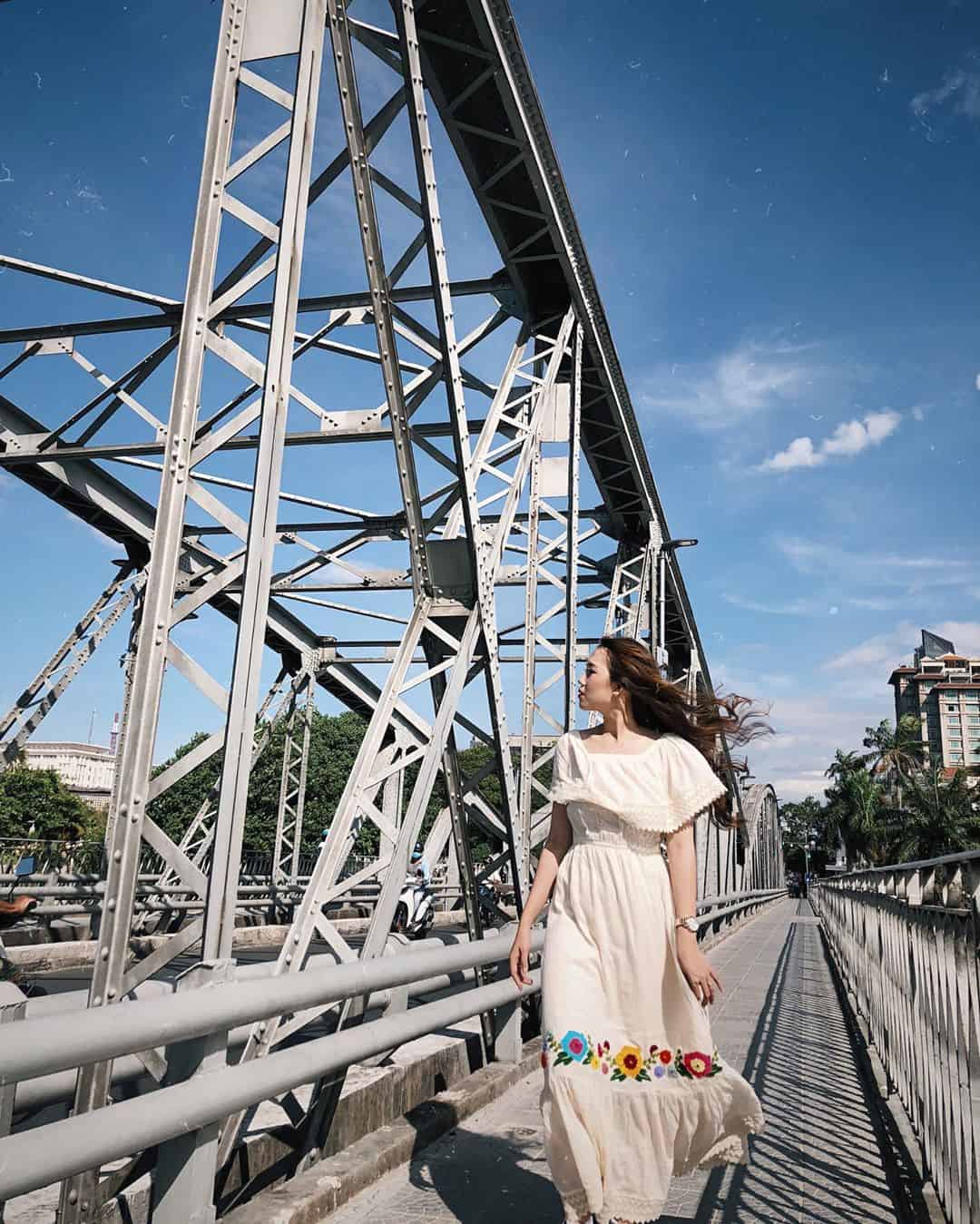 Photo: @cheryphuong1609

Trang Tien Bridge at night shimmers, shimmering, incredibly brilliant. This place is also very close to tourist attractions in Hue so that you can search for some hotels nearby for easy travel and sightseeing. Check out the quality hotels near Trang Tien Bridge now.
Hon Chen Palace
Located on the slopes of Ngoc Tran mountain, looming hidden among the green trees and reflecting on the water of the Perfume River, Hon Chen An Palace is a cluster of historical and religious relics, including ten buildings with architectural features. Unique antique decorative architecture. This cluster of relics is also a unique cultural and religious tourist destination that attracts many tourists on the occasion of the festival in the 3rd and 7th lunar months every year.

Thien An Hill – Lake Thuy Tien
Thuy Tien Lake is located on Thien An hill, lined with green trees. Thuy Tien Lake has a quiet, poetic, and romantic beauty; Thien An Hill appears as a "miniature Da Lat" because it is covered with green pine trees. All blend to give visitors a feeling of lightness and relaxation in a spacious and peaceful space.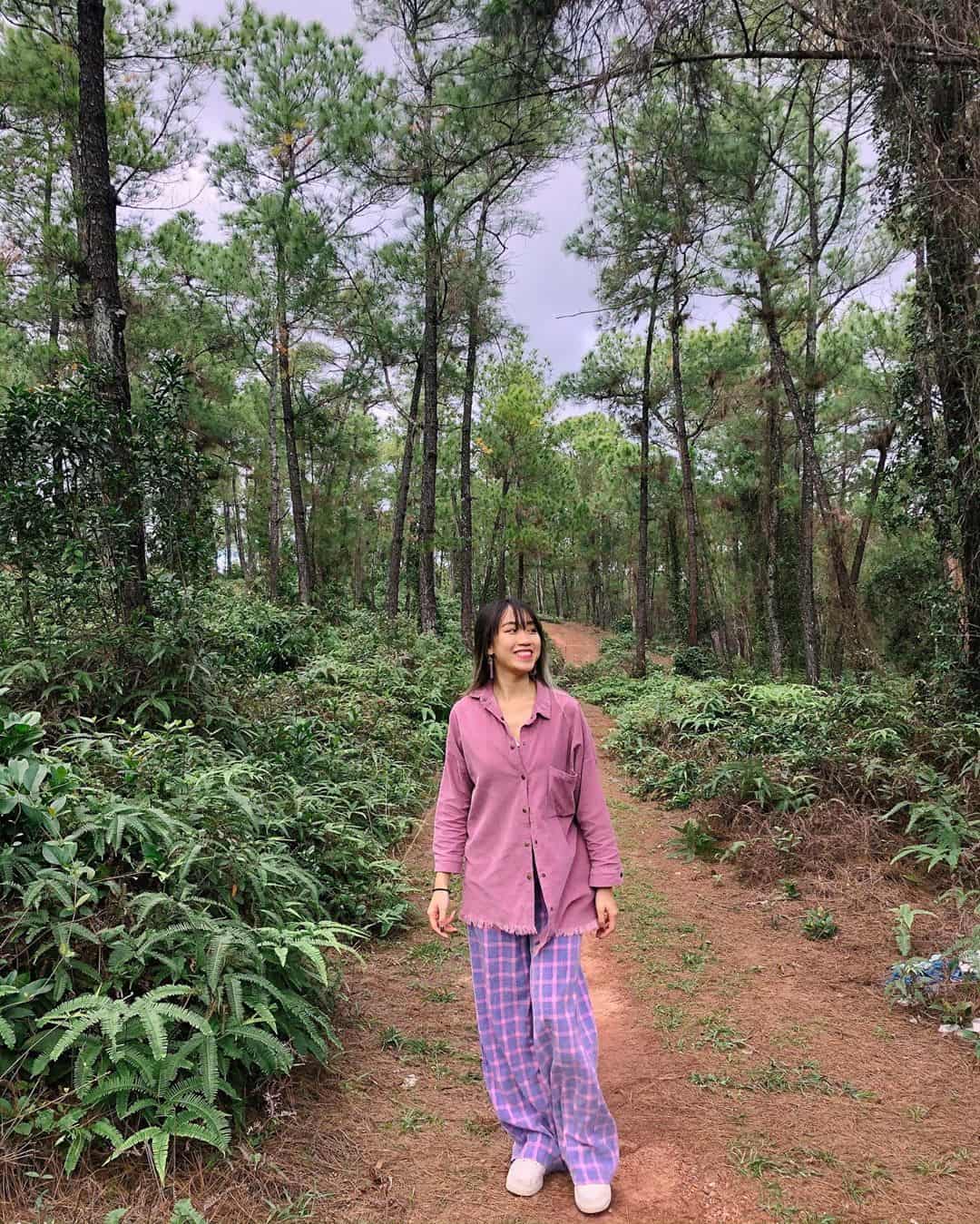 The scenery of Thien An hill is as chill and relaxed as Da Lat! Photo: Kitcamellia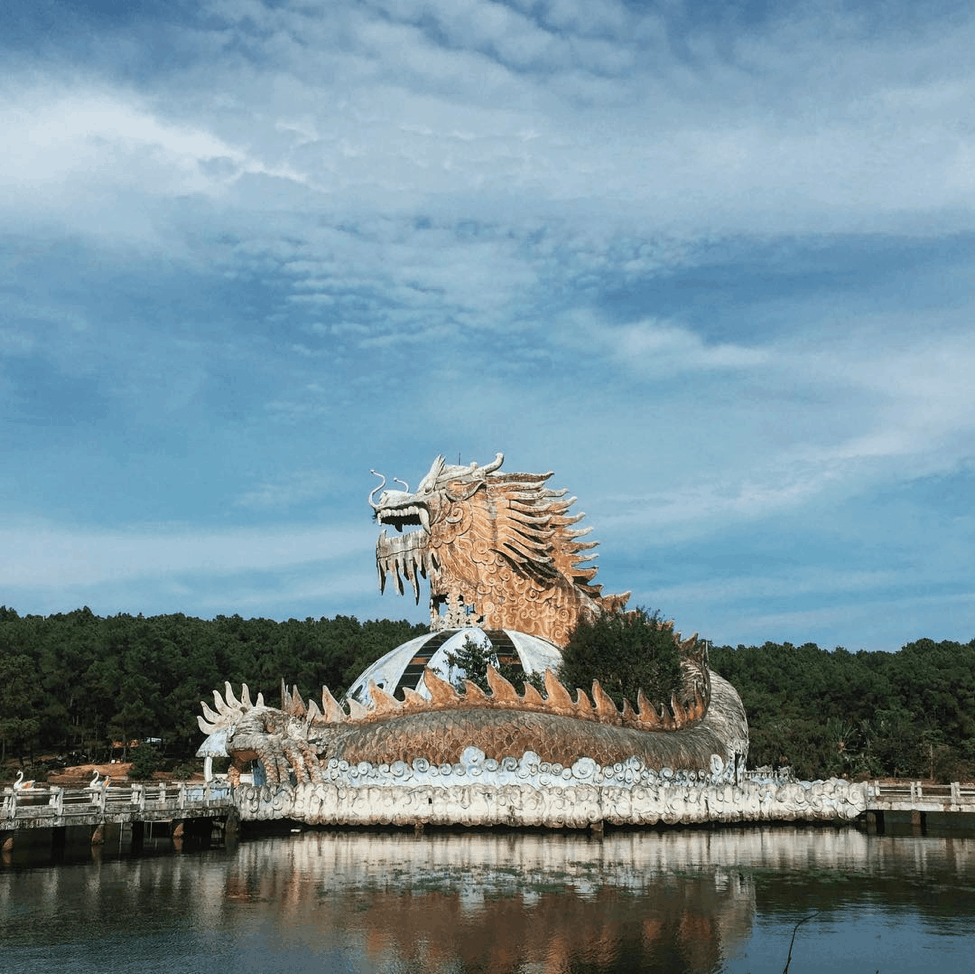 The pristine and mysterious Ho Thuy Tien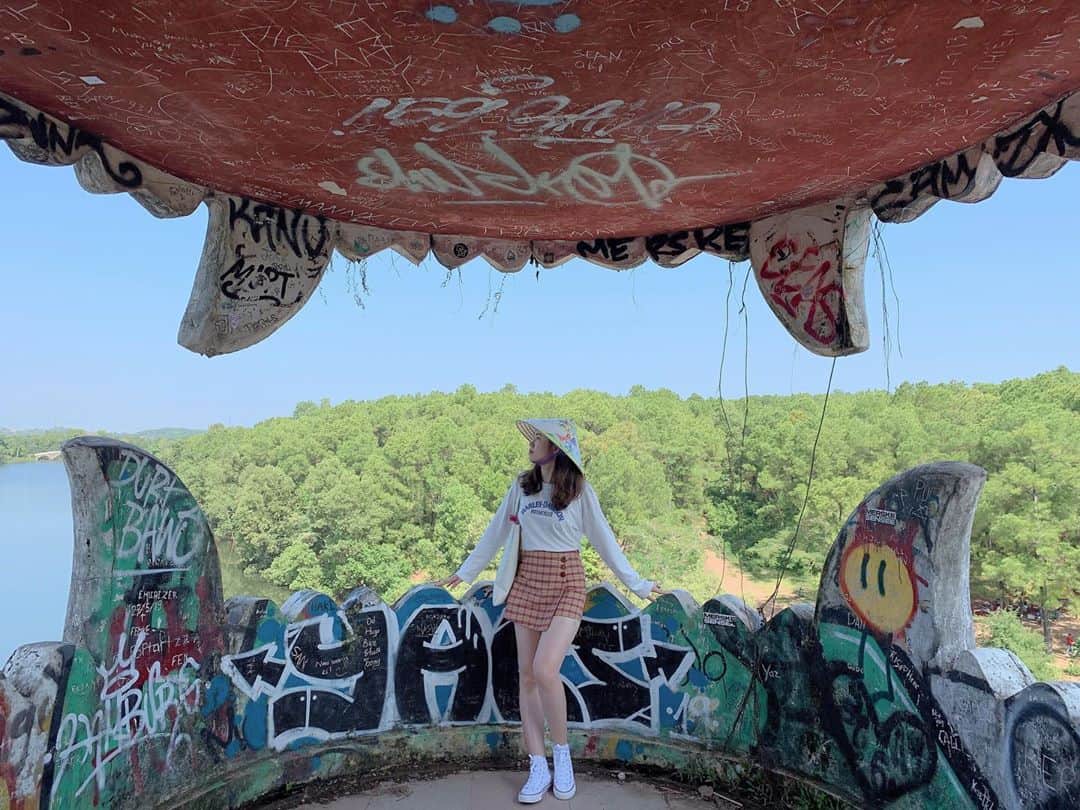 Check-in inside Thuy Tien lake park. Photo: @dieuuocmeocon
Moving away from the center of Hue city, Bach Ma Mountain is the natural boundary between Thua Thien Hue and Da Nang provinces in Bach Ma National Park with majestic waterfalls and diversity of rare flora and fauna. Conquering Bach Ma mountain, you will admire the panoramic view of Tuy Van mountain, Hai Van Pass, and the splendid scenery of Hue city as in the eye.

Not only having ancient historical and cultural relics, but Hue city also owns beautiful beaches that captivate many tourists. Lang Co is a scenic beach of the most beautiful white sand Vietnam with endlessly long embrace clear blue shoreline is one of the tourist sites of Hue first choice. Around the coast are majestic green forests on the magnificent mountain background, which will make your Hue travel experience more complete.

If you want to have more time to explore the exciting and green sea here, don't forget to book a room near Lang Co in advance, because this is also a very crowded tourist destination. Check out hotels near this area for more options
Thuan An beach is also a favorite beach of many tourists when coming to Hue tourist destination because of the gentle and poetic beauty of the gentle waves. Immerse yourself in the cool, refreshing water, take a walk along the golden sandy beach, or enjoy delicious fresh seafood dishes to enjoy a wonderful vacation in the beautiful Thuan An beach paradise.

Lap An lagoon
Combine a trip to Lang Co beach with a visit to Lap An Lagoon (also known as An Cu lagoon), an attractive Hue tourist destination. When the sunset sun gradually disappears behind the majestic Bach Ma mountain range, the calm water surface of Lap An lagoon turns to a brilliant orange-yellow color interwoven with the deep blue color of the lagoon, looking like a painting from afar. Watercolor paintings are extremely fanciful and vivid. Moreover, the people here are also famous for oyster farming, so coming here, in addition to admiring the beautiful lyrical natural scenery, you also have the opportunity to enjoy delicious dishes made from oysters.

Truoi Lake – Truc Lam Zen Monastery
Located at the foot of Bach Ma mountain, Truoi lake is a significant hydroelectric project. In the heart of Truoi Lake, Truc Lam Bach Ma Zen Monastery is the first Zen monastery in the Central region, looking like a lotus flower in the middle of a clear blue lake. From the Zen Monastery, let's look far away to admire the majestic mountains and forests and the "green and blue" beauty of Truoi Lake in the cool, fresh air of the prosperous place.

Dong Ba Market
Dong Ba Market is the largest and oldest shopping place in Hue city. Dong Ba Market is associated with hundreds of years of history of the Nguyen kings. Today, the market is a shopping place for inner-city people and a place many tourists visit to buy souvenirs for relatives and friends for an exciting Hue trip.

Hopefully, with the list of beautiful tourist destinations in Hue above, you will have an exciting trip and many memorable experiences when coming to this beautiful ancient land!