The scene of ripe golden rice fields stretching like soft silk in the northern mountains always has a unique attraction for visitors. Let's stop at the golden season in Nam Cang Village, Sapa – a place with many wild features but still so beautiful.
Where is Nam Cang Sapa?
The golden season in Nam Cang has become a tourist attraction in Sapa that attracts many people. At this time, when standing on a high hill looking down, you will admire a fresh, natural picture of the central golden terraced fields, interspersed with the houses on stilts of the Mong and Dao ethnic groups.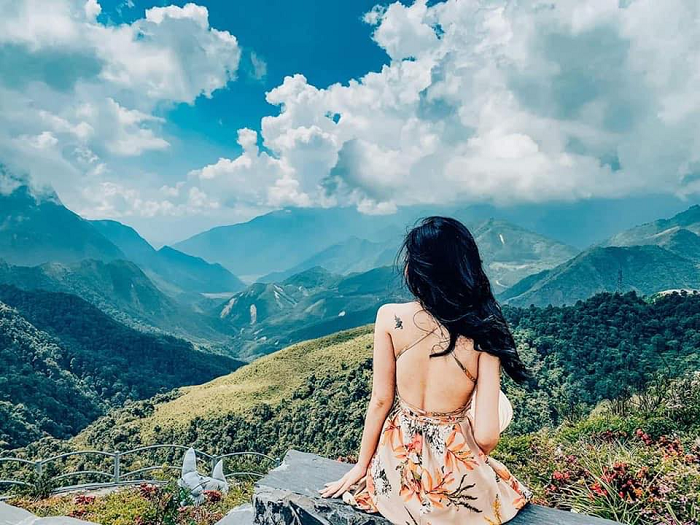 Nam Cang locates in the Lien Minh commune of Sa Pa. This commune is the most remote location, around 36 kilometers from Sapa town. Because Nam Cang is in a valley, living here is relatively calm and quiet. However, in recent years, Nam Cang Sapa has affirmed its position in the hearts of tourists thanks to its beautiful nature and unique culture of the two ethnic groups of Mong and Dao.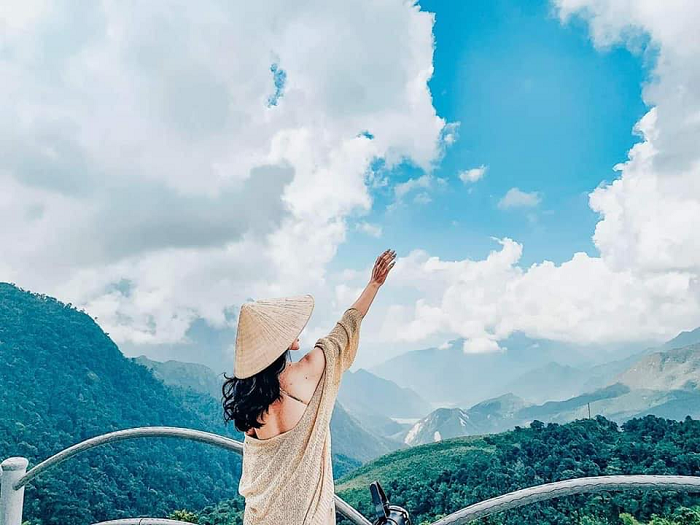 Read more:
What's attractive in Nam Cang?
Ripe golden terraced fields
Nature has favored Nam Cang, Sapa countless beautiful scenes with waterfalls, streams, terraced fields, and majestic mountains. This feature is a tremendous advantage for Nam Cang to develop the tourism industry effectively, which many tourists visit.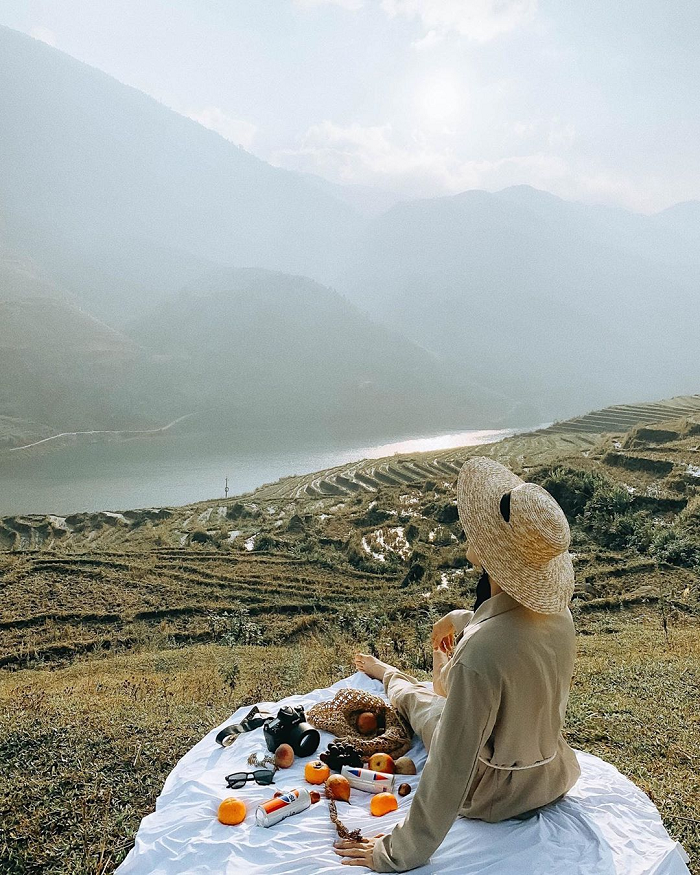 One of the most remarkable things that make up the name of Nam Cang is the beauty of the terraced fields. Early September is the best time to see the beauty of ripe rice.
Being able to witness first-hand the moment the vast rice fields put on their iridescent yellow shirt makes many visitors admire. Therefore, you should not miss Nam Cang on your Sapa tour.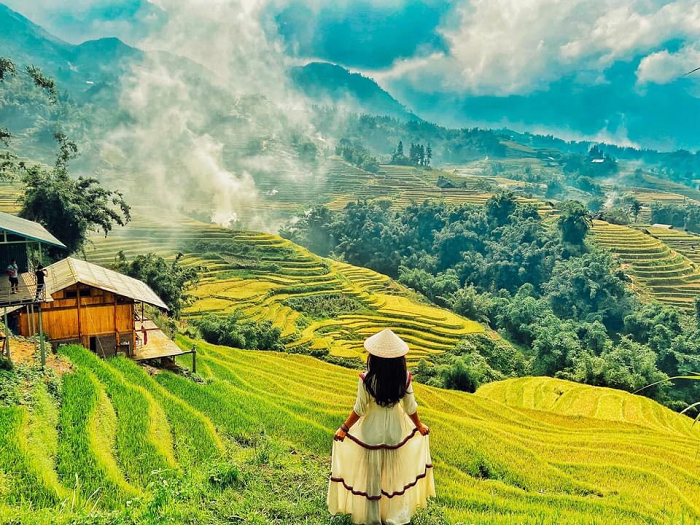 In Nam Cang, visitors will be mesmerized by the golden season. The whole village seems to wake up after the hot summer days, covering Nam Cang Sapa's fresh, lively yellow color in the gentle autumn breeze is the scent of ripe rice, grass, mountains, and forests. And especially, it creates a beautiful natural scene for you to check-in.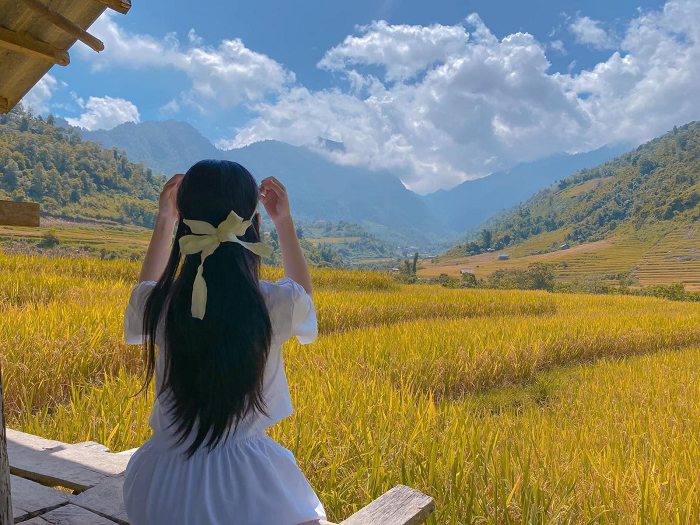 We go through the golden rice fields here to see firsthand the rice fields rustling in the wind, touch the round rice grains with our hands, help our soul always feel at ease, extremely comfortable. The unspoiled beauty of the mountains and forests mixed with the yellow color of the ripe rice season has painted a fresh picture of Nam Cang village, which is full of vitality.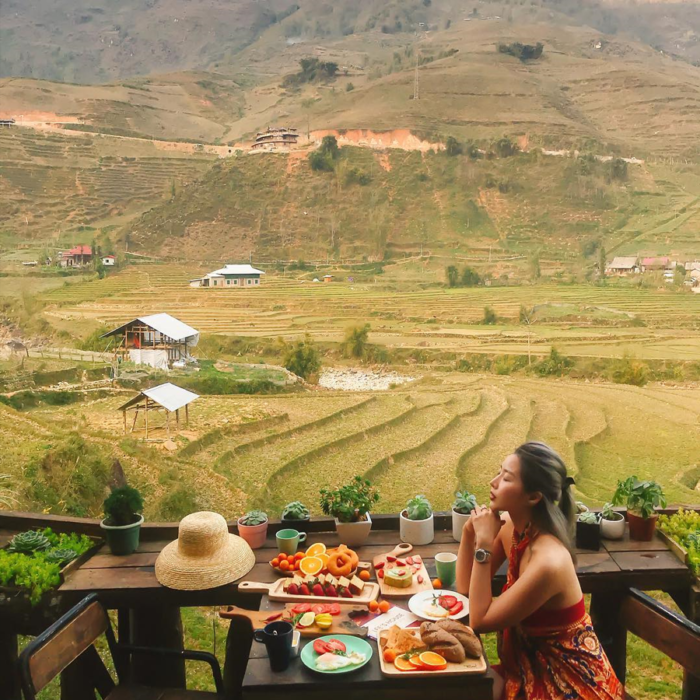 You don't have to be a real artist or someone with a unique artistic eye. You can still quickly feel the beauty of the iridescent golden terraced fields. In the distance, there are mountains, gently flowing streams, towering cliffs, and lovely huts of local people. All create a picture of nature full of art.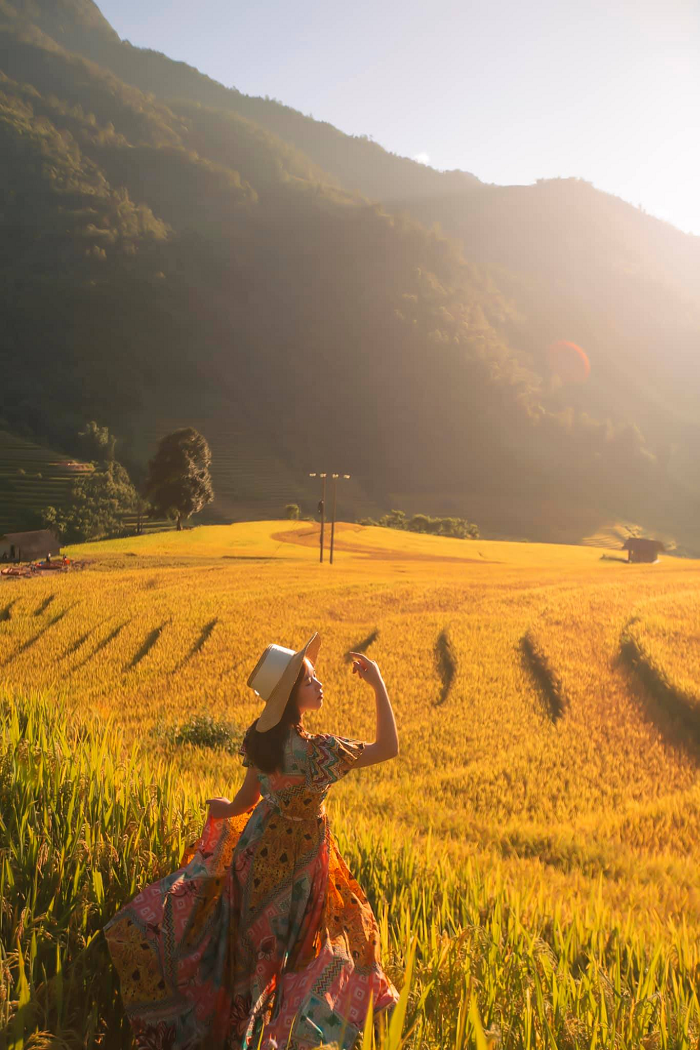 Book your stay in Sapa on Agoda

The beauty of simple stilt houses in Nam Cang
The simple beauty of the huts, wooden cottages by the fields, or the foot of the mountain attracts many visitors to Nam Cang village. It has a rustic, antique appearance, yet it adds a special touch.
It increases the idyllic and peaceful beauty of Nam Cang Sapa many times over. Sitting and posing next to a wooden house in the middle of a ripe yellow rice field or a high mountain is just as beautiful as famous landscapes elsewhere.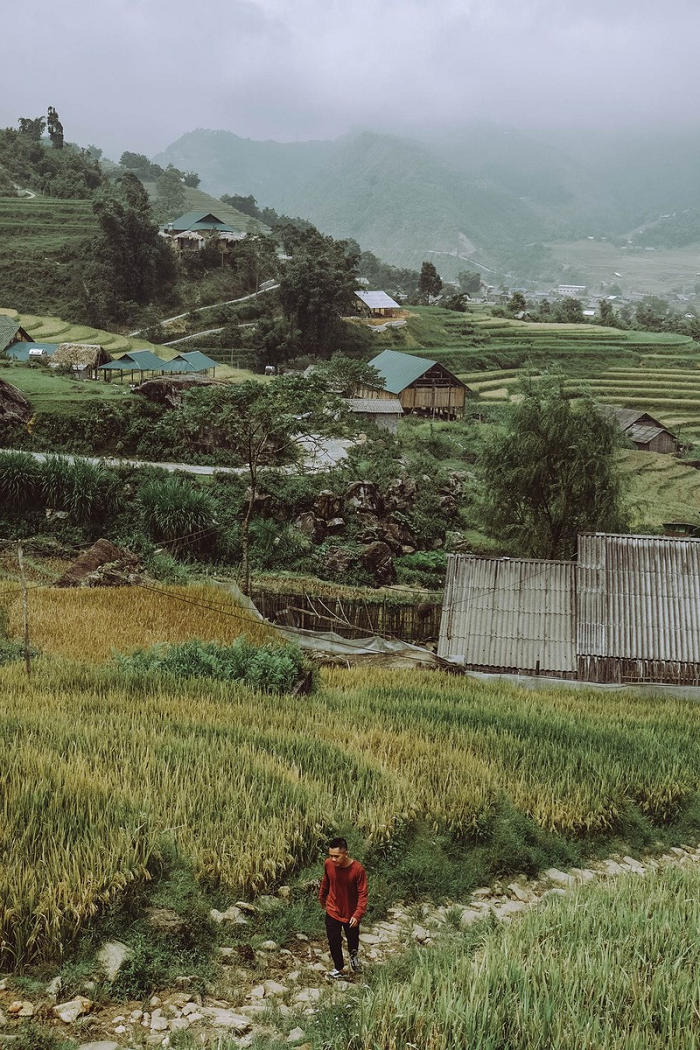 Nam Cang Sapa is home to two ethnic groups, the Mong and the Dao, who live by farming and animal husbandry and have the habit of going to the forest and living by the streams. It will be interesting when you follow the people here to explore the deep woods. Most of them go to the woods to pick forest leaves to make medicine or find food.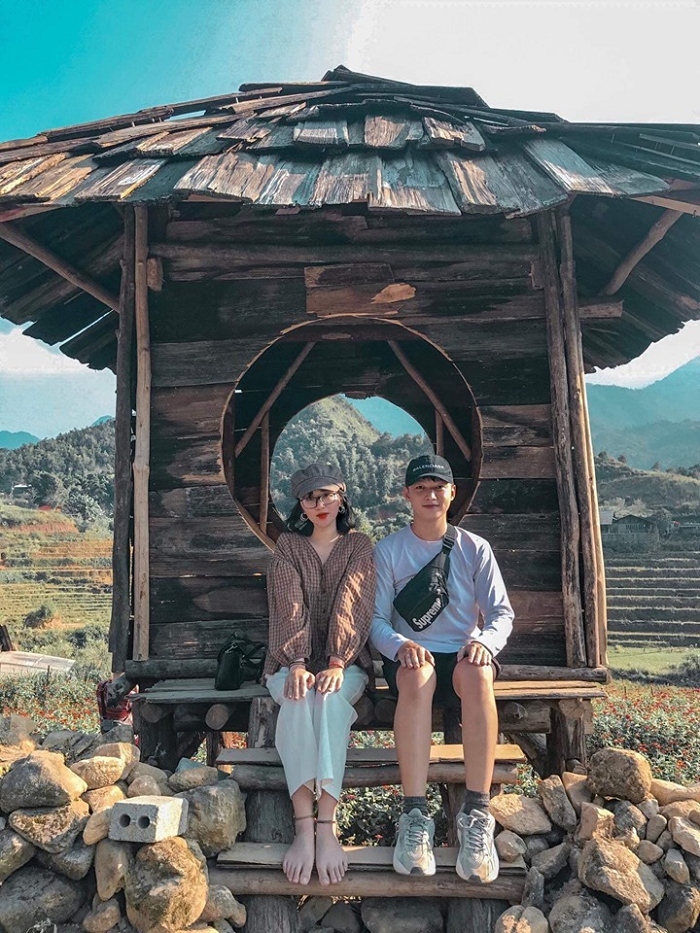 Another exceptional experience for you is staying overnight at a local's house. They are ready to cook you a meal with a strong flavor of the mountains. Or you can also stop to rest at the homestay at the foot of the hill. Although not a modern residence, fully equipped, in return you will live in a simple space and close to nature.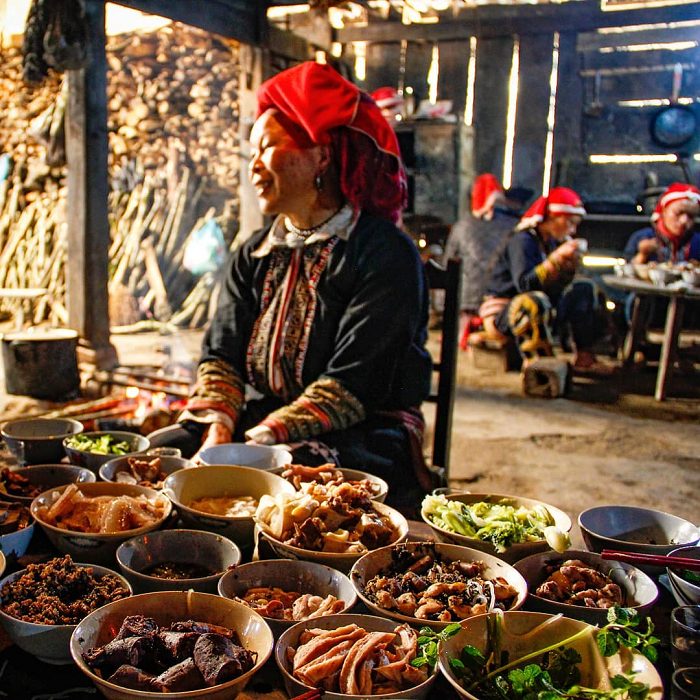 Enjoy the cuisine of the ripe rice season in Nam Cang Sapa
According to Lao Cai's travel experience, coming to Nam Cang in the primary rice season, in addition to admiring the enchanting natural beauty, you also have the opportunity to enjoy attractive dishes.
Thang Co: This is a very famous dish of Sapa mountains that is cooked from the meat, five organs of the horse, along with nearly 30 different spices, making the dish extremely unique. People in markets or village festivals often sell this dish.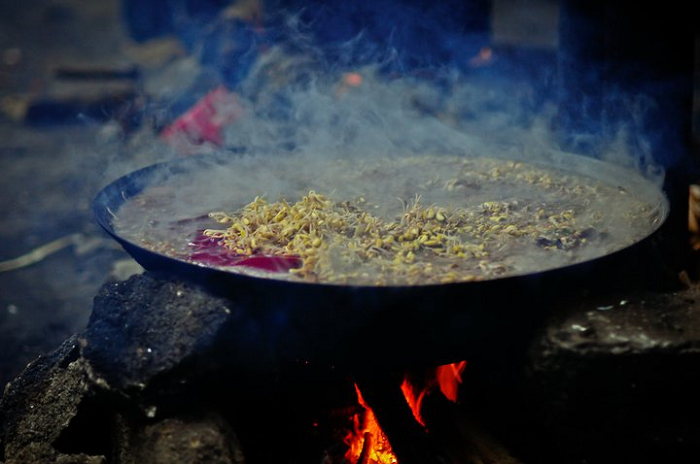 Salmon hot pot: this is a dish made from the main ingredient of salmon farmed right in Sapa. Compared to imported fish, salmon meat in Sapa is firmer and more fragrant. When combined with the spices of the Northwest mountains, Sapa salmon hot pot gives diners an alluring taste.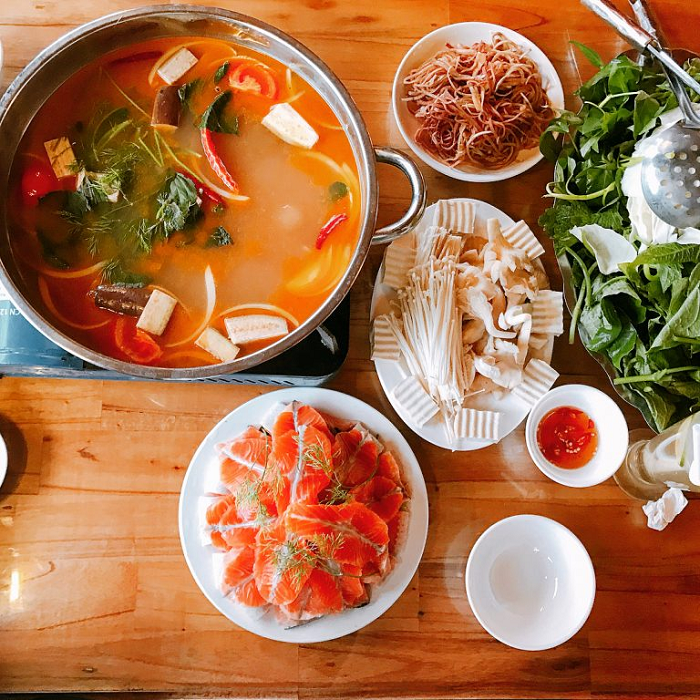 Stolen armpit pig: this is a special breed of highland people. The meat is tender, has moderate toughness, and is not greasy, delicious to enjoy with a cup of corn wine; sounds appealing already, right? So what are you waiting for without picking up your backpack and traveling to Nam Cang right now!
Note: Not similar to pigs in other regions, this kind of pig is about 10-15 kg, so that it can be carried under armpits and easily stolen by theft. That is the reason why they call it a Stolen armpit pig (lợn cắp nách).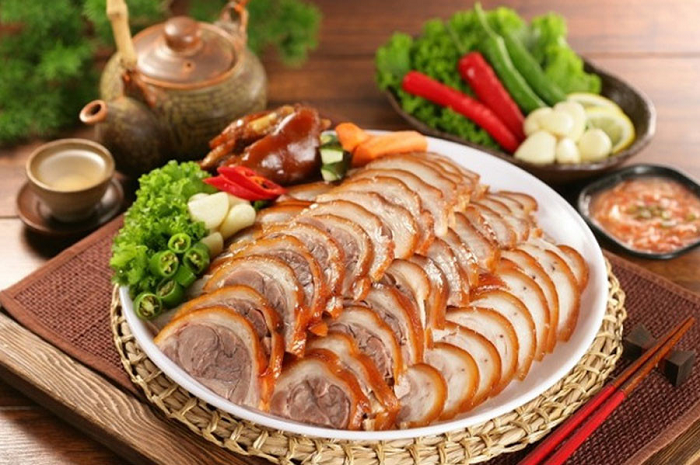 Because the epidemic's impact is still raging, making Nam Cang Sapa's golden season this year less bustling with tourists who love to explore and check-in. Let's wait for the epidemic to pass. We will meet again at Nam Cang to admire the beauty of nature and the ripe golden fields!
Phuong Nhi