Sapa has long been a famous and attractive tourist destination that we cannot ignore when traveling to Northwestern Vietnam. And a place not to be missed when coming to Sapa is Cat Cat village. In this article, we will share with you the most necessary travel experiences in Cat Cat village.
When it comes to Lao Cai tourism, we will immediately think of Sapa. This is a beautiful highland town with majestic lyrical natural scenery. People still think of Sapa as a meeting place between heaven and earth. Nature has extremely favored when giving Sapa a natural setting that is romantic and majestic with identical mountains and immense terraced fields.
The trip to Sapa will surely bring you wonderful experiences. And to make the trip more memorable and exciting, there is a destination that you should not miss when traveling to Sapa, which is Cat Cat village. Before you go, don't forget to read the Cat Cat travel experiences that we share below.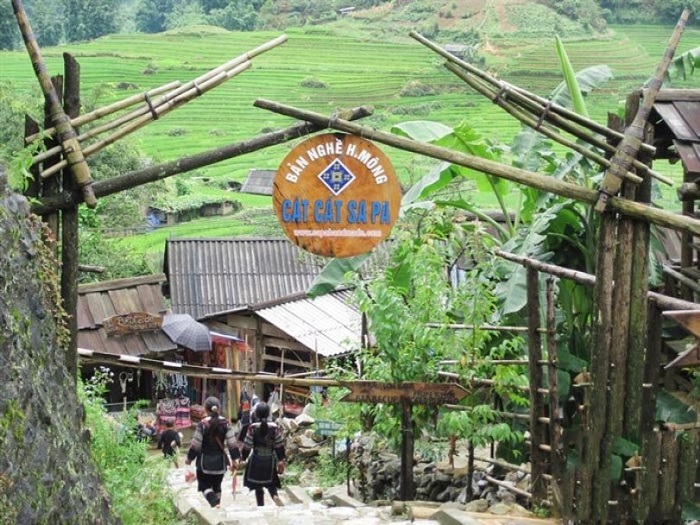 The Cat Cat village travel experience in Sapa that you should know
Briefly Introduction
Cat Cat is a small mountain village in Hoang Lien Son mountain range, San Sa Ho commune, Sapa district, about 2km from the center of Sapa town. Cat Cat village is a place that preserves traditional crafts of Northwestern people, such as planting cotton, linen, and weaving. Coming to Cat Cat village, you will have the opportunity to immerse yourself in the average daily life of ethnic minorities. Not only that but this village is also endowed with a poetic landscape. The peaceful, pristine, and lyrical beauty of Cat Cat will surely make every visitor here feel highly excited.

What time of the year should travel to Cat Cat?
In general, you can visit this village at any time of the year. Each season, Cat Cat shows up with various beauty to seduce every visitor when coming here. However, according to the travel experience of Cat Cat village shared by many people, the best time to go here is from April to May every year. This time is the period of late spring, early summer with a cooling atmosphere, little rain. Notably, this is when the terraced fields in Cat Cat begin to enter the pouring season. They are like giant mirrors, creating a beautiful and exciting natural picture.
Besides, another beautiful time that you can choose is around September and October each year. This is when the terraced fields are flooded with the shiny yellow of ripe rice.
How to go to the village
Go by motorbike taxi
If you do not have a car or do not know how to go, you can catch a motorbike taxi here. There are always has lots of motorbike taxis operating at places like the front of the church, Sapa bus station. It only takes about 40,000 VND for one way or 70,000 VND in two ways.
Rent a motorbike and go by yourself
If you want to be proactive and comfortable exploring the road, then you should rent a motorbike. From VND 80,000 to VND 150,000, you can rent a motorbike for a day.

Rent a bicycle
There is another exciting option that you can experience is cycling. The distance from Sapa town to Cat Cat village is just over 2km, and the road is not too difficult to ride, so bicycles are an ideal choice. Many guesthouses and hotels in Sapa town have bikes for rent. The rental price will usually range from VND 120,000 to VND 150,000 / day.
Great experiences
Visit the houses of the locals
In Cat Cat village, there are more than 80 stilted houses. Including the old houses with quite distinctive architecture from the 19th century. Discovering the places and learning about daily life, customs, and traditions of ethnic people are exciting experiences.

Discover the romantic waterfall
Cat Cat village has many beautiful and lyrical falls. One of the most famous waterfalls that cannot ignore is the Tien Sa waterfall. Flowing water from above to release white foam creates a picture of nature, which is very beautiful.

Drinking Apple Cider
Apple cider is a famous specialty. Traveling to Cat Cat village without enjoying a sip of apple cider is an unfortunate thing. Besides, do not forget to enjoy the typical grilled dishes of the Northwestern people.

Shopping crafts
After the journey to explore Cat Cat, if you want to find somewhere to buy gifts for relatives and friends, go deep inside the town. This area has quite a lot of stalls selling unique handicrafts.
Above are the travel experiences of Cat Cat village that we want to share. Hopefully, it will be helpful for you on your next trip.
Source: dulichvietnam.com.vn