When it comes to traveling, most people will probably choose to go with their family and friends. However, many people like to travel alone because of the exciting experiences that it brings. So if you are a solo traveler, where should you go? In this article, we will reveal to you the list of suitable places solo travel in Vietnam.
Reveal the suitable places for solo travel in Vietnam
Mai Chau – Hoa Binh
Mai Chau has always been known as one of the most attractive tourist destinations in the North. It attracts thousands of visitors each year by a beautiful, majestic natural landscape with a relaxed, pleasant atmosphere. Mai Chau is located about 120km from the center of Hanoi capital so that you can go here by car or motorbike.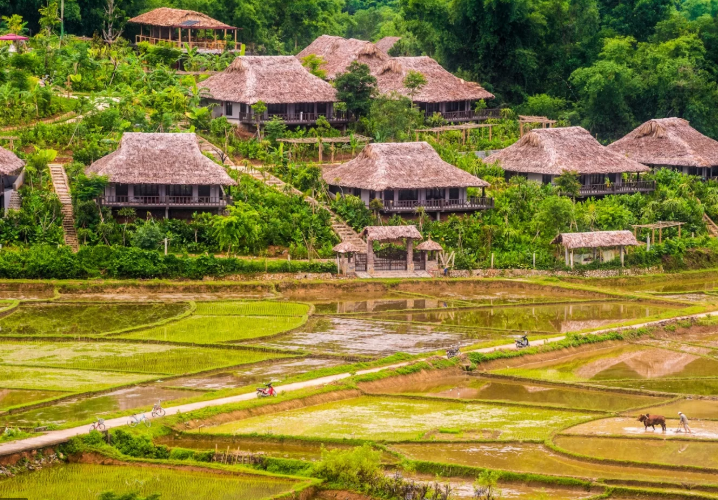 Coming to Mai Chau, you will surely be surprised at the poetic and lyrical picture here. At the foot of the mountain, there are beautiful small stilt houses. Far away, green rice paddies and clouds are fluttering. If possible, you should go around May, June every year, because this is the time when the rice is ripe, creating a landscape that anyone can see immediately bewitched.
Hoi An
Speaking of the right places for solo travel in Vietnam, it is indispensable for Hoi An ancient town. There are no new entertainment areas, busy commercial centers, or luxurious resorts; this place attracts visitors by its extraordinary features. Those are simple houses, ancient, peaceful atmosphere, or delicious food. If you have the opportunity to travel to Hoi An by yourself, try wandering on the pretty little streets, sipping a fragrant cup of coffee, and watching the road. You will feel like your soul is much more relaxed and relaxed.

The ancient capital of Hue
Come to Hoi An ancient town, then why don't you continue to come to Hue ancient capital? Whether traveling with family, friends, or a solo traveler, Hue is always considered a great destination. This place attracts visitors with countless exciting things. From the peaceful atmosphere, unique cultural features, diverse cuisines to the friendliness and hospitality of indigenous people.

When coming to Hue, you will realize that this place is not the hustle and bustle like Hanoi or Saigon. Take the time to explore the magnificent palaces and tombs. Do not forget to visit Lang Co Bay – one of the most beautiful bays in the world.
Con Dao
One of the appropriate places solo travel in Vietnam can not fail to mention that is Con Dao. It has a dense primeval forest system with rich and diverse flora and fauna ecosystem. Not only that, but coming to Con Dao, you also have the opportunity to visit many of the historical revolutionary sites.

And if you want to experience coral diving, Con Dao will definitely be an ideal destination. Because the coral ecosystem here is considered the most diverse and beautiful in Vietnam. If you are alone, try renting a bicycle and wandering around to explore every corner of this beautiful island.
Phu Yen
Phu Yen also cannot be outside the list of suitable places for solo travel in Vietnam. People often liken the beauty of this land to a village girl. It is both rustic, simple but also very pure and clear.

Traveling to Phu Yen, you will discover the land of "yellow flowers on the green grass" and beautiful beaches such as Bai Xep, Bai Mon, Bai Goc, Bai Tuy Hoa, Bai Rang, etc. You can also go on a trip with the fishermen to the middle of the ocean to try fishing and squid fishing. It will surely be an unforgettable experience in your life.
Da Lat
It is often said that Dalat is a dream city, suitable for couples in love. However, traveling to Dalat by yourself is also an incredibly enjoyable experience that you should try once in your life.

The country of Vietnam is truly blessed with so many beautiful landscapes. And if you are planning for a solo travel trip in Vietnam, do not miss the places we introduced above. We wish you have a complete and memorable trip.
Source: Dulichvietnam