As a world-class 5-star yacht in Lan Ha, La Casta Regal Cruise promises to bring guests a luxurious vacation with countless exciting experiences where you can feel and enjoy the island's beauty with all five senses.
To find a yacht in Lan Ha is not difficult, but a 5-star yacht on the sea, La Casta Regal yacht, is the ideal choice. This luxury yacht will bring you the feeling of entering a paradise vacation where you can fully enjoy and feel the beauty of Lan Ha, one of the most beautiful bays in Vietnam.

Read more:
Check-in the 5-star La Casta Regal cruise to be captivated by the stunning beauty of Lan Ha Bay.
La Casta Regal Cruise is one of the most luxurious 5-star yachts in the Lan Ha Bay area. This yacht was officially launched in 2019 and operated from November 1, 2020, with La Casta Yacht Co., Ltd. La Casta Regal Cruise is a steel-hulled yacht combined with iron and wood with a modern 5-deck design. The ship has a length of 65m, a width of 10.7m, a height of 12.4m with full luxury facilities, and an international 5-star standard, so visitors will step into a paradise when choosing this yacht in Cat Ba private 5-star resort.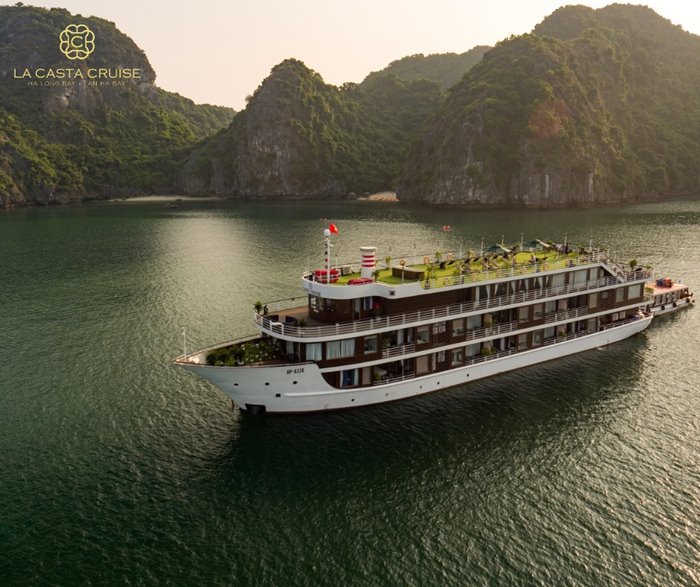 La Casta Regal Cruise has many room types
La Casta Regal Cruise now offers 22 rooms with a modern atmosphere. Most of the rooms on the yacht are spacious and beautiful. The design of the rooms on the vessel makes the most of natural light and creates an open space for guests to enjoy the beautiful scenery on the bay and have more energy to explore.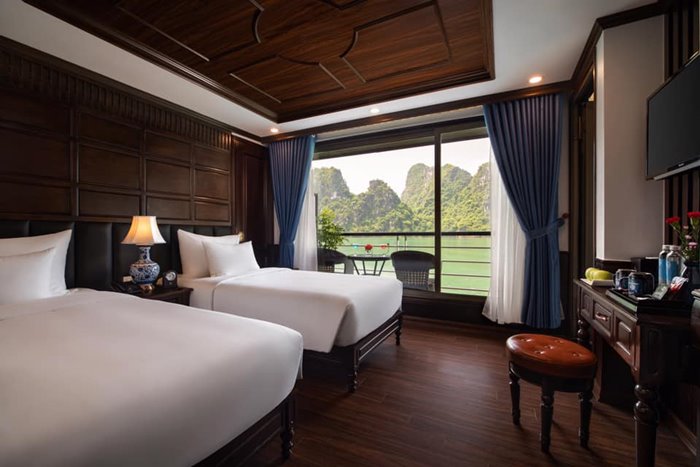 100% of the rooms on La Casta Regal have a private balcony and a bathtub. Amenities of 5-star standard rooms full of essential items such as desk, hairdryer, air conditioner, hot bath towels, complimentary toiletries, wardrobe.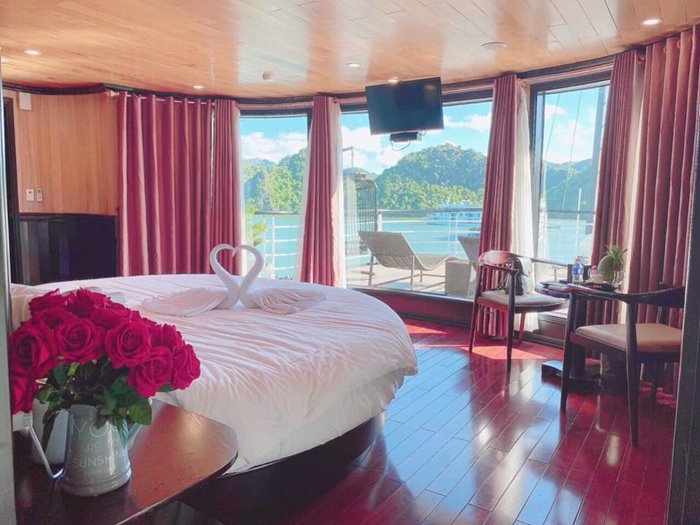 Like the 5-star hotels on the mainland, The Cruise also offers guests an attractive choice of room types. Accordingly, the yacht has five different room classes, including Junior Suite room size 30m2, Senior Suite room 30m2, Family Triple room (for three adults) 35m2, VIP room one room 50m2, and VIP room 2. It is also 50 square meters wide.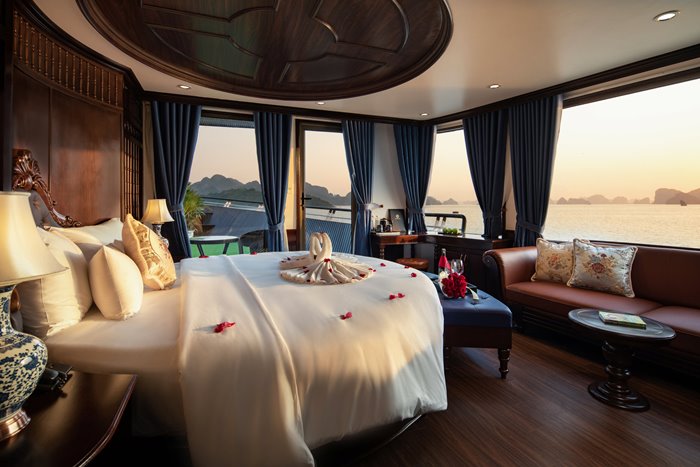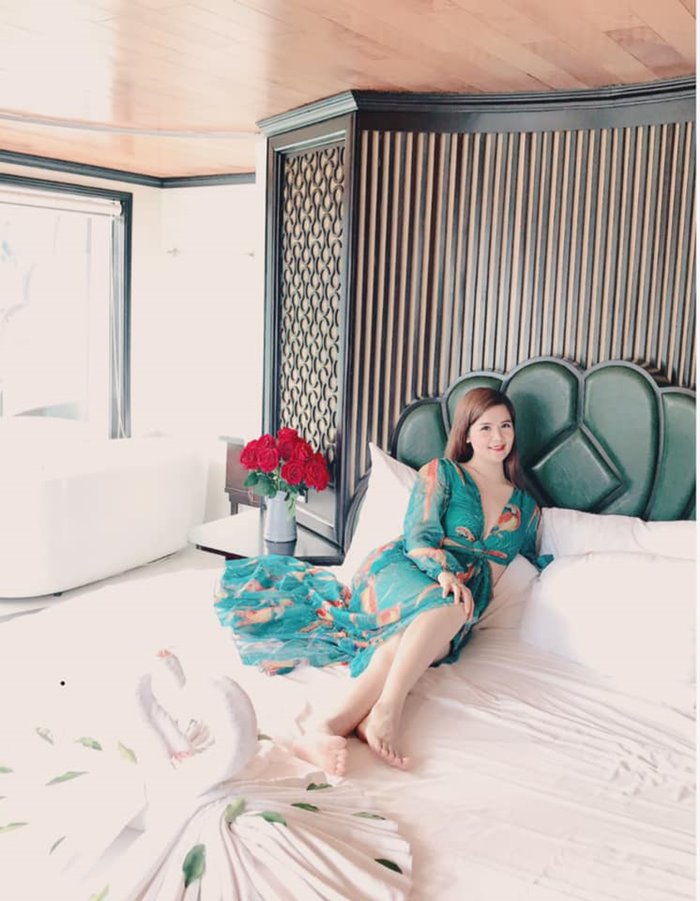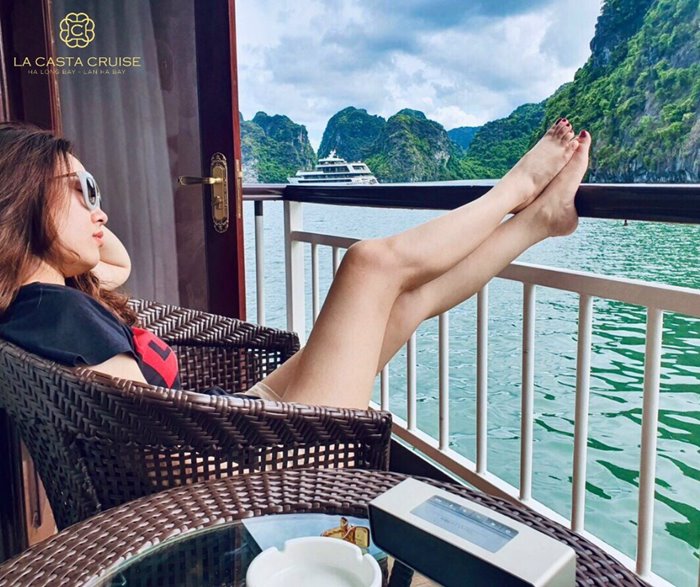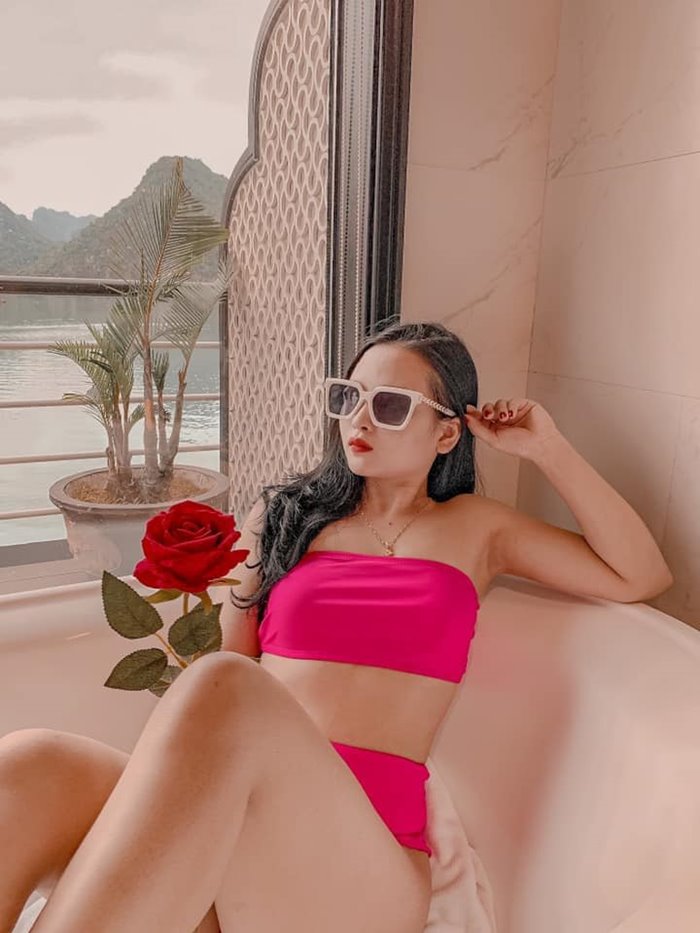 5-star resort facilities
Restaurant and bar with sea view 
La Casta Regal Cruise has one restaurant and 1 bar design that blends modern lines and nostalgic and romantic space. The restaurant's interior has a distinctive classic look but is equally luxurious with a harmoniously arranged space and elegant dark tones. Significantly to maximize the scenic view for visitors, the restaurant has a system of large glass windows facing both sides of the bay.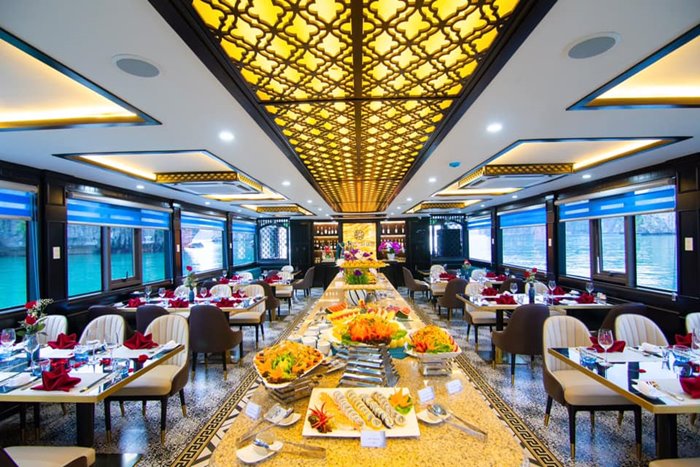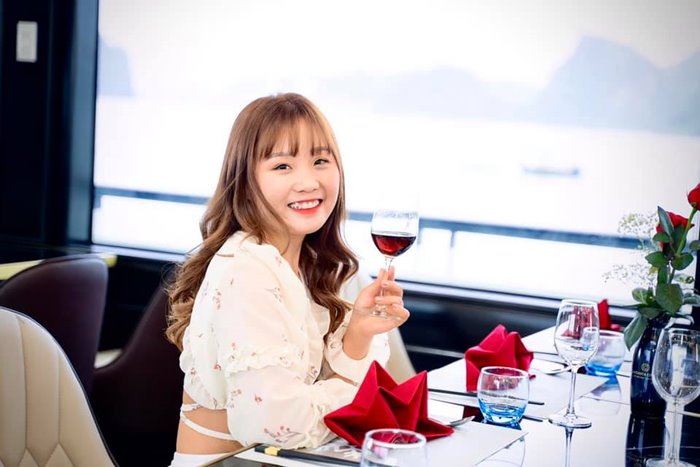 The restaurant's menu is diverse, with a buffet menu and attractive buffet meals, including rich Asian-European dishes. What could be more wonderful than enjoying 5-star dishes for talented chefs to prepare and sip excellent cocktails while admiring the heavenly scenery in the middle of Lan Ha sky and sea?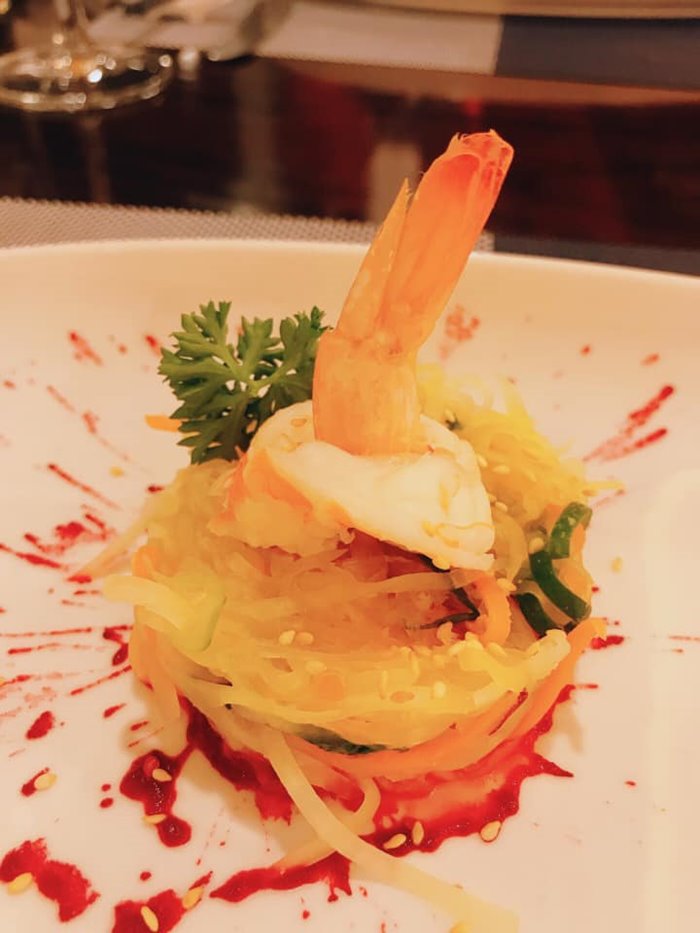 Spacious sundeck
Lan Ha beach is always green and jade color with towering limestone mountains that are both majestic and very charming. Because of that, the sundeck area of La Casta Regal Cruise becomes the best viewing point where visitors can fully admire the beautiful scenery on the bay. The sundeck has a system of sun loungers for visitors to chill and relax comfortably. This area is also a shared space for visitors to participate in attractive parties or exercise every morning with a capacity of 100 people.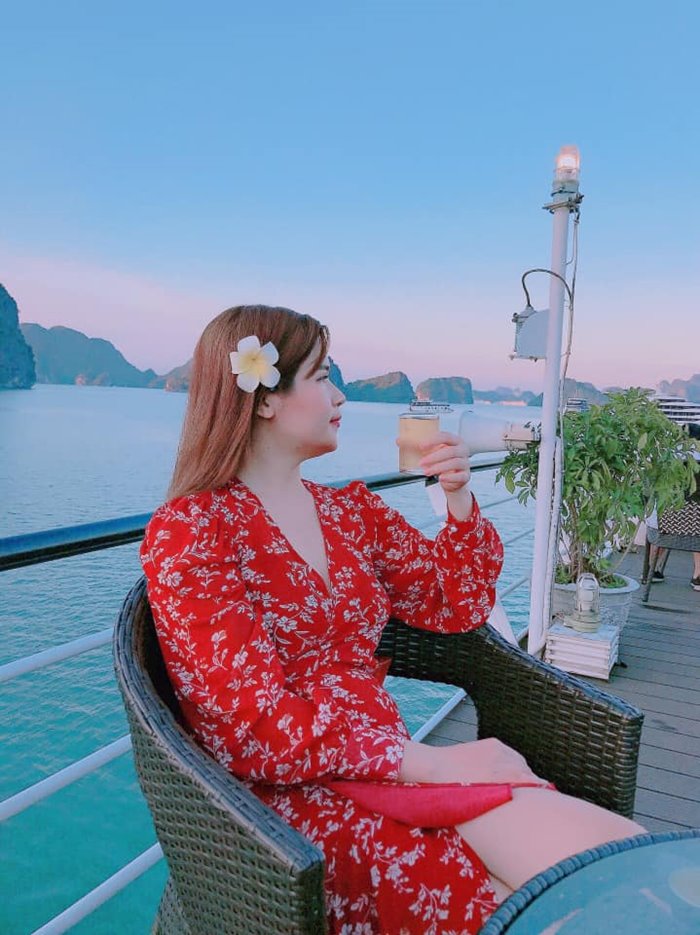 Classy outdoor swimming pool
La Casta Regal Cruise is one of the luxury yachts in Lan Ha, with a modern four-season swimming pool. The swimming pool on the yacht is not too big, but it is also an ideal space for visitors to relax, relax and enjoy a peaceful vacation.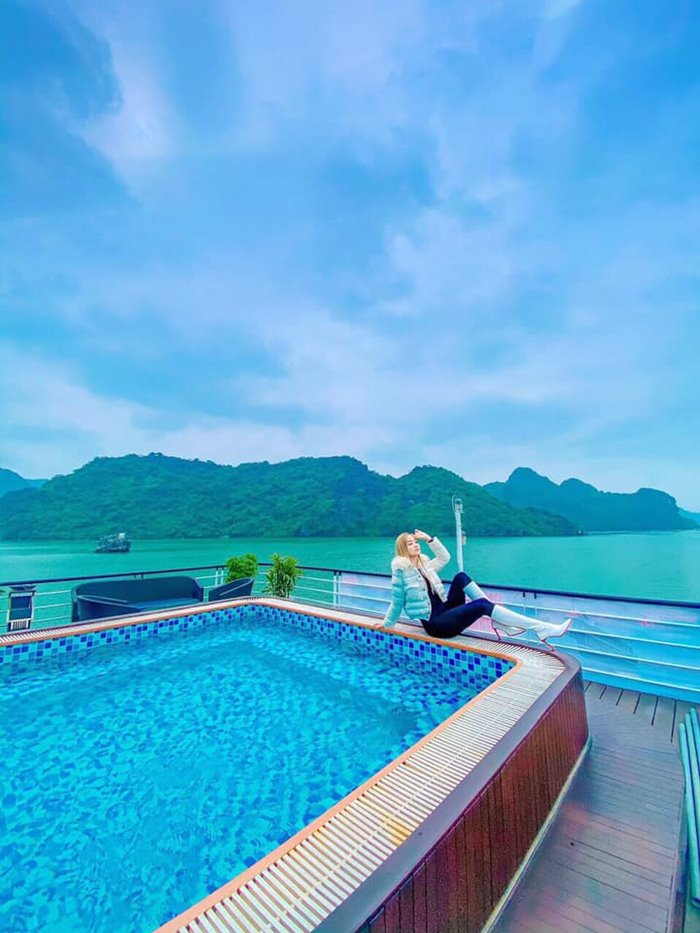 Spa/Massage and gym
Spa/massage facilities and fitness room onboard La Casta Regal will give guests a complete experience for their Lan Ha cruise. Suppose a spa is a place for visitors to relax their minds with professional treatments completely. In that case, the gym is a private space for visitors to exercise according to their preferences comfortably.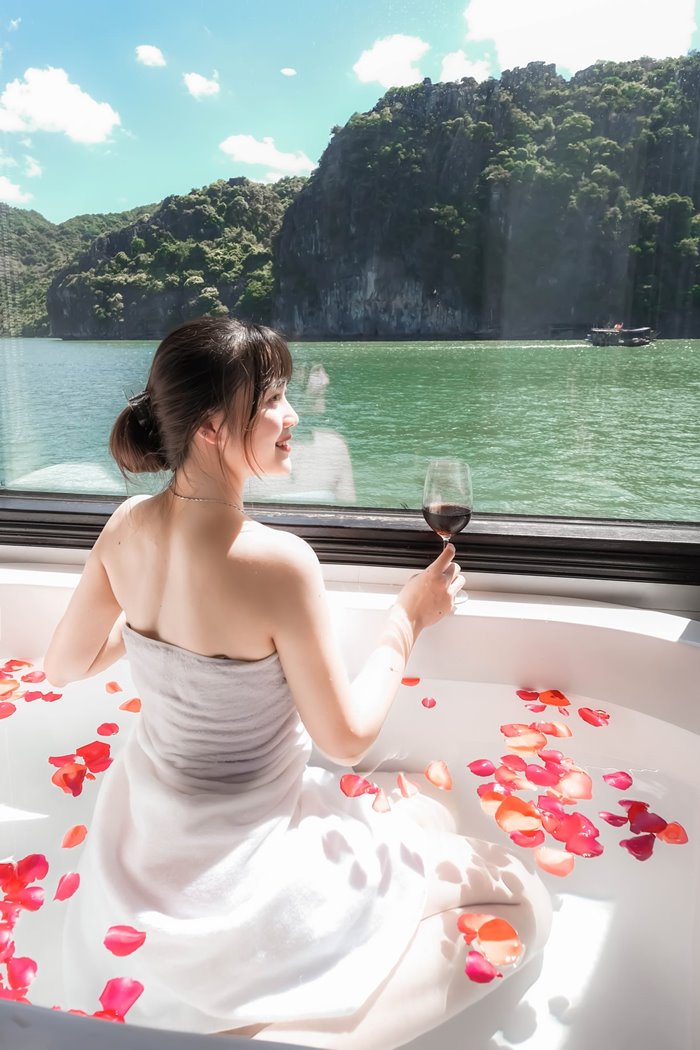 Enjoy your dream cruise aboard La Casta Regal
Coming to the La Casta Regal Lan Ha cruise, in addition to the 5-star facilities, visitors will enter an exciting journey of discovery with countless exciting experiences. La Casta Regal has a unique journey, with the most prominent attractive destinations in Lan Ha Bay. Such as Morning – Evening class, Ba Trai Dao beach area, Tra Bau area, Cai Be, which has been famous for a long time because it is the setting of the movie Kong Skull Island (King Kong) released in 2018.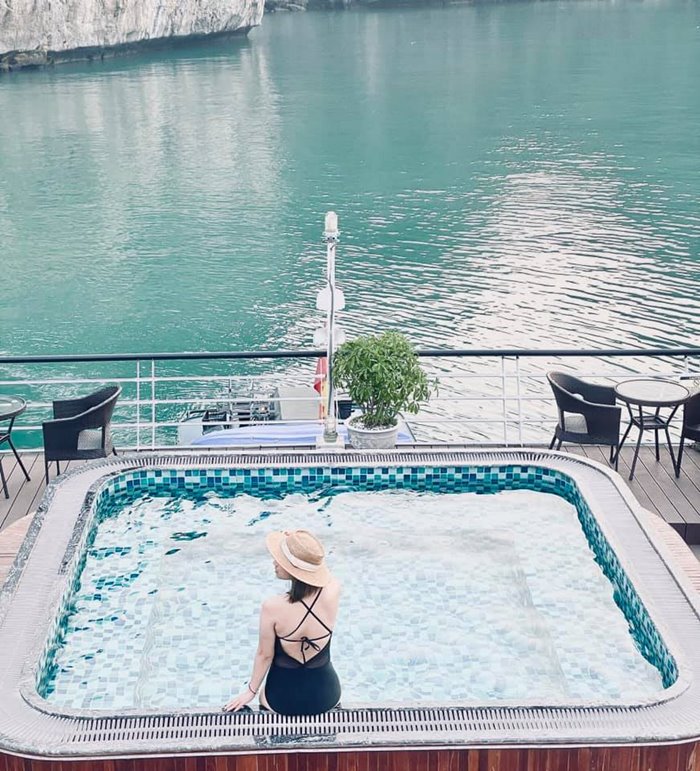 Not only bringing visitors to attractive attractions but also alternating in the itinerary, La Casta Regal also gives visitors many exciting experiences such as kayaking to see and explore the beautiful scenery on the bay, collective activities. morning education, cooking class, movie show, squid fishing at night. You will never get bored by the perfectly designed activities and schedules.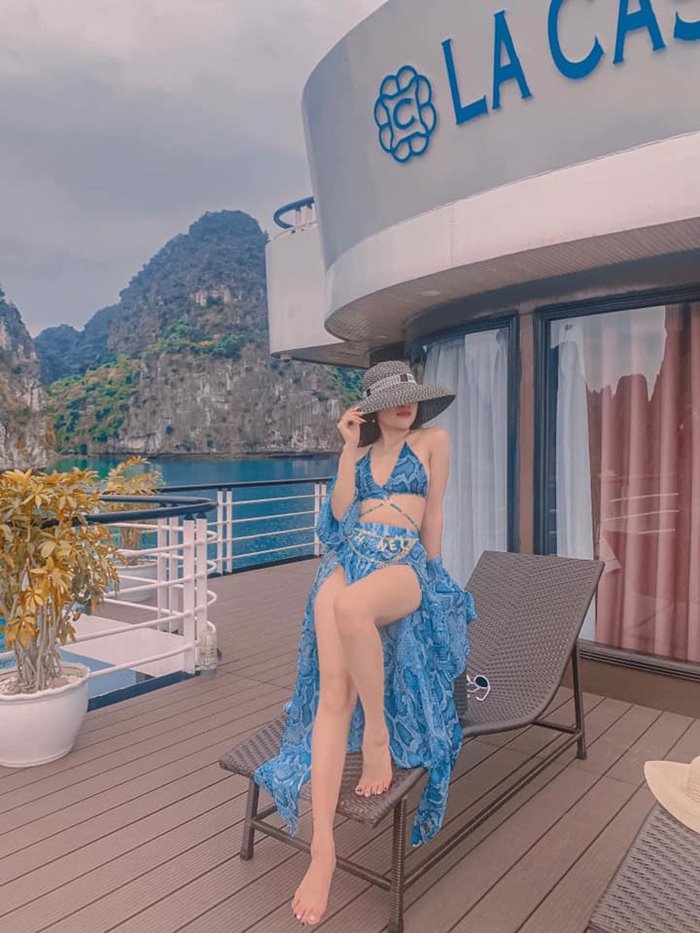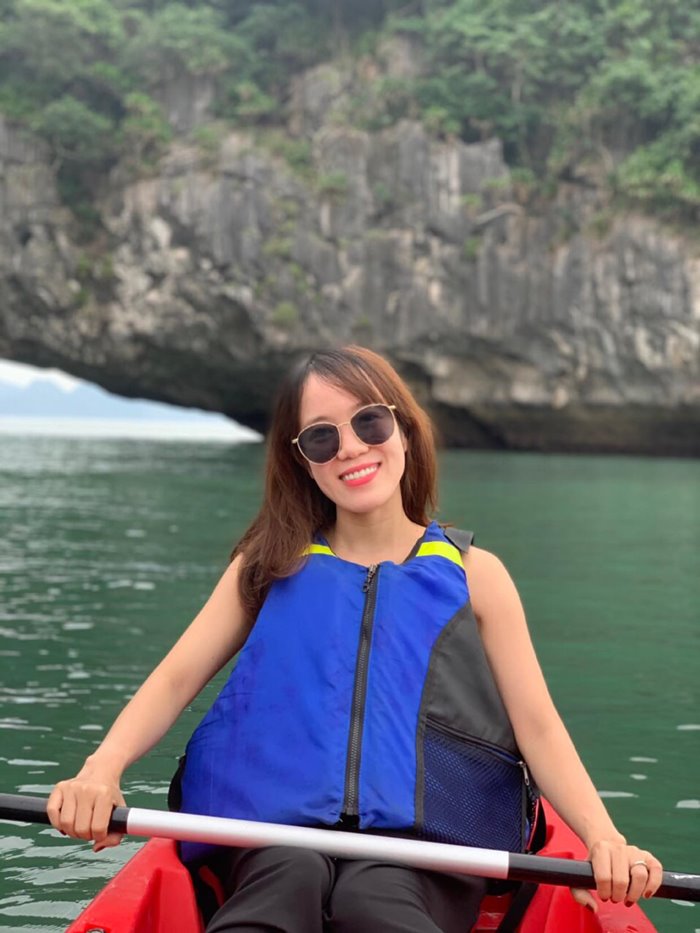 After a busy day with a lot of chaos of life and work, there will be times when you need to rest and refresh yourself, pack your suitcase and come to La Casta Rega to enjoy the dream cruise. It's interesting.