For many people, Binh Phuoc province is not a destination that attracts tourists. Referring to Binh Phuoc, people only think of fruit or luxuriant pepper gardens. However, they still don't know that in Binh Phuoc, there are many destinations with attractive wild beauty. Let's study the whole Binh Phuoc travel guide to discover all the rustic beauty of this place!
The most detailed Binh Phuoc Travel Guide
Introduction about Binh Phuoc Travel Guide
To have the most complete Binh Phuoc travel experience, you should first know a few things about this land. Binh Phuoc is located in the southern critical economic region, in the Southeast region. There is a common border with Cambodia, about 121km from the center of Saigon, follow national highways 13 and 14.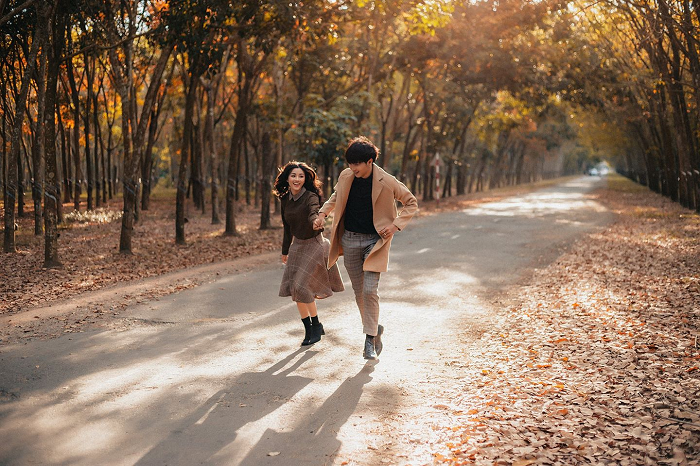 Binh Phuoc has a fresh, natural scenery and a culture imbued with the national identity of ethnic minorities. Coming to Binh Phuoc, you will be attracted by immense rubber gardens, lush green pepper gardens, and famous tourist attractions.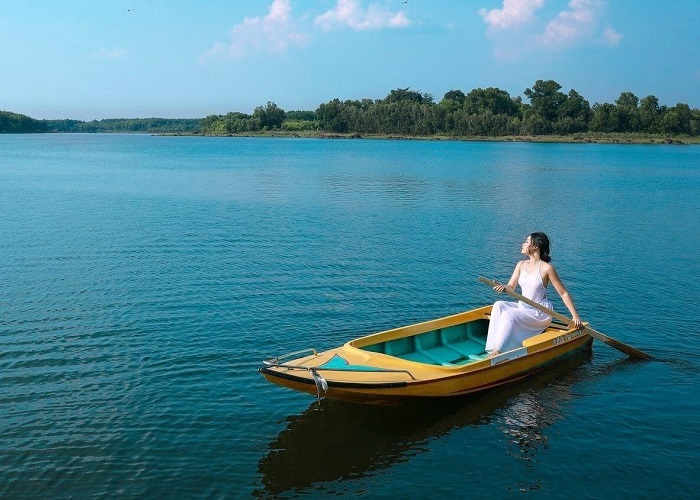 When is the best time to travel to Binh Phuoc?
According to Binh Phuoc Travel Guide, this place has two distinct seasons: the rainy season, which usually starts from May to October; The dry season lasts from November to April next year. In which, there are two ideal times for you to explore Binh Phuoc comfortably:
– End of December – Next January: This is the time when Binh Phuoc puts on a brilliant spring shirt. The sun's warm rays shine on the red dirt roads. The gardens are also changed to green leaves. The air is a bit chilly on the early spring days.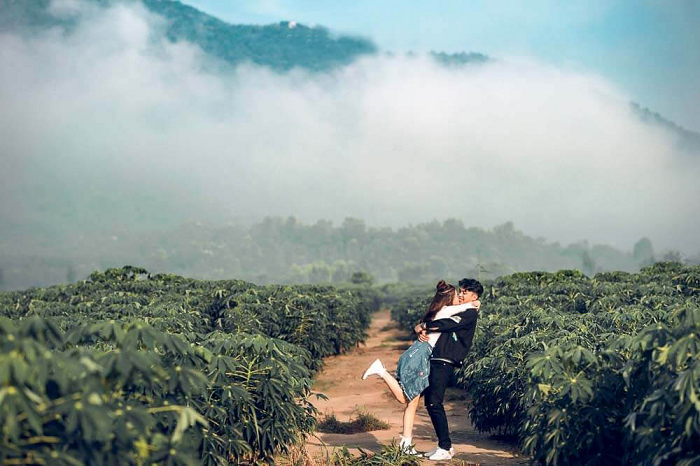 – Late February – March: This is the time when coffee flowers bloom. Traveling to Binh Phuoc on this occasion, you will see this white flower everywhere. The pure flower color and sweet fragrance will bring you an enjoyable feeling.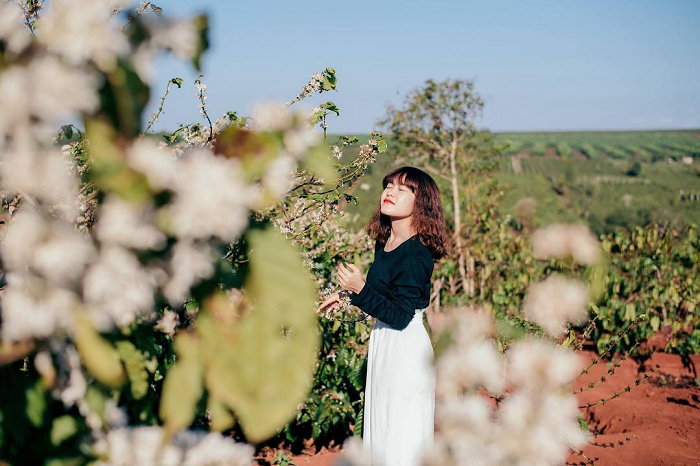 How to move to Binh Phuoc
According to Binh Phuoc Travel Guide, to move here, you can choose to go here by train, bus or motorbike.
You can buy tickets at some of the bus operators below:
– Phuoc Long garage. Route: Saigon – Phuoc Long. Phone number: 0937 957940 – 0978 929197.
– Thuy Linh garage. Route: Saigon – Dong Xoai. Phone number: 0651 3870141 – 0913 109161 – 0918 59871.
– Ha, garage. Route: Saigon – Bu Dang. Phone number: 0913 136596 – 0904 758080.
If you choose to travel by motorbike, you can follow the route: National Highway 1A > Dau Giay T-junction (70km) > then turn left along Highway 20 > to Ta Lai T-junction, turn left then follow Only 24 km away, you have reached Nam Cat Tien National Park.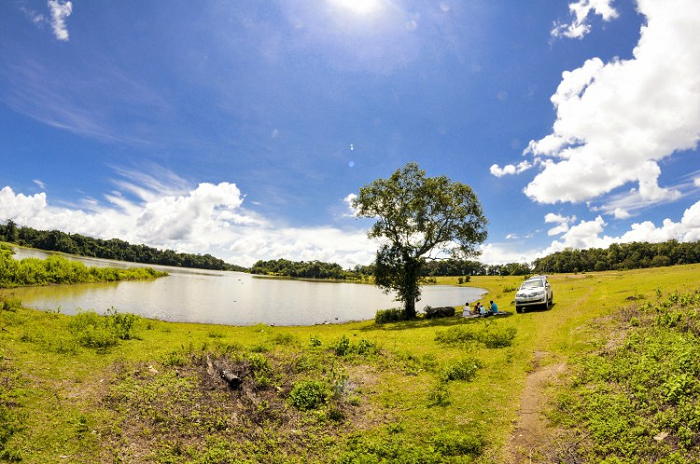 According to travel experience in Binh Phuoc, when you have arrived in Binh Phuoc, you should rent a service motorbike to visit the spots, both convenient and proactive in time.
Read more:
Where to stay in Binh Phuoc?
Because Binh Phuoc Tourism has not developed many motel systems, hotels have not been invested and built popularly. However, there will also be several accommodation addresses for you to choose from with full facilities and affordable prices from only 100,000 VND – 500,000 VND/person.
Some motels in Binh Phuoc with reasonable prices that you can refer to:
+ Kim Long Hostel: No. 121 QL14, Tan Xuan Ward, Dong Xoai Town. Phone: 0651.881.938
+ Thanh Tam Hostel: 99 National Road 14, Tan Xuan Ward, Dong Xoai Town. Phone: 0651.879.678
+ Cuc Phuong Hostel: National Highway 14, Tan Xuan Ward, Dong Xoai Town. Phone: 0651.879.764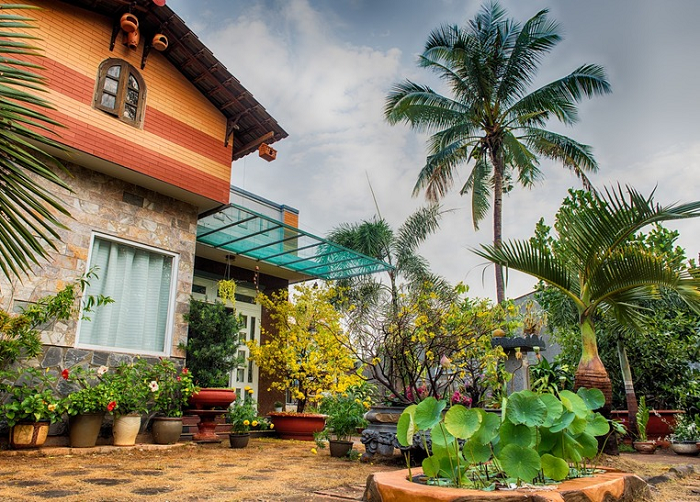 Popular tourist attractions in Binh Phuoc
Joining the tour in Ho Chi Minh, you will get to the point of the vibrant modern but rustic land in the Binh Phuoc. You'll get to the attractions gently, more peaceful.
Ba Ra Mountain: This is the highest mountain of Binh Phuoc province and the third highest mountain of the Southern region. This is a beautiful address for those who are passionate about trekking. Standing on the top of Ba Ra, you can see the gentle beauty of Thac Mo Lake and the beautiful natural scenery of neighboring districts.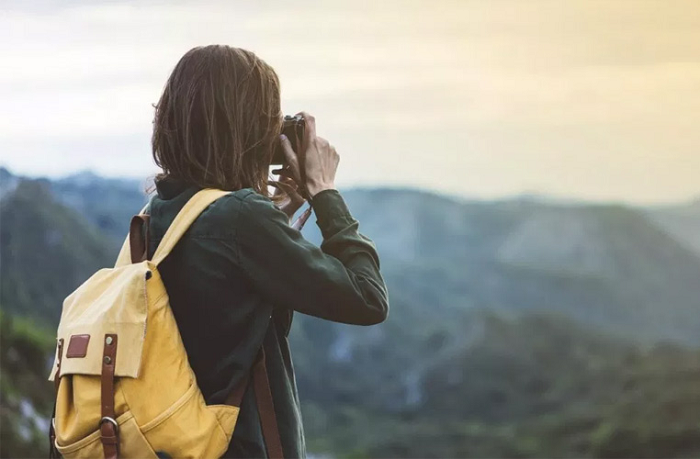 Bu Gia Map National Park: This place has a vibrant and diverse ecosystem. It is a suitable address for those who like to have a picnic and experience the wildlife. You will be immersed in the beautiful nature with birds chirping, murmuring streams, rustling wind. This is a fascinating tourist destination in Binh Phuoc.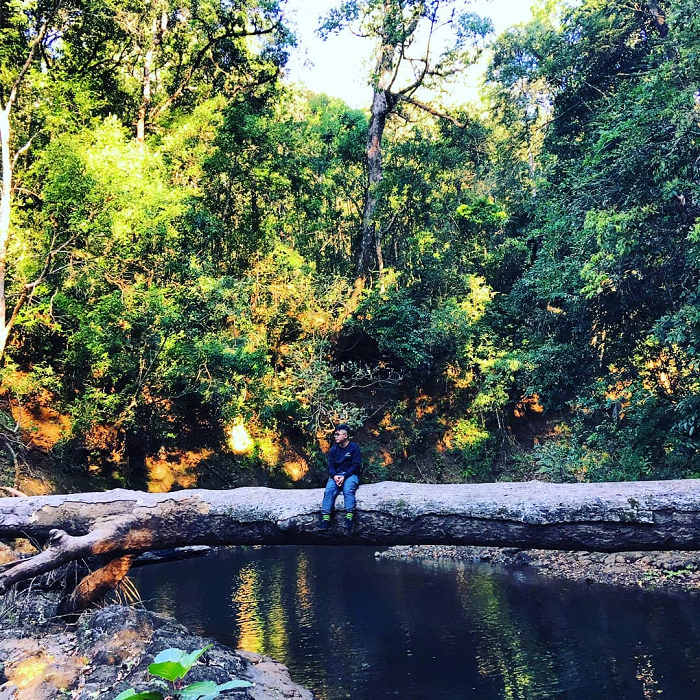 Bu Dang Rubber Forest: The scenery here has made many visitors fascinated, a natural picture with all colors such as red, yellow, blue, brown on a vast stretch of land. Each season here will bring a different beauty, gentle and deep, and sometimes brilliantly attractive.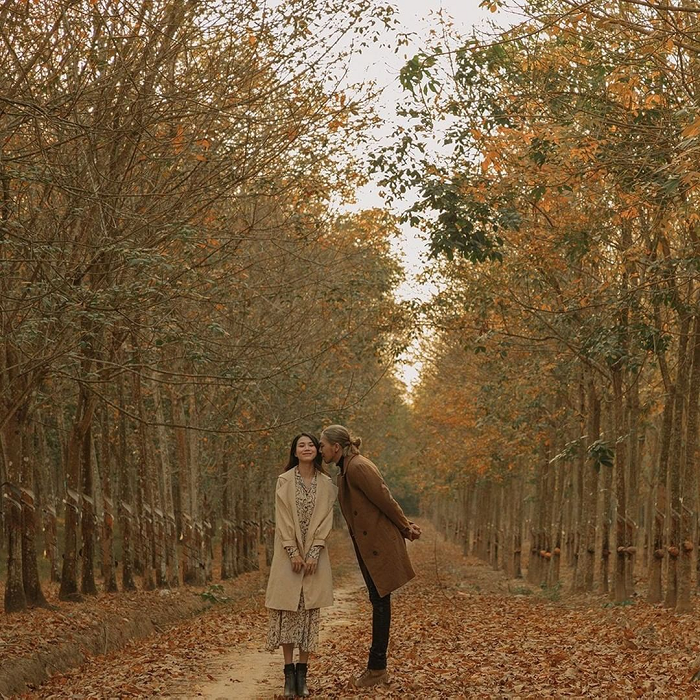 Soc Xiem tourist area: this is one of the eco-tourism areas in Binh Phuoc that is unique and interesting. One side is a lush rubber plantation with immense green color, and the other is a residential area. Coming here, in addition to sightseeing, you can also fish by the lake and drop your soul into a peaceful and gentle space.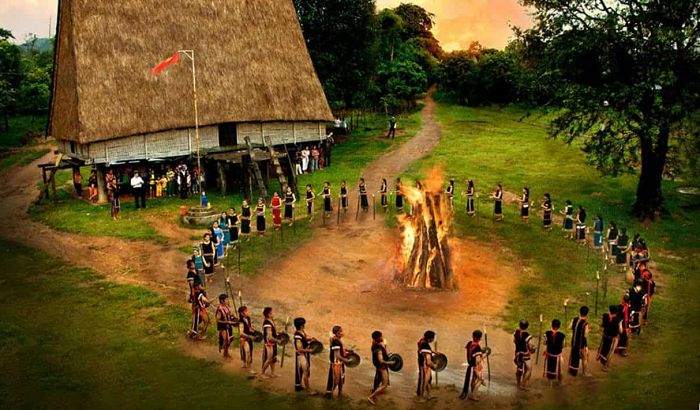 What to eat when traveling to Binh Phuoc?
According to Binh Phuoc Travel Guide, there are many unique and attractive dishes here, including a few foods below:
Crispy fried cicadas: this is one of the attractive dishes that make many people fall in love when traveling to Binh Phuoc. To get this dish, people have to use the cicadas that have just molted and then fried until golden and put the chili garlic fish sauce on the island. The fried cicadas are presented on a plate with iridescent yellow color, eaten with a delicious greasy taste.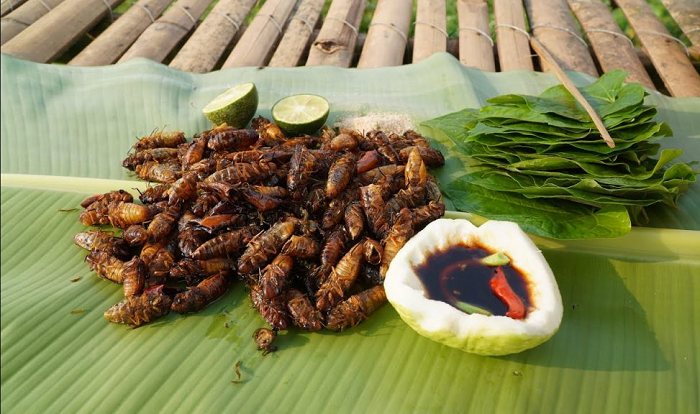 Cashew Fruit Salad: Binh Phuoc is famous as the capital of cashew fruit. In addition to ordinary salted roasted cashews, people use them to make the salad. Cashew fruit combined with shrimp, meat, herbs, and little spices will create a beautiful dish.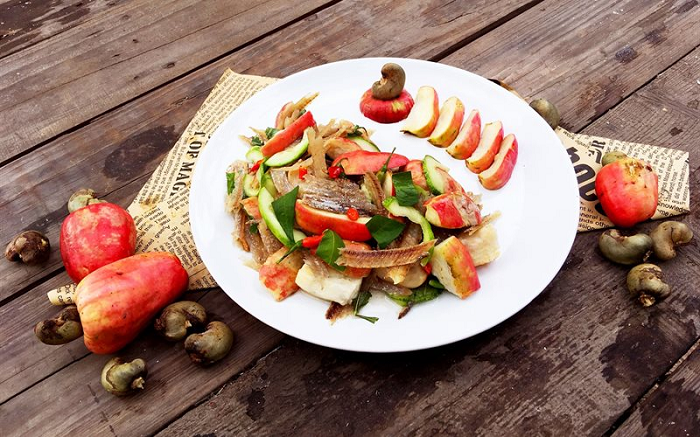 Roasted rattan buds: The rattan buds are cooked on a charcoal stove. When cooked, there is a unique aroma, eating you will feel the bitter taste mixed with the incredible sweetness of the buds. You can dip rattan with chili lemon salt. Although the dish is simple, it is effective in eliminating alcohol and treating abdominal bloating effectively.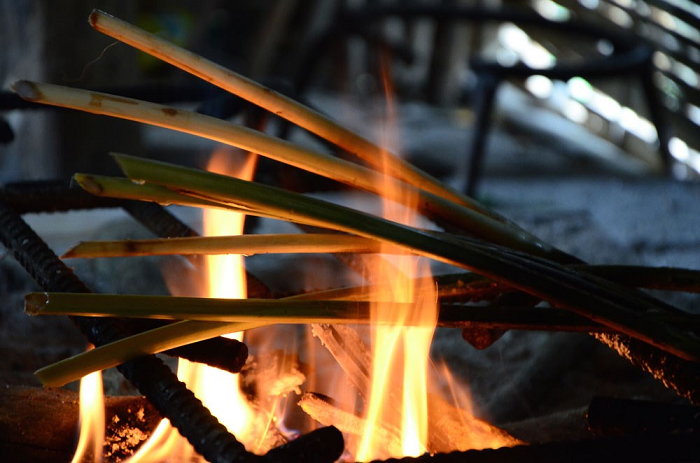 Free-range pig: this is one of the famous specialties of Binh Phuoc. Because it is a free-range pig, it is substantial, low-fat, and has moderate toughness. Pork is used to process into many different dishes: imitation civet, boiled pork, roasted pork, spiced grilled pork, etc.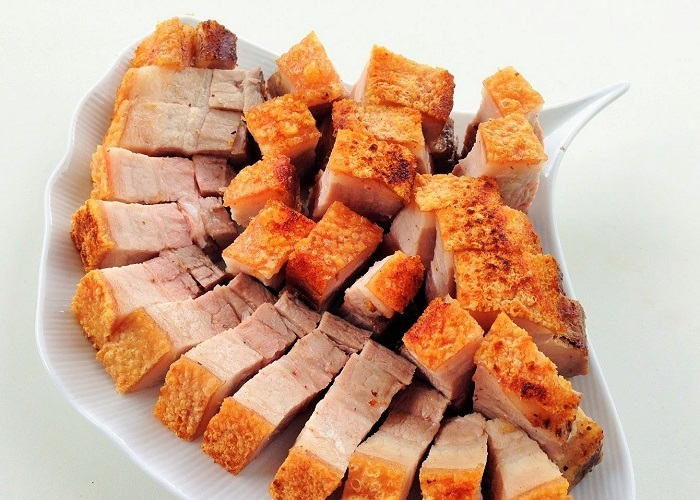 Above is the entire Binh Phuoc travel guide that we have compiled. We hope this article will help you better understand this peaceful and lovely land. Wish you have a whole and meaningful discovery trip.