If you are looking for the most essential Binh Duong travel guide, please read this article. The information that we share with you in this article will undoubtedly be useful for the upcoming trip.
The most required Binh Duong travel guide
Should travel Binh Duong at any time of the year?
Binh Duong is a province with pleasant weather and mild climate all year round. You can generally come here at any time of the year. According to the Binh Duong travel guide, the ideal time is probably from May to August every year. However, if you go around July and August, you need to pay close attention to the weather forecast because this is the time when it usually rains heavily so that it will affect your journey.
How to move to Binh Duong
Go by motobike
Because Binh Duong is only about 30km from the center of Saigon, a motorbike will be an ideal vehicle for many people to choose because it will help you be more active, save time and cost.
Travel by coach
If you do not have a motorbike or do not have experience in Binh Duong tourism, you can also travel by coach. From the Mien Dong bus station every day there are always many buses running the Saigon – Binh Duong route for you to choose. The ticket price will usually range from 100 to 120k / 1 time and travel time takes 1 hour. 
Train
For more distant travelers like Hanoi or the Northern provinces, if you want to travel to Binh Duong, you can go by train. From Hanoi Railway Station to Binh Duong, ticket prices will range from 680 to 1.5 million VND / 1 way.
Planes
The fastest and safest way to travel from Hanoi to Binh Duong is by plane. However, there is currently no airport. You will have to land at Tan Son Nhat then continue to drive to Binh Duong.
Hotels in Binh Duong
Binh Duong also has many motels, hotels with affordable prices for you to choose.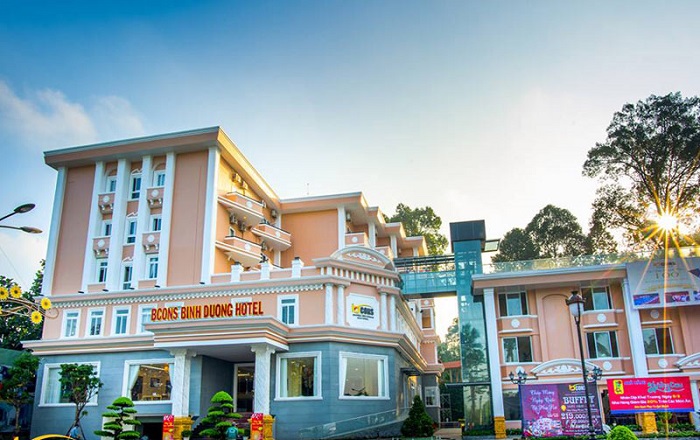 Below is a list of some good motels and hotels in Binh Duong that you can refer to:
Phuong Nam Resort : Address: 12/15 Trung Hamlet, Vinh Phu Commune, Thuan An District. Phone: 3743 553/3785 777; Fax: 3757 348.
Binh Duong Hotel: Address : 50 Bach Dang, Tx. Thu Dau Mot. Phone: 3822 811; Fax: 3848 101. Hai Long Hotel: Address: 54A Binh Duong Avenue, Thuan An District. Phone: 3757 708.
Kim Son Hotel: Address: 15/9 Binh Duong, Di An District. Phone: 3752 548.
Star Hotel : Address: 28-29C Noi Hoa Village, Binh An Commune, Di An District. Phone: 3751 523; Fax: 3752 548.
Where to go to play in Binh Duong?
Dai Nam Van Hien tourist area
One of the most famous places in Binh Duong that anyone coming here cannot ignore is Dai Nam Van Hien. This is a large entertainment resort with lots of unique and attractive games. In addition, this is also a famous spiritual tourism destination, which reminds us of a heroic past of our fathers.
Especially, Dai Nam Van Hien also has a racetrack – where you will be able to watch the extremely fierce and thrilling motorbike races, dog racing, horse racing.
Lai Thieu fruit garden
 For those who love nature, want to explore the fruitful gardens, then definitely can not miss the opportunity to explore Lai Thieu garden. This is the most famous fruit garden in Binh Duong with an area of ​​over 1000ha, spread over 6 communes of Thuan An district.
Phu Cuong Cathedral
Binh Duong is a province with many beautiful and ancient churches. One of the most famous churches here that you should visit is Phu Cuong Cathedral. After undergoing a major remodeling in 2014, this place is currently the largest church in the province. Not only is a familiar destination for devotees, lambs, but Phu Cuong cathedral is also a favorite check-in place.
Phu Loi Prison
Going to Binh Duong without prison visit Phu Loi, the result is extremely regrettable. This is a historical relic still surviving from the anti-American resistance war. This place had been the horrific crimes of the United States military before us and our Vietnamese people. More than 6000 political prisoners have been detained at this prison and they have all suffered brutal torture. If you want to learn about the fights and heroic history of our fathers, please visit Phu Loi Prison.
Although not a bright star on Vietnam's tourism map, Binh Duong has always been a worthy destination not to be missed in the South tour. Why don't you try once to explore this beautiful land?