Quy Nhon is a desirable tourist destination of the Central Region, and many tourists come to have fun vacations. However, if you only have 24 hours in Quy Nhon, you need to plan carefully to both discover many destinations and avoid tired.
24-hour diary in Quy Nhon
Quy Nhon is beautiful, peaceful, and not hustle is what many tourists comment on when visiting this land. It also has a lot of tourist attractions. Indeed, if you go to Quy Nhon tour for 5-6 days, you do not have to worry about boring because this place has so many different attractions.
However, if you only have a 24-hour journey to Quy Nhon, the choice of destinations should also be considered more. They need to be close to each other or on a route so that you don't have to spend much effort moving.
The Quy Nhon 24-hour travel experience below will share with you the schedule for an exciting trip:
Watch the sunrise on Thi Nai bridge
Thi Nai Bridge connects Quy Nhon City with Phuong Mai Peninsula. This 7km long bridge is located in the beautiful check-in locations of Quy Nhon.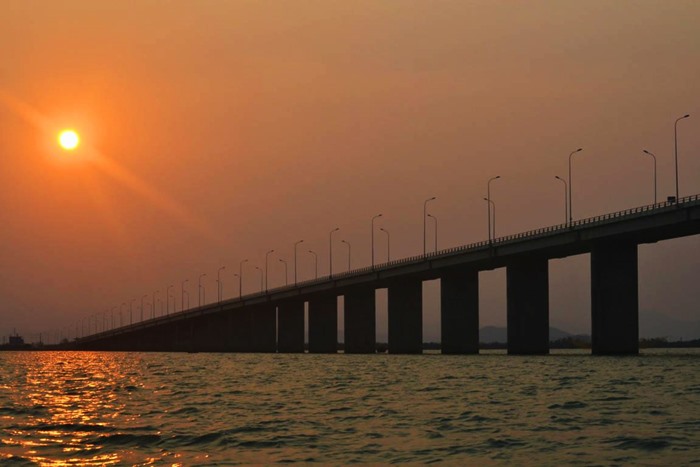 Dawn and sunset are the times when the Thi Nai bridge becomes the most beautiful. The rays of sunlight gently shine down on the blue sea. Along with that, the sky is also rich in red, creating a gorgeous scenery.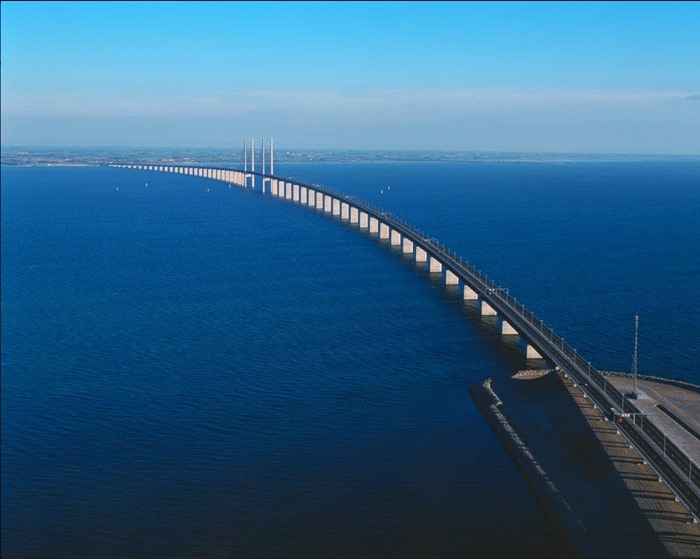 Within 24 hours of Quy Nhon travel, start by checking in at one of the most beautiful cross-sea bridges in Vietnam.
Discover Ky Co beach
After checking-in at Thi Nai Bridge, the next destination in 24-hour journey to Quy Nhon is Ky Co. beach. This place is known as the Maldives paradise of Vietnam.

The beach is located about 25 km from the city center. For the fastest and most convenient way, you can go by canoe at the price of 300,000 – 400,000 VND / person, including lunch.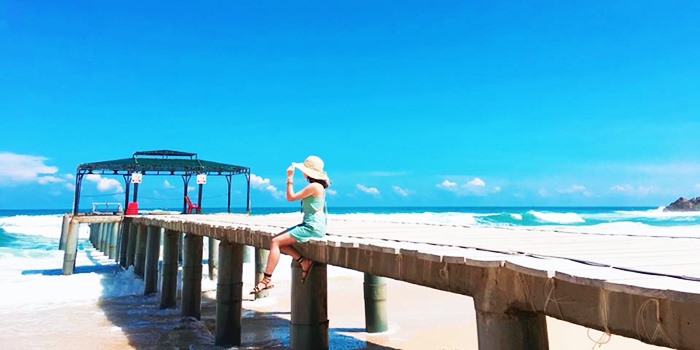 However, traveling by road will save you quite a bit. On the way, there will be people who invite you to go by canoe or say you cannot reach Ky Co by road. However, you only need to decline the invitation or reply to already bought the tour. To enter Ky Co, you must purchase a ticket of 150,000 VND / person (including transfer car) if traveling by motorbike deep inside the ticket price is about 100,000 VND / person.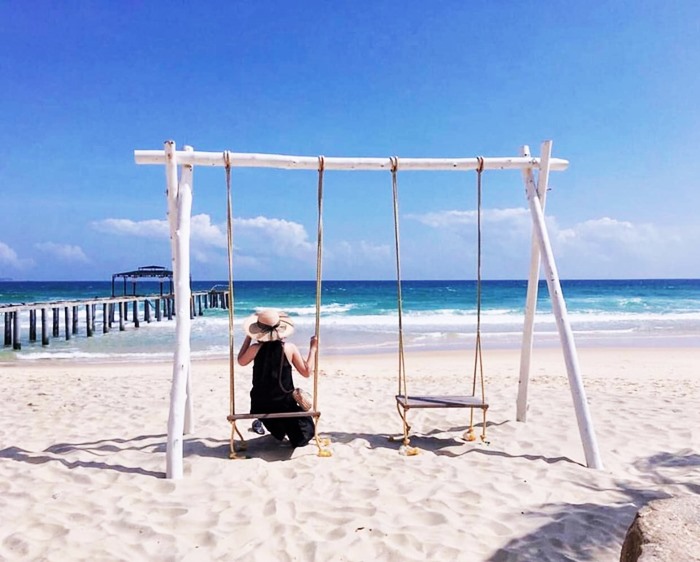 Ky Co Beach still retains many pristine features with blue sea, white sand and majestic cliffs. This place is very clean, absolutely no appearance of rubbish on the beach. Coming to Ky Co, you can swim, watch the scenery and especially snorkeling.
Lunch after exploring Ky Co beach
After visiting Ky Co beach, you should take time to have lunch and rest to continue having energy for 24h trip in Quy Nhon.

If you bought a ticket to travel by Cano, you will have lunch at Ky Co full. If not, you can also enjoy fresh seafood dishes at restaurants right on the beach.
Walk in Eo Gio
Eo Gio is about 5.9 km from Ky Co, and it only takes you 15-20 minutes to move. Revealing to you, the road to Eo Gio is also gorgeous. If you ride a motorbike, you can stop along this road to get great check-in photos.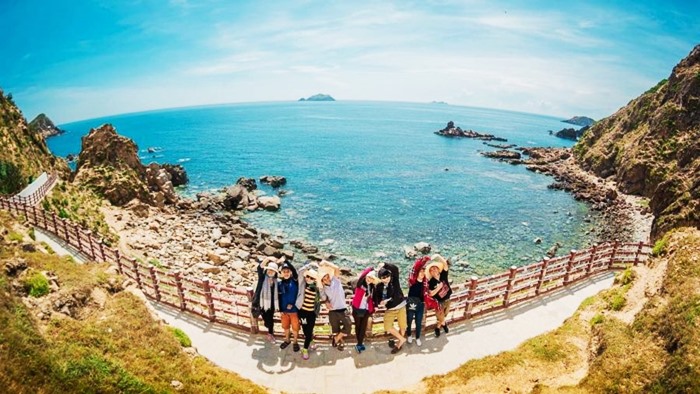 The scenery of Eo Gio is very pristine, there are very few shops along this coastal road. Therefore, you should actively prepare 1-2 bottles of water when coming here.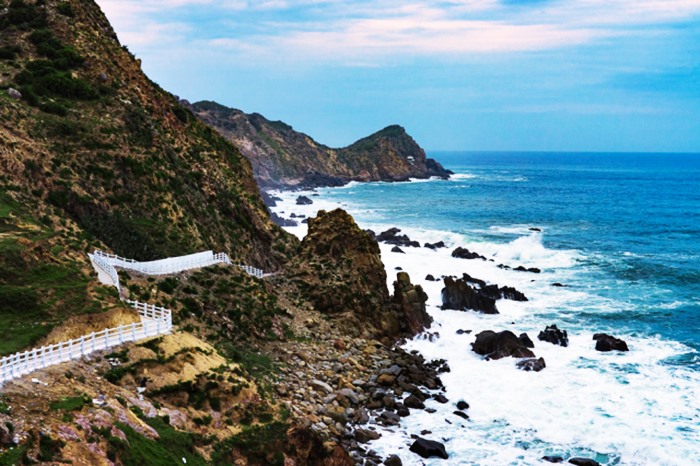 The walk time at Eo Gio will take you from about 40 minutes to 1 hour. Entrance fee to Eo Gio is 25,000 VND / person.
Visiting Twin Towers
After walking at Eo Gio you can return to the city to visit the Twin Towers. This work is a remnant of the Cham culture in Quy Nhon.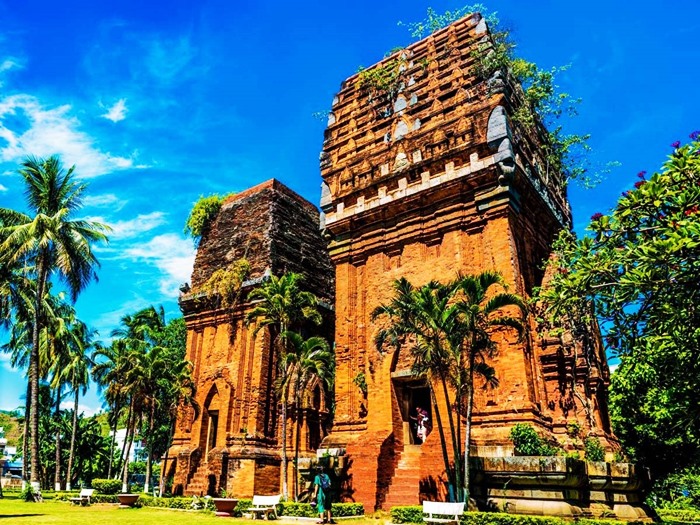 The tower is located at the corner of Tran Hung Dao street, Thap Doi street, belonging to Dong Da ward, Quy Nhon city. Here you can understand more about a very special ancient Cham culture. Over hundreds of years, the building is kept intact.
Enjoy dinner
After visiting the Twin Towers, you can take time to rest, enjoy dinner. Revealing to you some delicious restaurants not to be missed when coming to Quy Nhon including: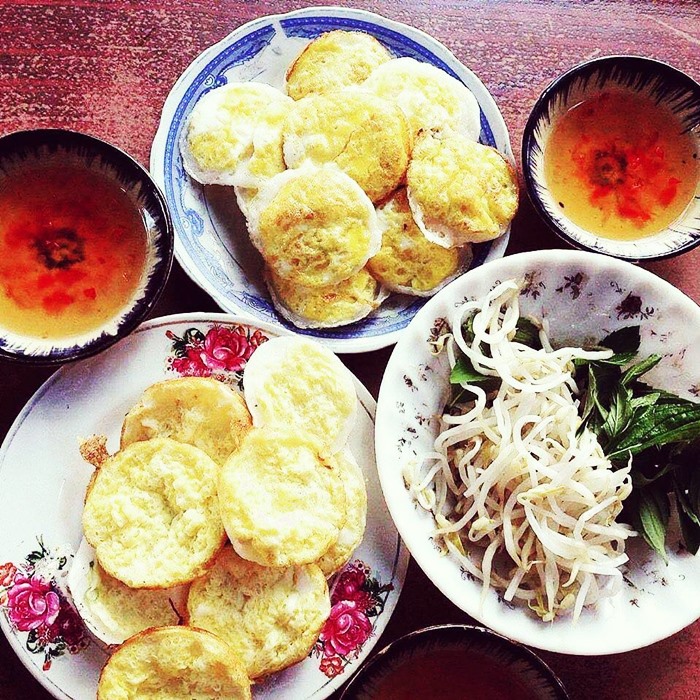 – The pancake of Prawn dumplings jumps at Nam Cang bridge, My Cang bridge, Phuoc Son commune, Tuy Phuoc district
– Remember Me, 134 Ngo May is the most famous tea shop in Quy Nhon
– Tay Son Beef Shop – Anh Nhat Gia Vien Restaurant, 1087 Tran Hung Dao
– Man's porridge to ask for porridge, 76A Tran Phu
– Jellyfish noodle restaurant in Hoa Hoa restaurant, 318 Phan Chu Trinh
– Ba Gia cafe, No. 7 Ngo Quyen
After enjoying a delicious dinner, you almost had 24 hours to visit Quy Nhon quite completely. If you still have the energy and want to have fun, you can find some coastal cafes to drink and watch the sea at night.
These are the 24-hour travel experiences in Quy Nhon , hope that they can help you discover this central region of fun, even if only for a single day.
Source: Du Lich Viet Nam