When summer comes, every region wears a new color, which is more exciting than a trip to discover the most beautiful destinations for a summer holiday in Vietnam.
1. Sa Pa
In the summer of Sa Pa, not only are the clouds and trees overlapping, but it also has a very young and unique feature. The fresh air here is like purifying all troubles and bringing a relaxed and leisurely feeling to anyone who arrives. Perhaps also because of that, every year Sa Pa attracts so many people to come. 

On sunny days, you will enjoy the mist early in the morning, a little warm at noon, a little sunlight in the afternoon. Besides, trips to explore and discover the simple daily life and unique culture of the indigenous people here will make you love this land more. 

In particular, trekking enthusiasts can not ignore the experience of conquering the Roof of Indochina – Fansipan Peak when traveling Sapa.
The day-to-day scenery is inherently beautiful; in the spring, it is even more poetic. The moment of setting foot on the highest spot of Vietnam, along with the enchanting beauty of the great Hoang Lien, will surely be an unforgettable early spring experience for anyone.
2. Moc Chau
Moc Chau is also one of the most beautiful destinations for a summer holiday in the North of Vietnam. The weather in Moc Chau in the summer is not too hot yet still enjoyable, which has gentle yellow sunshine, full of grass branches as adorning the natural scenery here. 

Although when summer comes, the colors here are not as brilliant as the spring, but visitors will still be able to see a little pink mixed white of the original flowers. The blooming petals fluttering under the yellow sunlight, alternating with the green background of the foliage, make Moc Chau tourism become strangely attractive. 

Mother Nature has bestowed this land the poetic scenery, cold climate, the rustic and gentle features of ethnic minorities. Therefore, Moc Chau is genuinely a promising destination that brings a lot of emotions in the hearts of visitors. Especially the adventurers or photographers who want to have the album for life.
3. Ninh Binh
Ninh Binh has long attracted a lot of tourists not only for its beautiful scenery but also for its famous cultural and spiritual attractions.
Besides, every season in Ninh Binh has its beauty and attraction, but perhaps the best time to explore this land is in the summer. At that time, the weather here is not too cold or too hot, so it is suitable to visit and enjoy the beautiful natural scenery.

Anyone who comes to Ninh Binh cannot help but admire the beauty and tenderness of poetry, but also very magnificent with a series of famous landscapes such as Trang An, Tam Coc-Bich Dong, Van Long lagoon, etc.
Every destination in Ninh Binh has extremely different and profound characteristics, which gives you a strange feeling of relaxation in your soul, leaving behind the chaos and worries of everyday life. 

In particular, you can also visit the temple to pray for good luck and peace for yourself, your family, and your loved ones. That being-said, Ninh Binh is indeed a great place that you cannot miss this summer.
4. The ancient capital of Hue
Hue is known as one of the places to preserve the last feudal culture of Vietnam with ancient palaces. When you come here, you will have the opportunity to admire the historic monuments such as Hue Citadel, Tu Duc Tomb, Thien Mu Pagoda and many other interesting places. 

Not only that, Hue cuisine also knows how to hold visitors with countless delicious and famous dishes that diners can not miss when coming here such as mussel rice, Hue tea, bun mam wedges, wet buns, …
With the rich flavor, aromatic mixed with spicy characteristics of Central cuisine will surely make you don't want to stop eating.

In addition, coming to Hue, you also have the opportunity to experience the feeling of dropping soul into the songs, Hue songs are as sweet and smooth as the people here right on the Perfume River full of poetic and lyrical. 
5. Da Nang
Da Nang is known as the most livable city in Vietnam so this place is always beautiful destinations for a summer holiday in Vietnam that are favored by many travelers. 
Not only impressed by the brilliant, majestic fireworks display on New Year's Eve but when you come to Da Nang, you also enjoy the beauty of the unique architecture in Vietnam. 

The first is the Dragon Bridge across the Han River. This bridge has a single-sided arch structure with six lanes running in 2 separate directions; this is also the only bridge in Vietnam possessing such a unique design.
And yet, the most attractive point is the grand dragon head design and the stylized tail in the shape of a national flower creating the beauty of power but very soft. If you go on the right weekend, you also have the opportunity to enjoy the spectacular fire and water spray screens here.

Besides, when coming to Da Nang, do not forget to stop by Ba Na Hill – The road to "the fairy-tale scene" to have the opportunity to immerse yourself in the paradise, freely to participate in exciting entertainment activities and take photos with friends and relatives.
6. Hoi An
With peaceful and ancient beauty, Hoi An old town always gives visitors an enjoyable experience. Hoi An possesses the traditional and harmonious architectural beauty of houses, walls, and roads along with many ups and downs of history. Up to now, Hoi An ancient town still retains its old charm and moss in each tile roof, brick, tree line, etc. as it is a simple feature in the personality, pure soul, the true nature of the local people.

Summer is the most suitable time for tourists to visit Hoi An. At this time, the weather here is quite dry, fresh, and pleasant, so you should come and explore tourist attractions such as Ong Pagoda, traditional craft villages (Tam Thanh mural village, pottery village Thanh Ha, Kim Bong village, etc.)
Or famous restaurants such as Ba Buoi chicken rice, Ms. Nga, Phuong bread or Madame Khanh full of meat, sausages, pâté, raw vegetables, and aromatic sauces will make you "nod" with real food Hoi An. 

Besides, the lantern is a "specialty" not-to-be-missed when traveling Hoi An. If you come here on the full moon day every month, you will admire another real Hoi An, splendid with the light of lanterns.
Walking along the Hoai River or sitting on a small boat, paddling in the middle of the river, then gently dropping each of the lighted lanterns, watching the shimmering scenery and praying for peace will surely be an unforgettable experience for anyone traveling Hoi An.
7. Da Lat
With a relaxed, pleasant year-round climate, this foggy city is too familiar with tourists all over the world. Da Lat is as beautiful as a picture; each season, it is covered with a new color that brings a unique feeling to visitors, so it is always one of the most beautiful destinations for a summer holiday in Vietnam.

Although summer is not the flower season in Da Lat, there is still a unique flower that is only having in Dalat, which is the purple flamboyant. Purple flamboyants are everywhere in Dalat city, but the most easily seen are the Da Lat market area, the College of Pedagogy, or along the winding and sloping streets such as Ho Tung Mau, Nguyen Thi Minh Khai, Tran Phu, Le Hong Phong.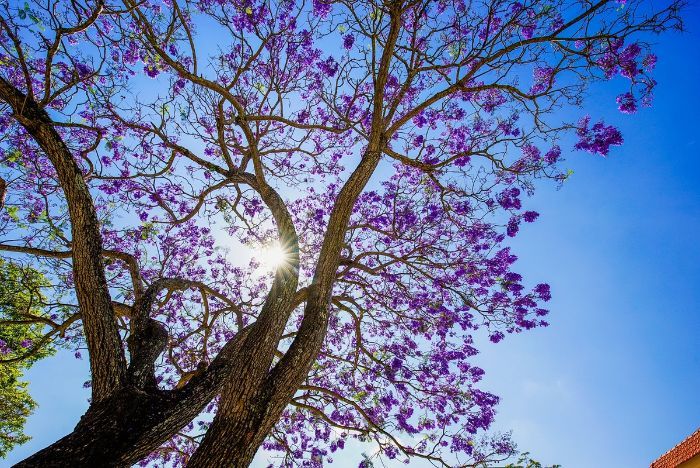 You can slowly, step by step, leisurely on every corner to immerse yourself in the flowers and save the beautiful memories with the flamboyant purple rows of this dream city. 

In addition, Dalat is the land of pagodas. There are many pagodas here which are ranked among the most beautiful in the country. The beauty of the mountainous region combined with the unique architecture makes the temples in Dalat splendid but also majestic beauty, very suitable for tourists who like spiritual destinations. 
8. Nha Trang 
It is no coincidence that Nha Trang is known as a beautiful, joyful, and vibrant beach city and it is even more vibrant than ever in the summer.
If coming to this land, you will immerse yourself in the fresh seawater. You also have the experience of exciting sports games such as riding a closed-bottom boat, scuba diving to watch corals or enjoying the feeling of floating in the sky with a cable car across the ocean to the fascinating Vinpearl Land entertainment. 

Besides, the peaceful and beautiful Nha Trang coastal city also owns outstanding destinations such as Ponagar Tower, Thap Ba Hot Spring, Vinpearl Land, and many other beautiful islands such as Binh Ba, Binh Hung, etc.

Moreover, to visitors who can dive, Nha Trang is the appropriate area to explore the beauty of the ocean. Or if you do not know how to dive, you can also go on a glass-bottomed boat to see coral or sea creatures. In particular, a free party at sea will make your summer trip with your family and friends even more complete. Come to Nha Trang, you will have the best summer holiday in Vietnam.
9. Phu Quoc


Coming to Pearl Island, you shouldn't miss the blue beaches, white sand, sunshine, and try out interesting experiences such as scuba diving to see corals, night squid fishing, exploring deserted islands, or cycling through the forest.
Not only that, but you also admire the green pepper gardens and the busy afternoon markets filled with fresh seafood boats. 

Besides, if you come to Phu Quoc, you must enjoy the delicious seafood dishes unique to Phu Quoc, such as herring salad, Ham Ninh crab, holothurian, abalone, etc. which are extremely attractive. And with all the experiences here will be memorable memories for you and your family. 
Source: DulichVietnam