Novotel Nha Trang is a 4-star hotel that attracts many tourists every year, carrying the mission of bringing comfort – luxury – class to all customers. If you plan to visit the peaceful Nha Trang, save this ideal stop and go through this Novotel Nha Trang Review now!
Overview of Novotel Nha Trang Hotel Review
Address: 50 Tran Phu, Nha Trang, Vietnam
Phone: +84 258 6256 900
Website: novotelnhatrang.com
Check-in/check-out time: Check-in from 14:00, check-out before noon the next day. If guests need to check-in/out earlier, they can contact the hotel directly for a small surcharge.
Room rate: VND 1,700,000 – VND 5,000,000 (Price may vary depending on the time of travel)
Book Novotel Nha Trang on Agoda with discounted prices!

Located on the busiest street, Novotel hotel is just a few steps from Nha Trang beach and is in the heart of dining and entertainment spots here. All rooms at the hotel have a balcony facing the sea; modern architecture and fresh colors make a difference. Besides, this 4-star hotel also provides internal facilities, including a swimming pool, restaurant, bar, gym, and a full-service spa. Visitors will experience perfect service by a team of exquisite service staff, ready to meet all requirements, coming to Novotel Nha Trang.
There are many ways to move to Novotel Nha Trang, such as calling a taxi, a motorbike taxi, or taking a shuttle bus if you go by bus. The hotel also provides a convenient airport shuttle service for tourists without waiting for a long time.
In addition, at the front desk, there are luggage storage services, ticketing services, tour sales, currency exchange, and a 24-hour front desk ready to satisfy all guests.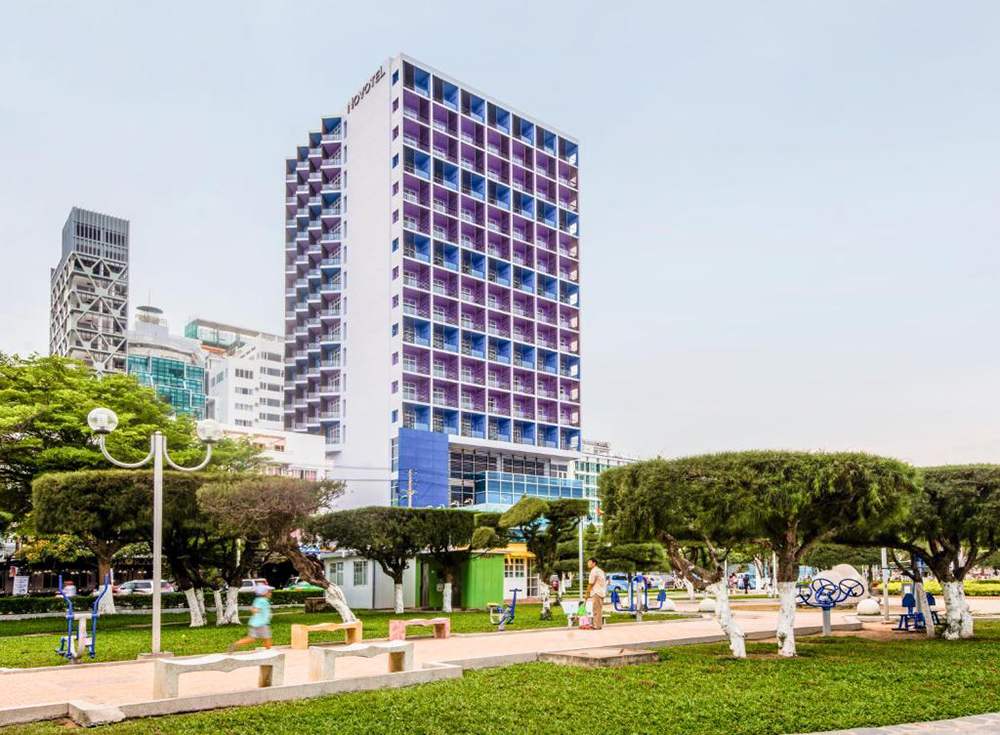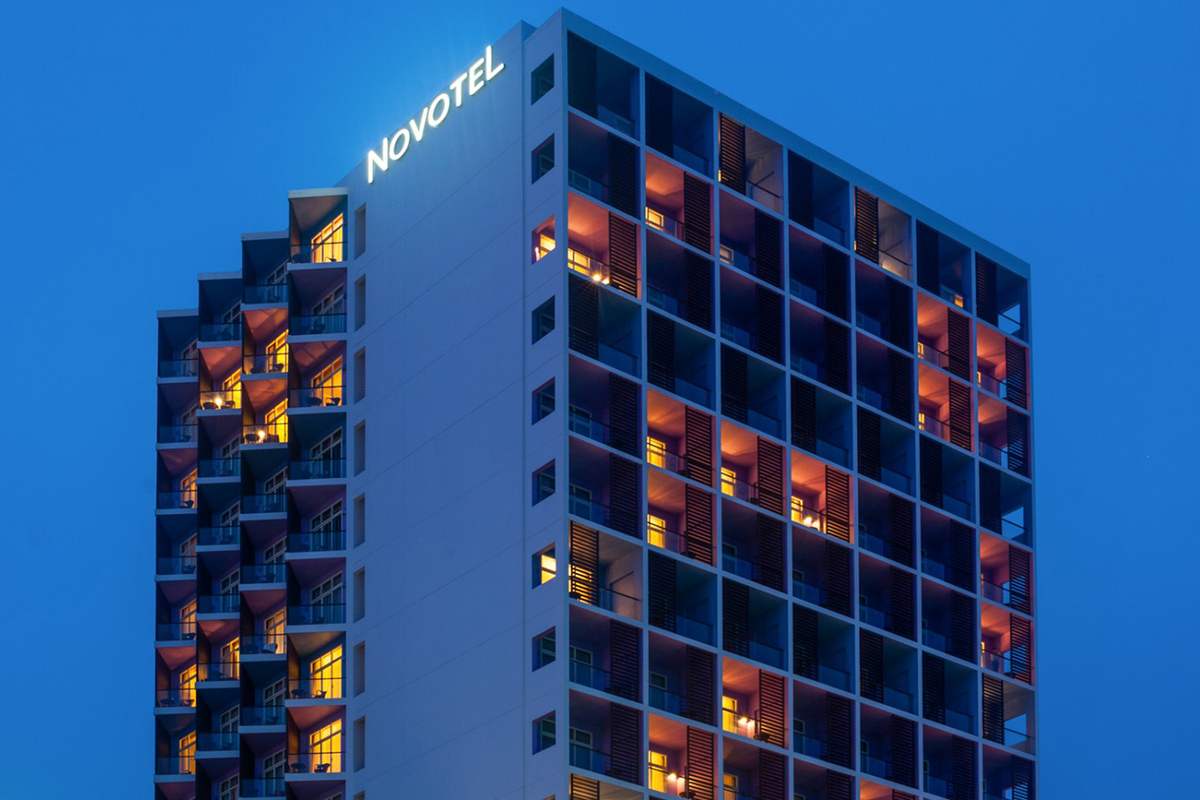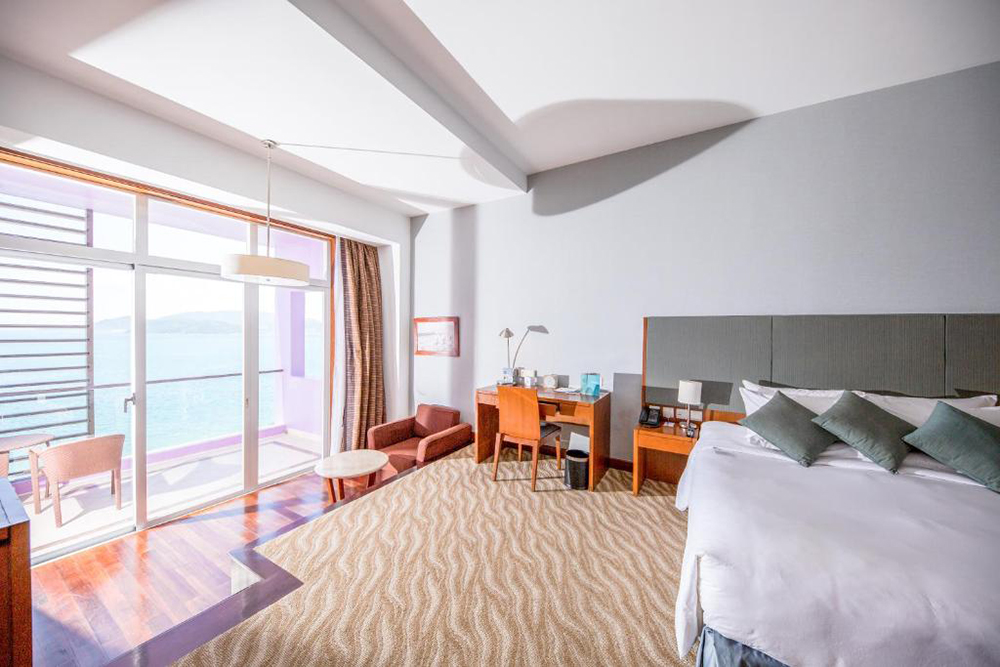 Read more:
Novotel Nha Trang Rooms Review
Standard 
Area: 36m2
Bed configuration: 01 king bed or 02 single beds
Number of guests: maximum 02 adults + 02 children
Standard Room is ideal for couples with high ceilings and ventilation, combined with carpeted floors to increase coziness. Minimalist interior but still comfortable, balcony overlooking the sea and city are the plus points that help Novotel Nha Trang become a favorite 4-star hotel with many good reviews.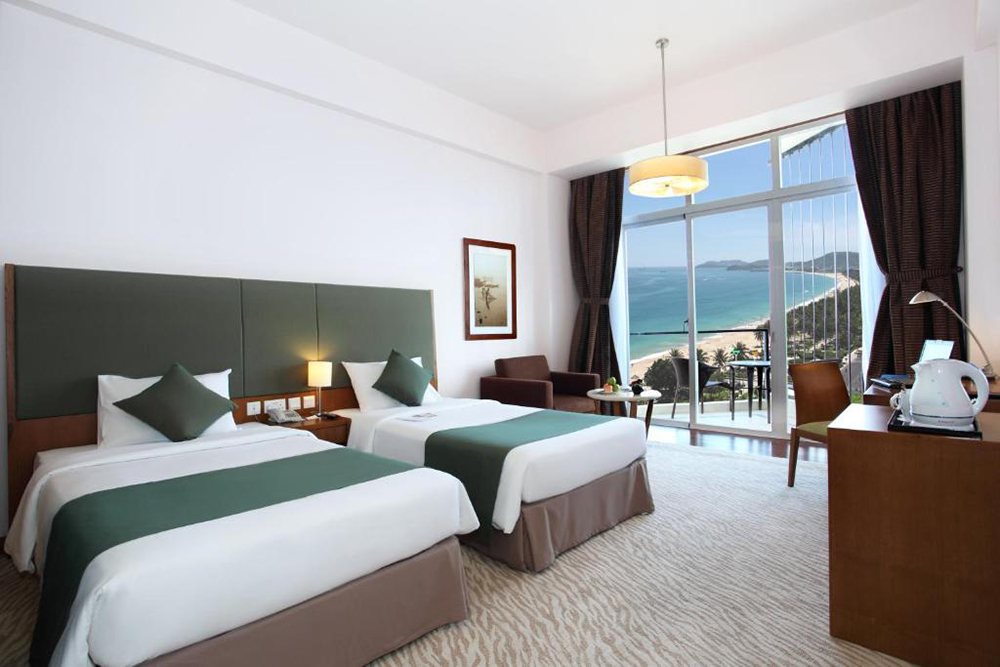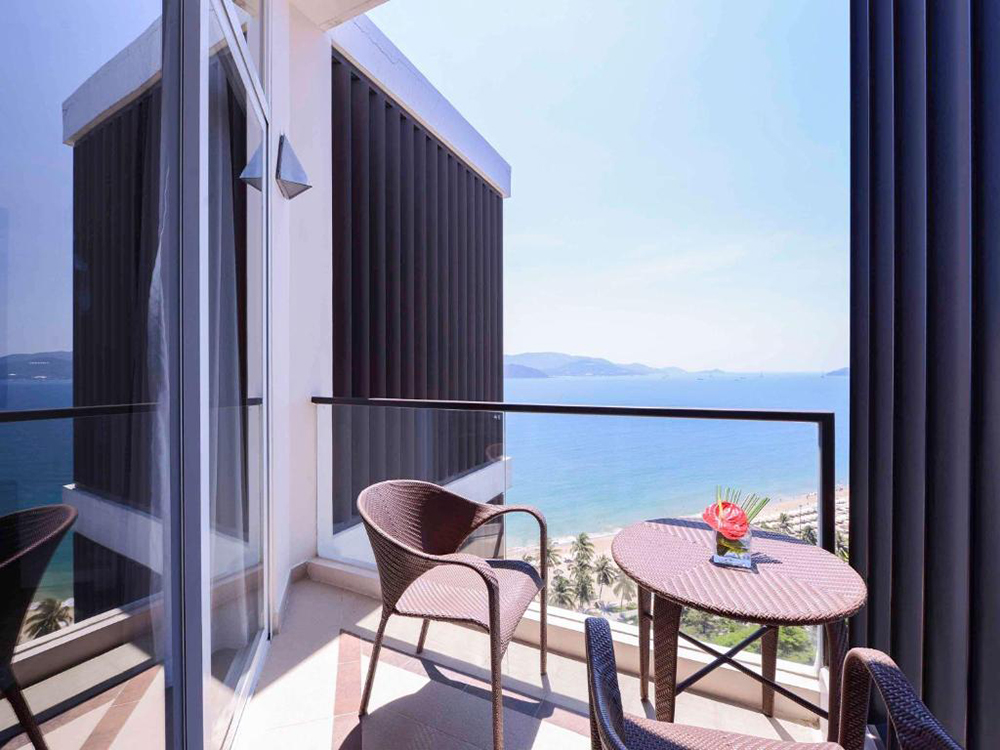 Superior
Area: 36 – 41m2
Bed configuration: 01 king bed or 02 single beds
The number of guests: 
– Type 36m2 maximum 03 adults + 02 children;
– Type 41m2 maximum 02 adults + 01 child 
Staying in the Superior, Novotel Nha Trang, you will enjoy many innovative amenities in a modern space. In addition to the carpeted floor inside, facing the balcony is finished with luxurious glossy wooden floor. Sofa and coffee table are also indispensable furniture to bring great relaxing moments for you.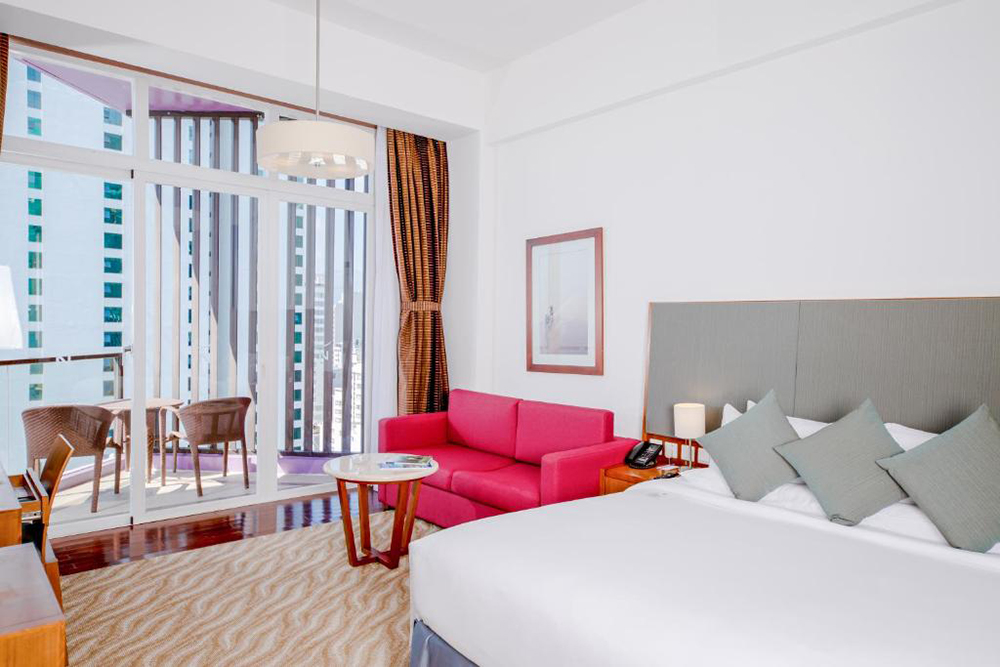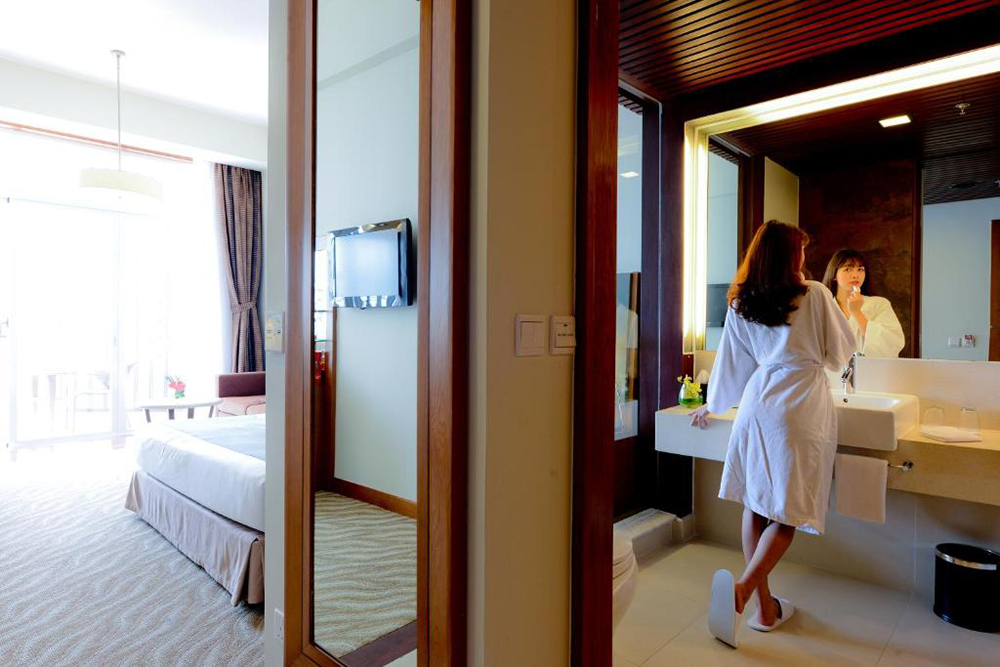 Deluxe
Area: 57m2
Bed: 01 king bed
The number of guests: maximum 03 adults + 02 children
Thanks to the spacious area and many living support devices, it is very convenient staying this room. With 24-hour room service, you can enjoy a private dinner or a nutritious breakfast in the pleasant atmosphere of Nha Trang Bay.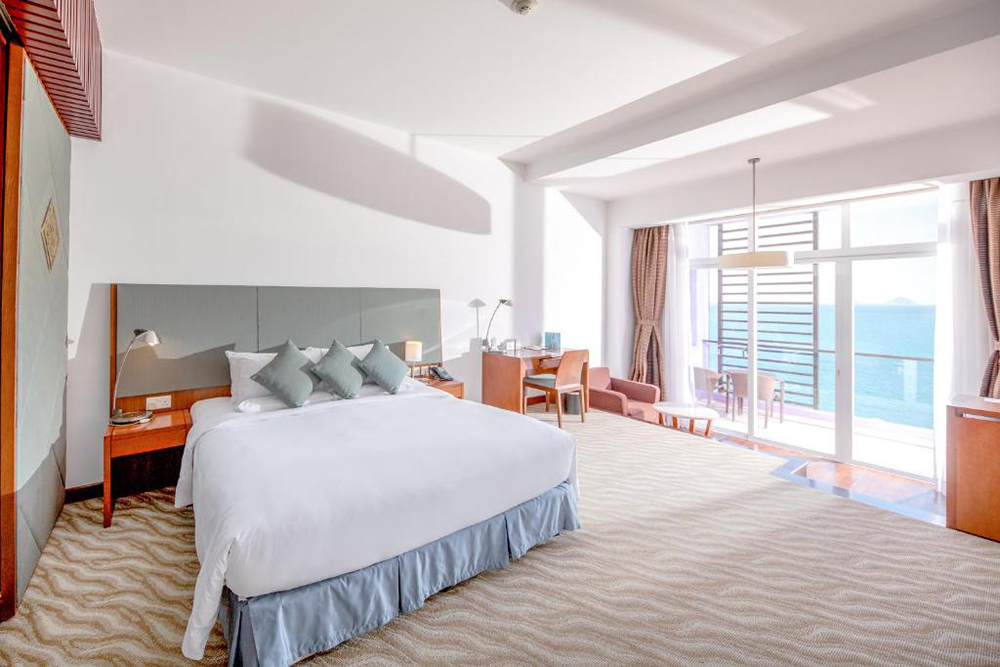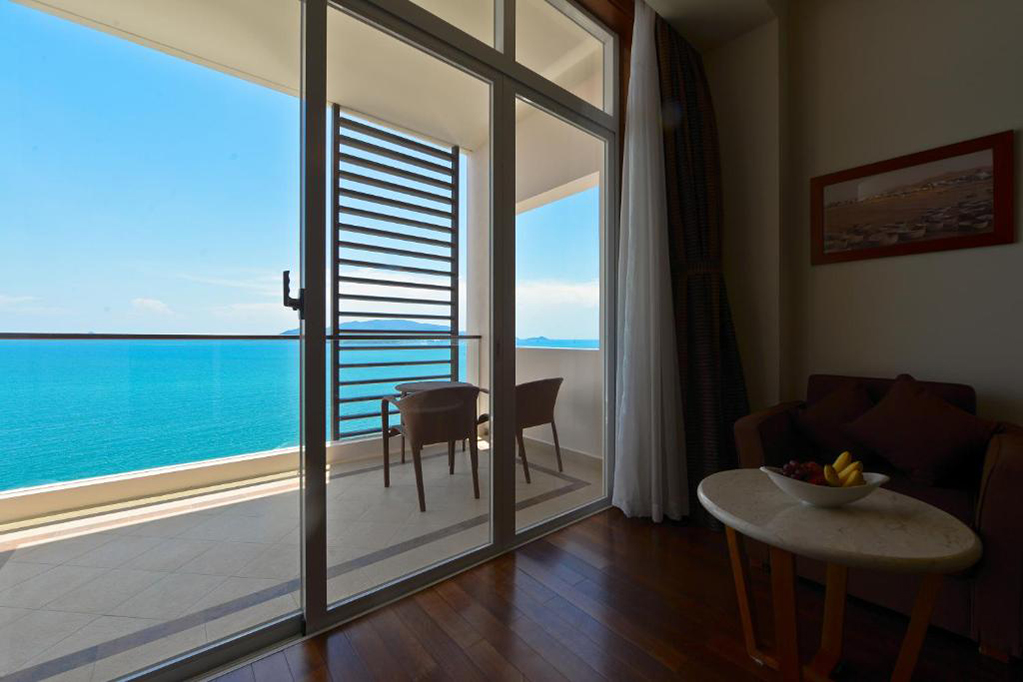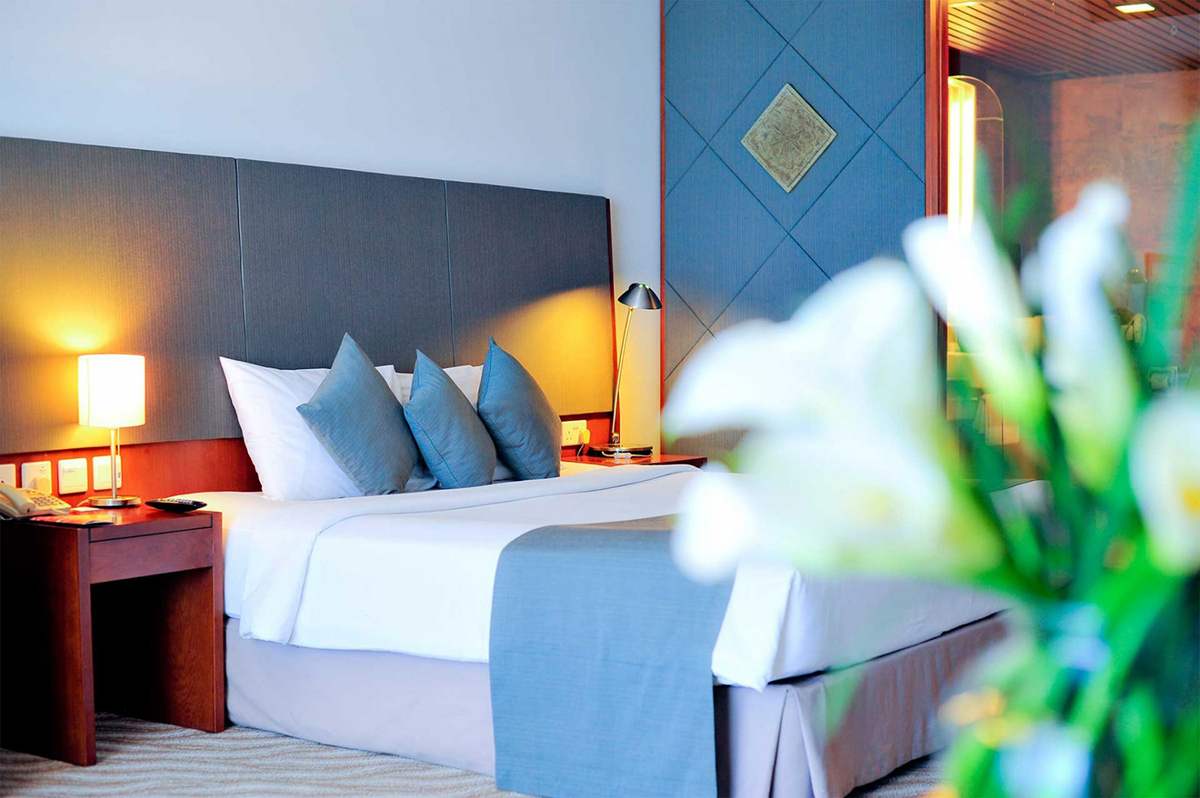 Executive
Area: 41m2
Bed: 01 king bed or 02 single beds
Limit of guests: maximum 02 adults + 01 child
The Executive Room located on the top 3 floors of Novotel Nha Trang hotel has a shower, a square bathtub, high-speed internet, a carpeted wooden floor, air conditioner, Bluetooth speaker, a writing desk, desk coffee, and a desk minibar.
In addition, when choosing Executive, you will get free premium services such as breakfast in your room or buffet at The Square restaurant, room refurbishment, laundry, and complimentary late check-out until 14:00.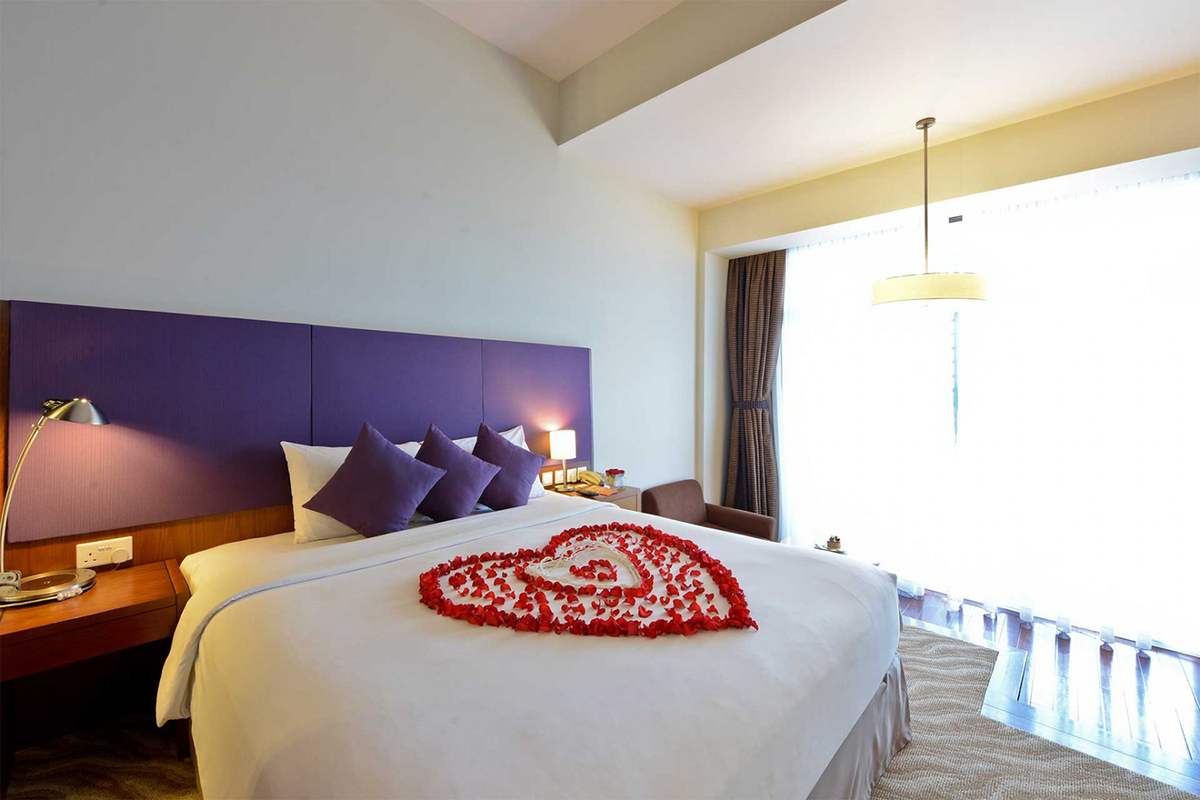 Junior Suites
Area: 57m2
Bed: 01 king bed
Number of guests: maximum 03 adults + 02 children
Located on the 16th and 17th floors of the hotel, Junior Suites have all the amenities of an Executive room but upgrade to a much larger area, a 9.6m2 balcony with panoramic sea views for your relaxation after hours of fatigue.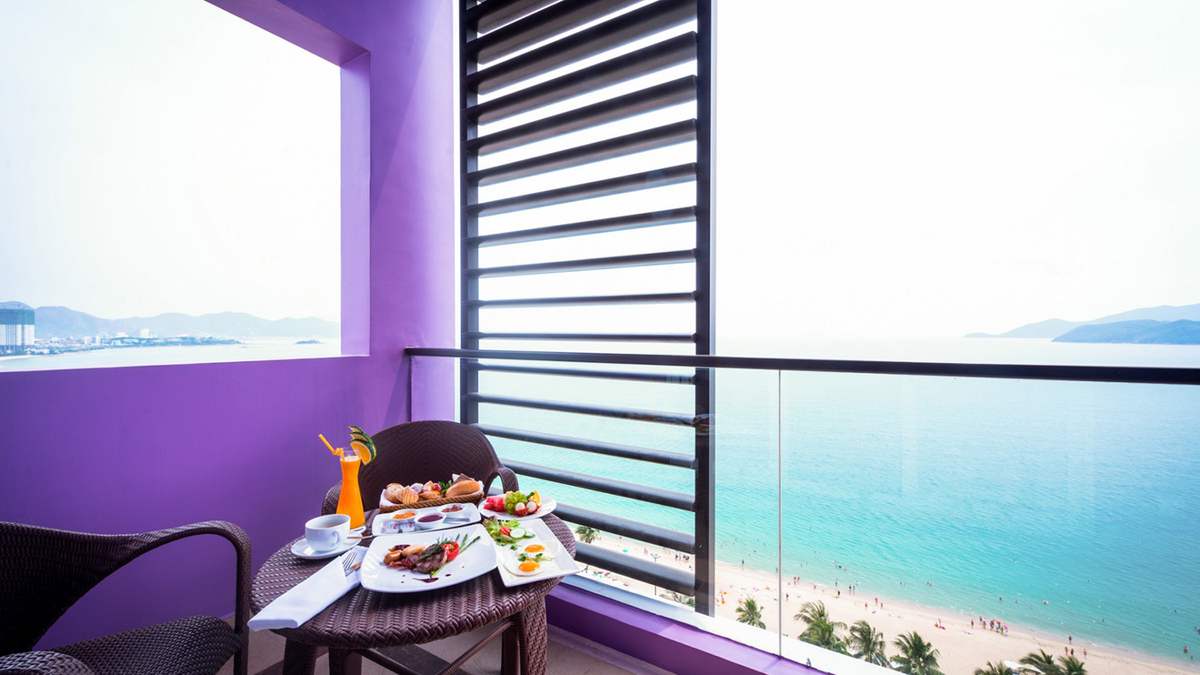 Superior Suites
Area: 101m2
Layout: 01 king bed
Limit of guests: maximum 03 adults + 02 children
Novotel Nha Trang's most luxurious room type, the living room, and bedroom are separate, giving you a 4-star experience but very close to your own home.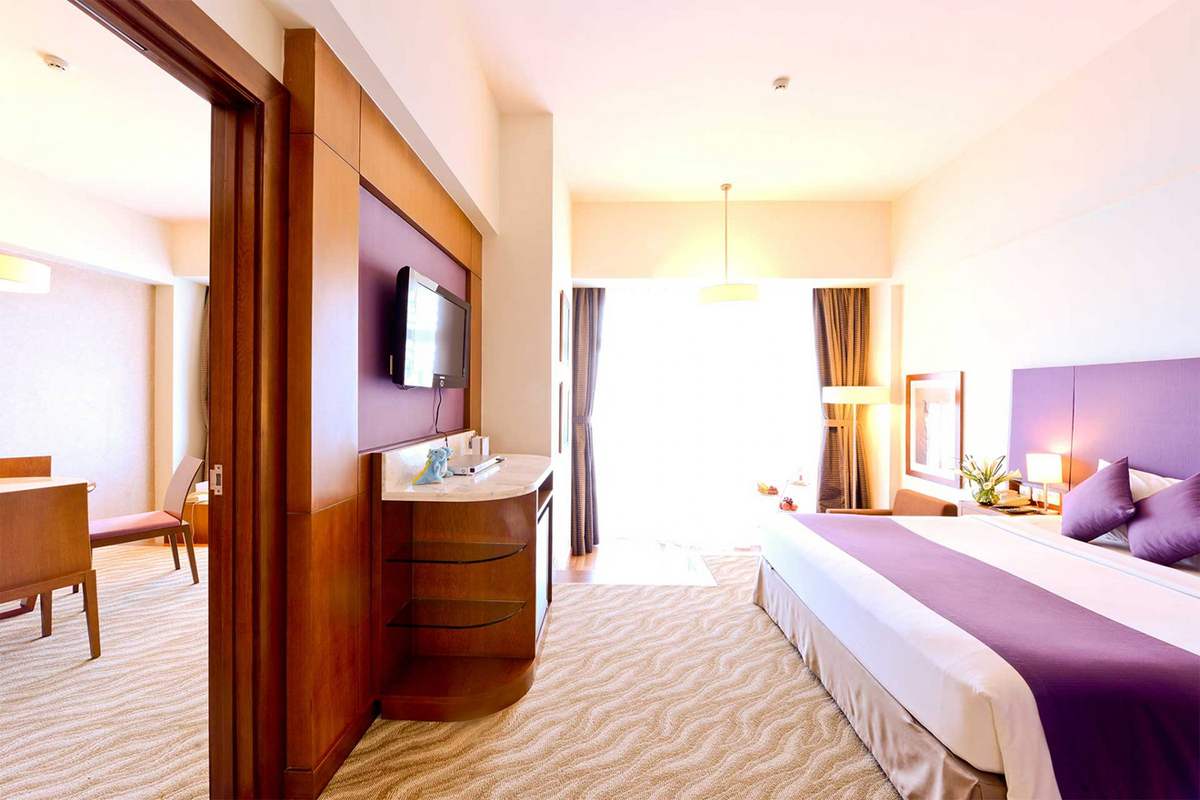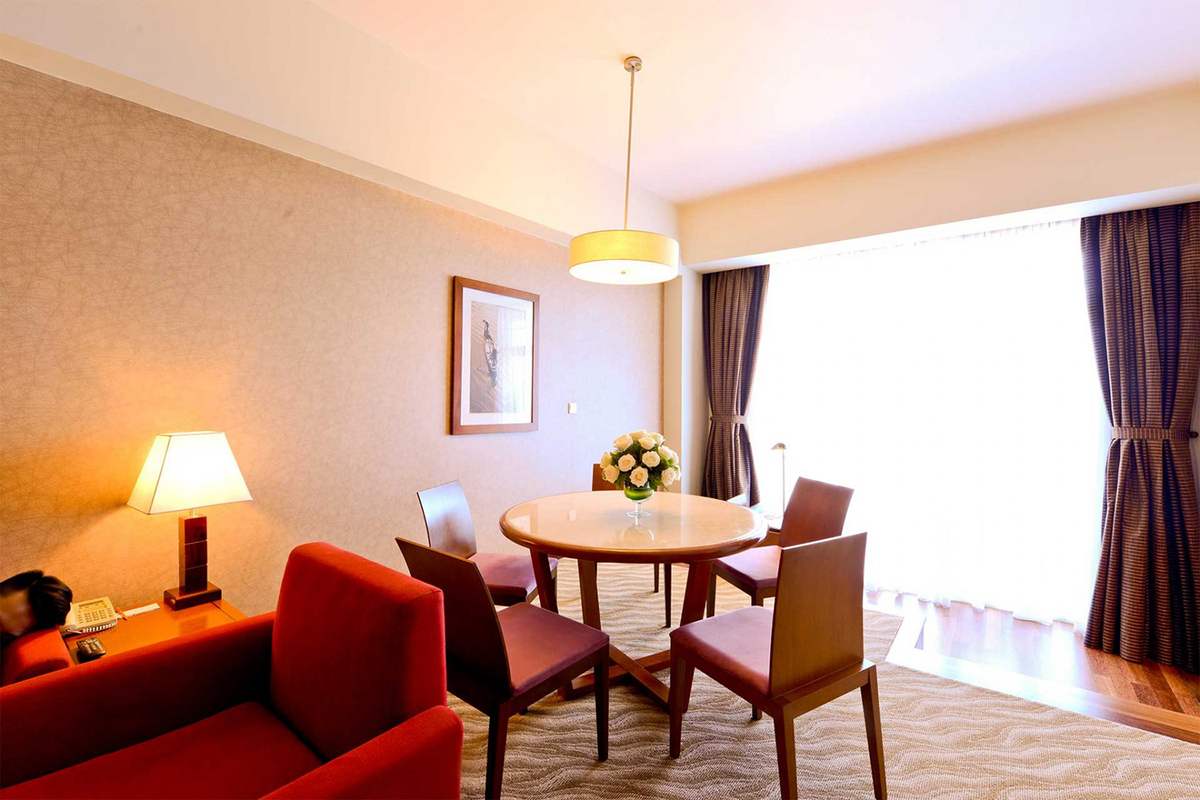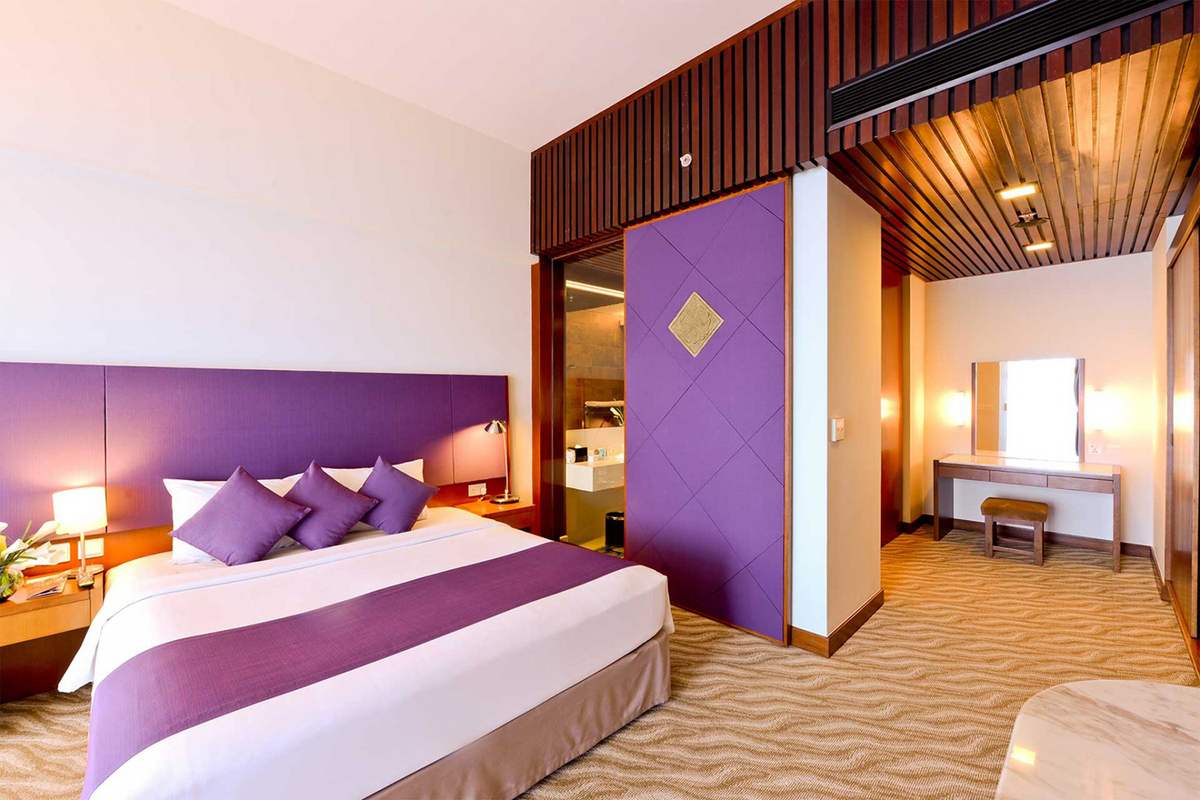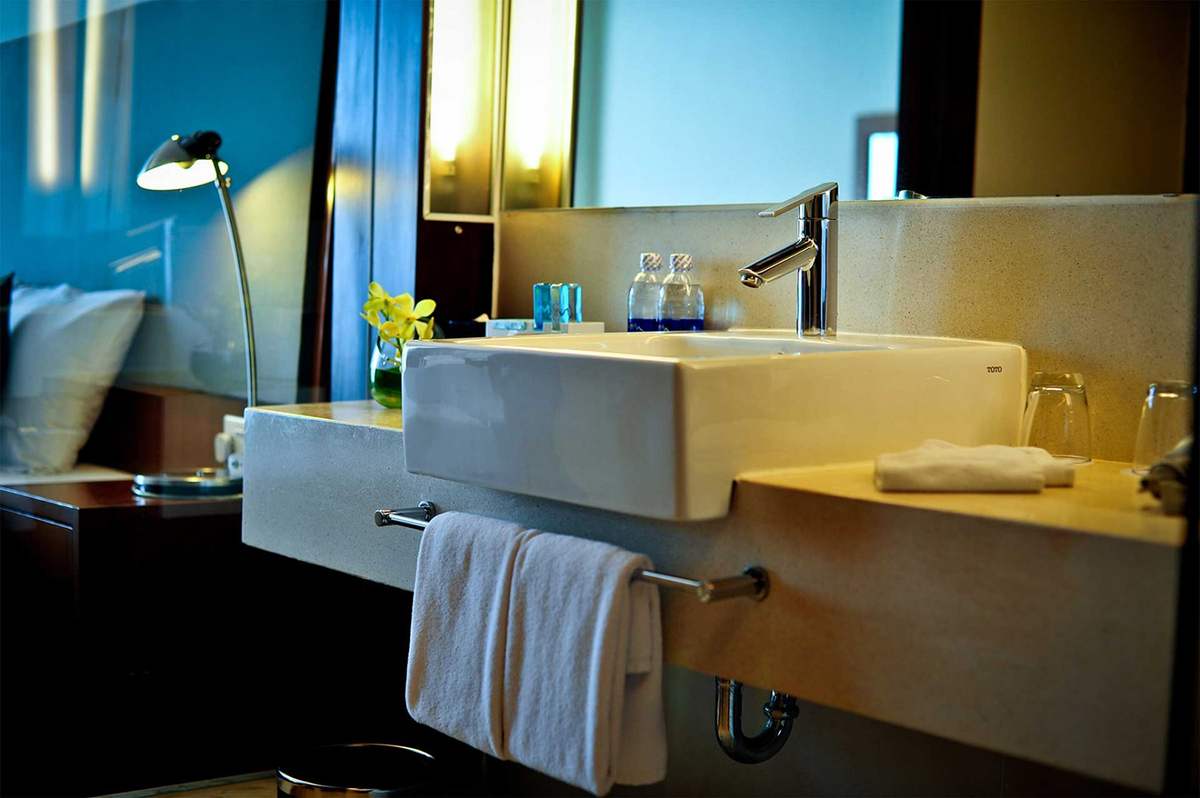 Novotel Nha Trang Facilities Review
The Square restaurant located on the 1st floor of Novotel Hotel specializes in serving themed buffet meals from fresh seafood, grilled food, lamb to traditional French dishes and complimentary soft drinks, beer, and wine every night. Operating hours are 6 am to 10 pm, especially with room service or use at the public beach.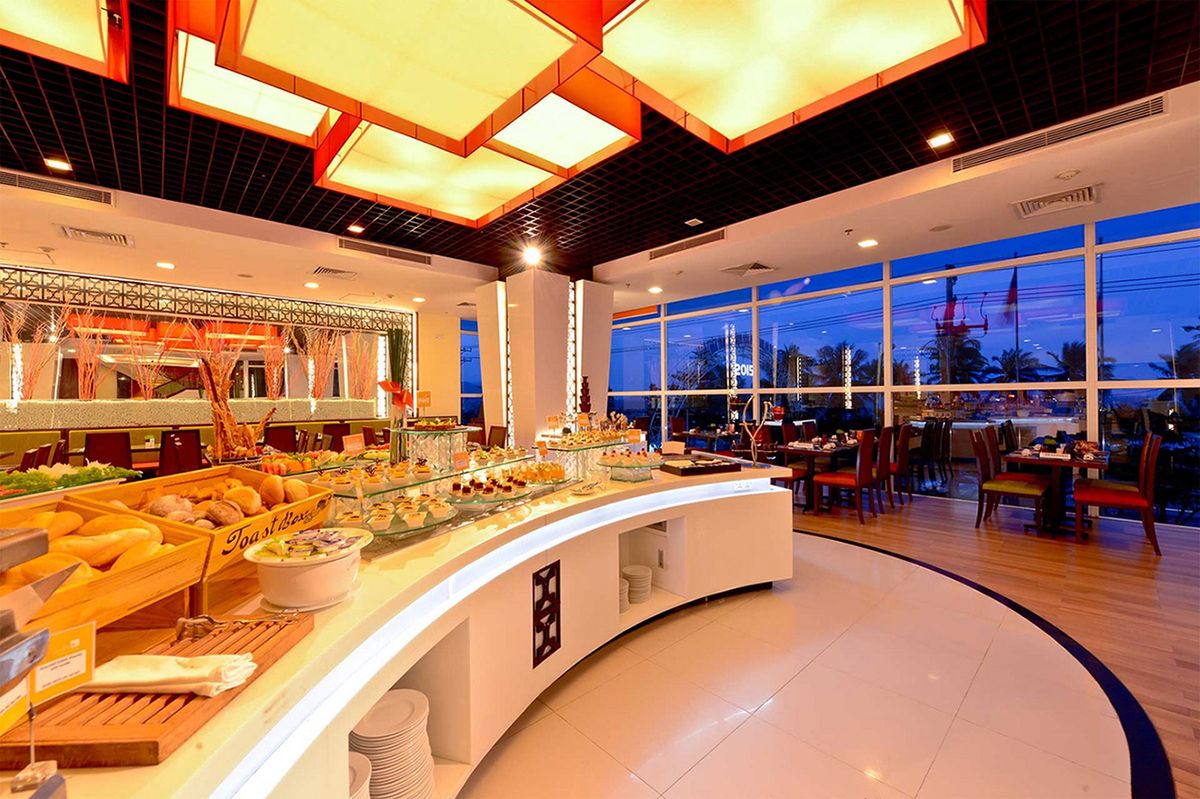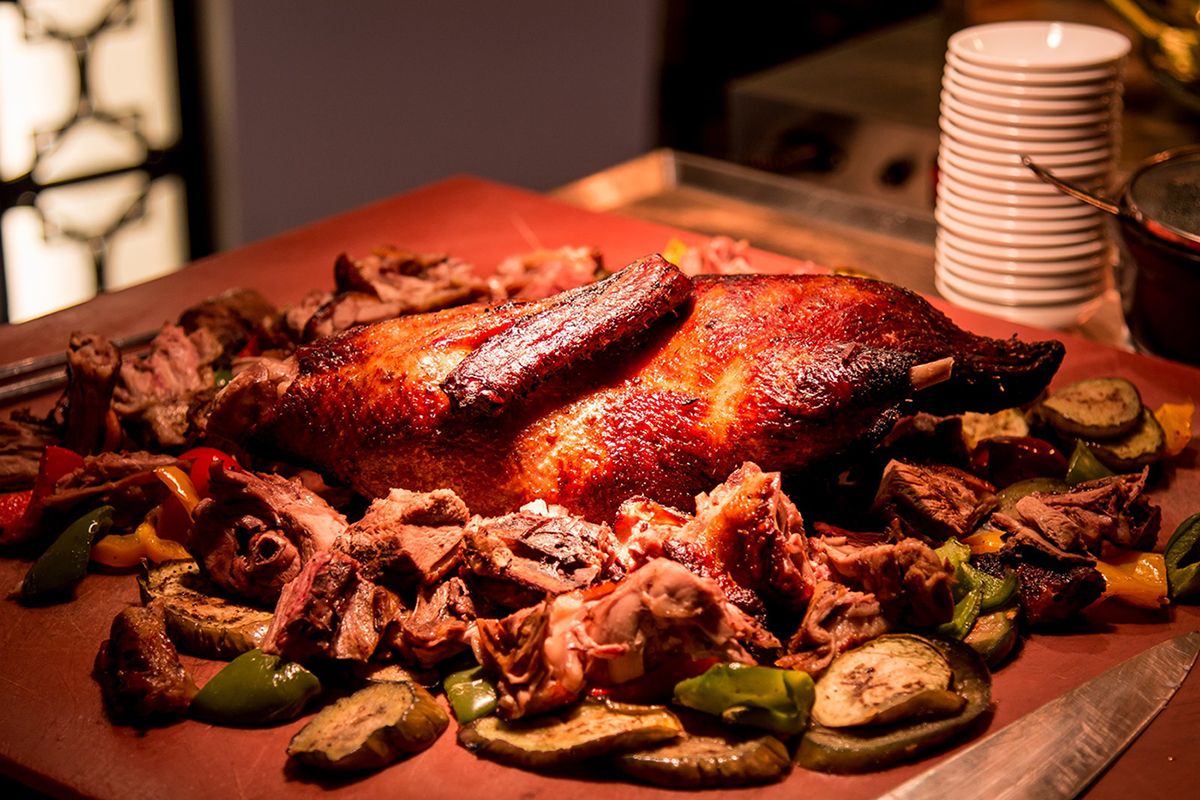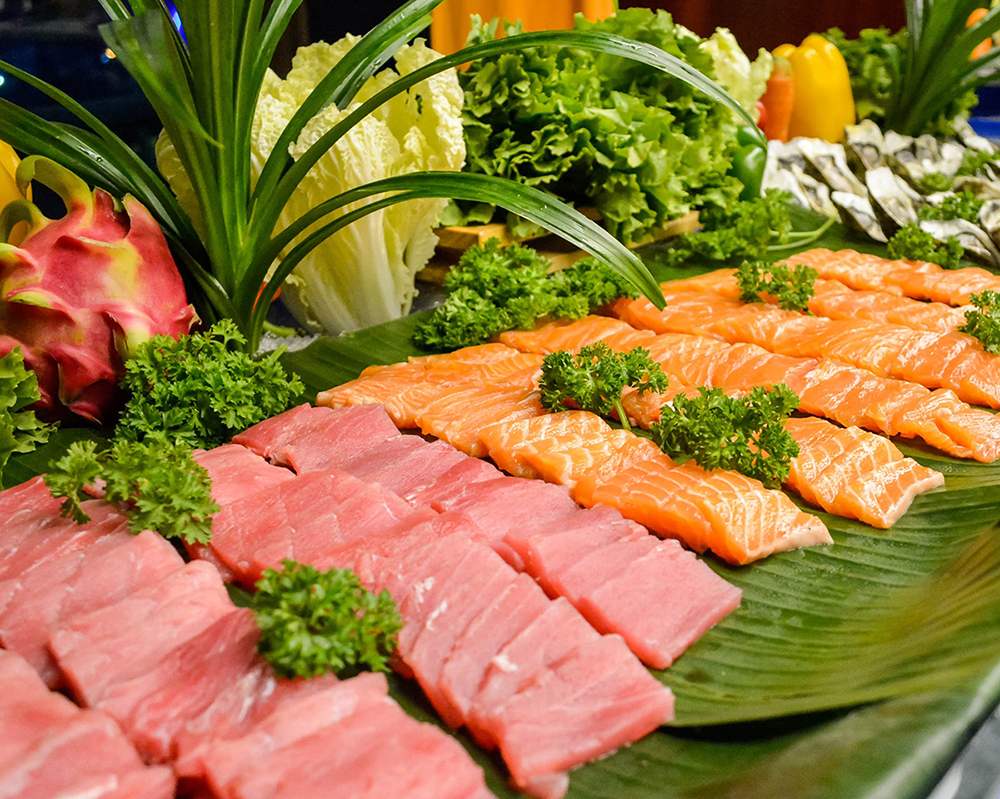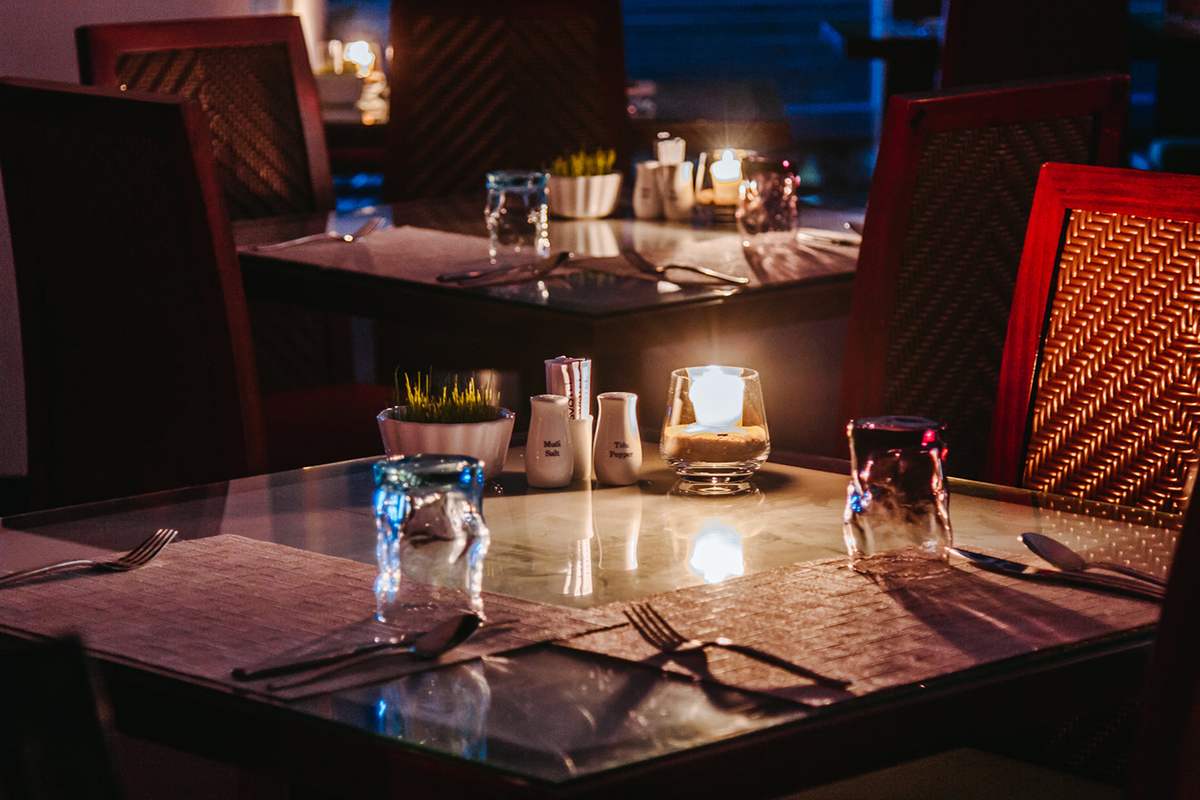 Le Bar in the main lobby
The Square restaurant also serves various drinks, but if you want to relax gently in a cozy space, you can also go down to Le Bar located in the main lobby. 
Le Bar is ideal for visitors to chat with friends and relatives, have coffee, cocktails, beer, and sip snacks until 10 pm. A small tip for you Le Bar always has a lovely golden hour promotion; buy 01 gets 01 free from 15:00 to 20:00 every day.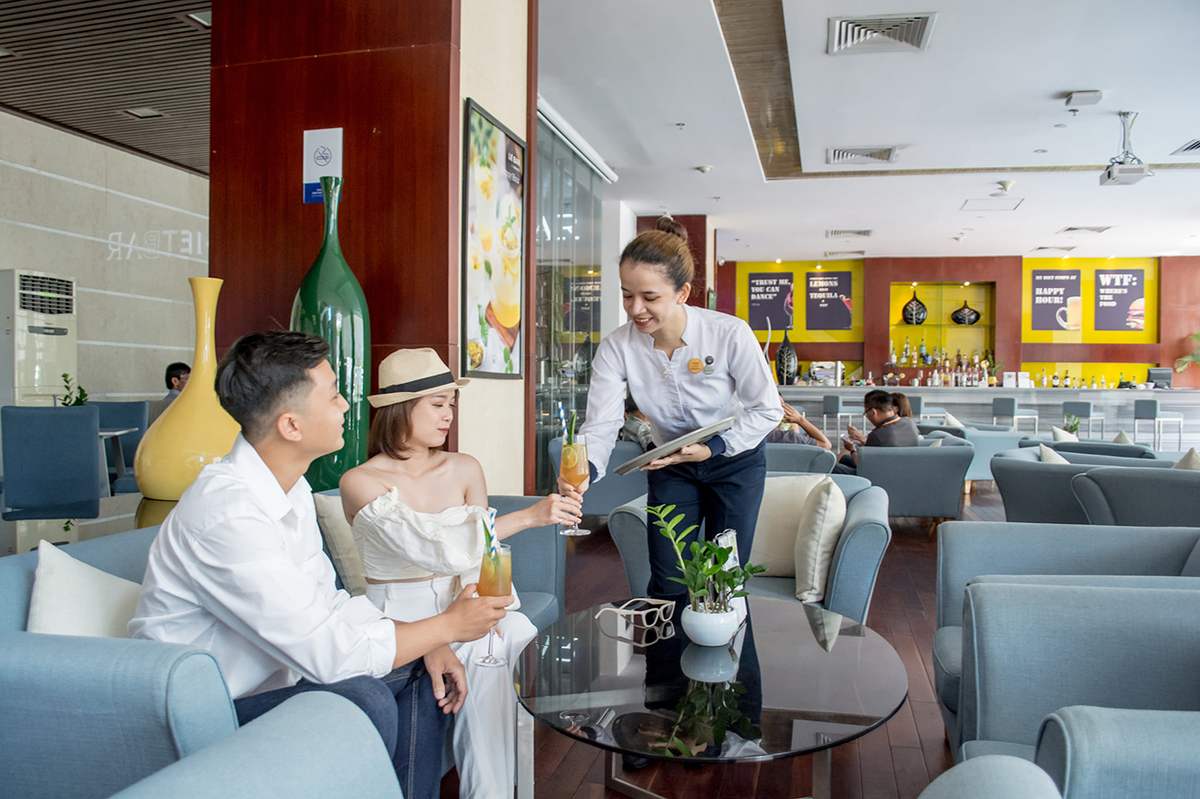 Bellevue meeting room
You may not know, Novotel Nha Trang is also a place that provides a spacious meeting and meeting place with Bellevue meeting rooms up to 250m2, equipped with a modern sound and projection system with a view of the open sea. Customers can order tea parties, dining on request, and assist in setting up tables and chairs, luxurious podiums.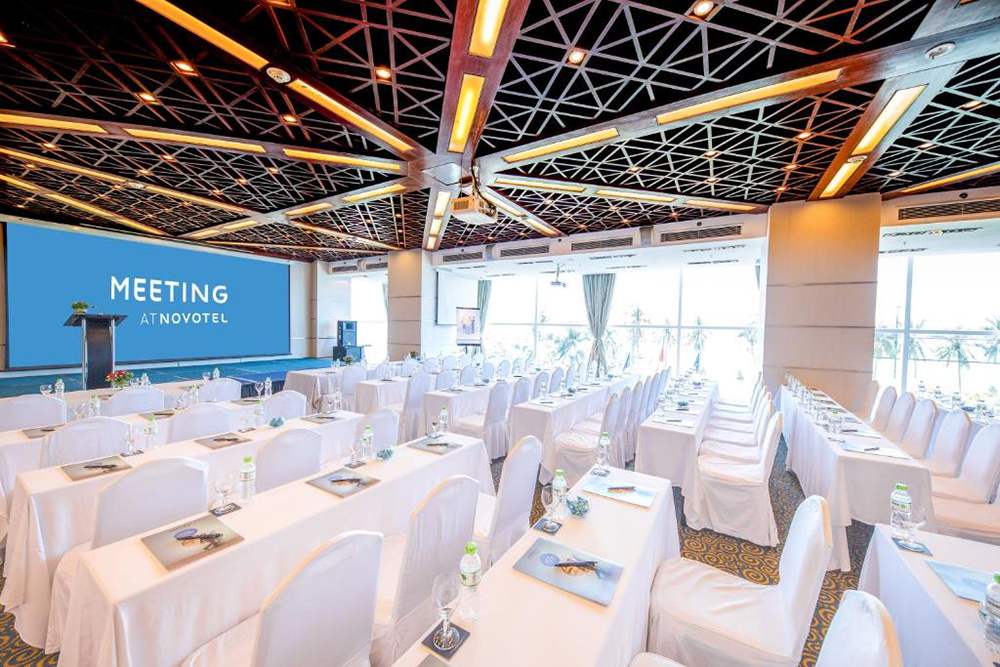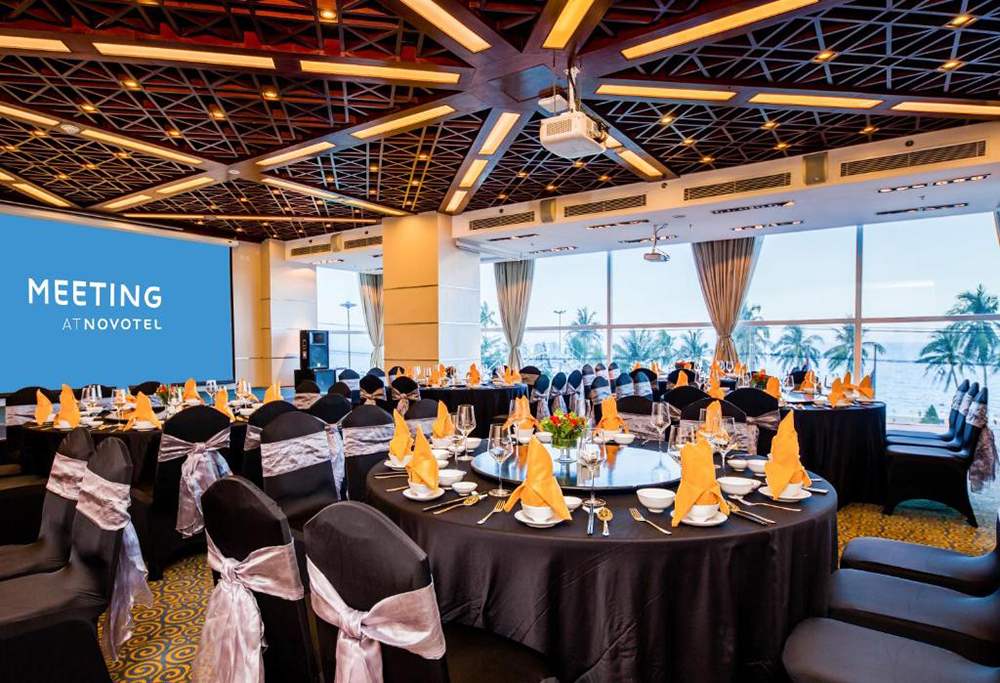 Swimming pool with bar
There is nothing more wonderful than admiring the beauty of Nha Trang city from the hotel's overhead swimming pool, immersing in the cool water next to your favorite cocktail. Regardless of night or day, it has its beauty and becomes the perfect check-in place for visitors.
In addition, snacks from The Square restaurant will be quickly served by Novotel staff. Remember to save the golden hour promotion buy one get one free every day from 12:00 to 12:30; some amazing smoothies for only 40,000VND for the whole day!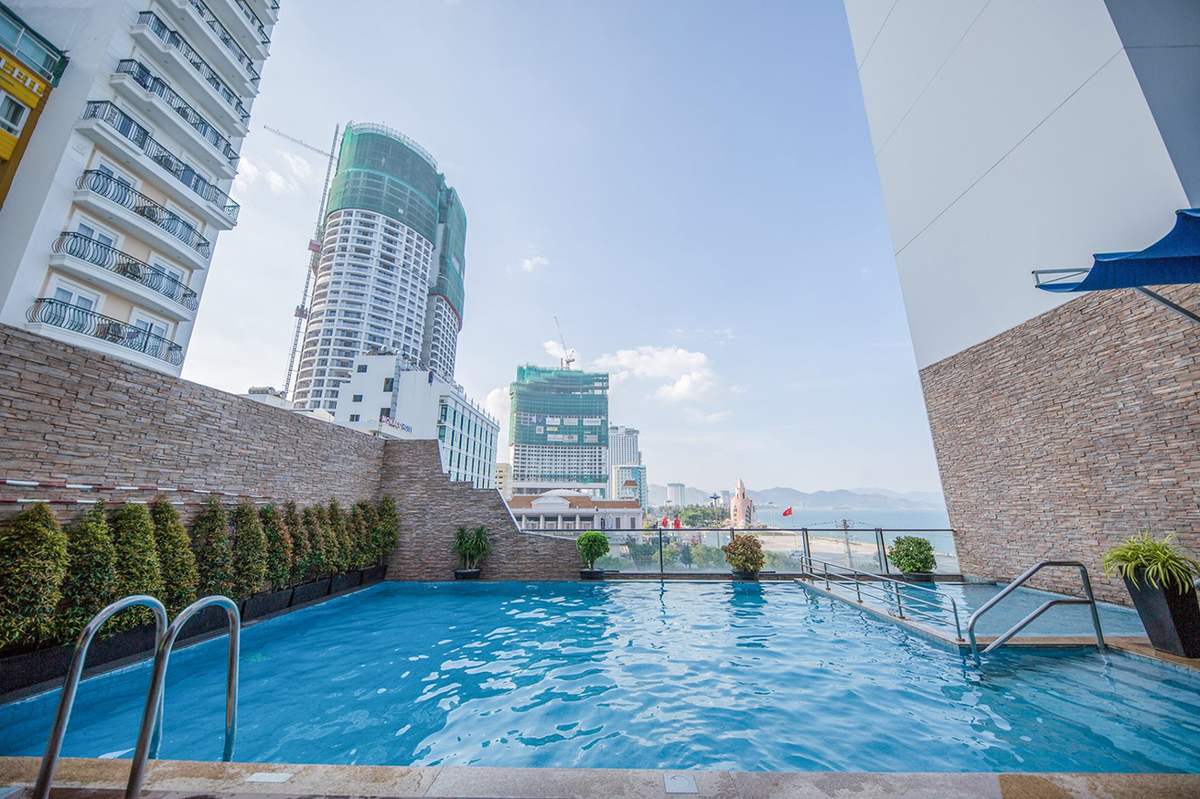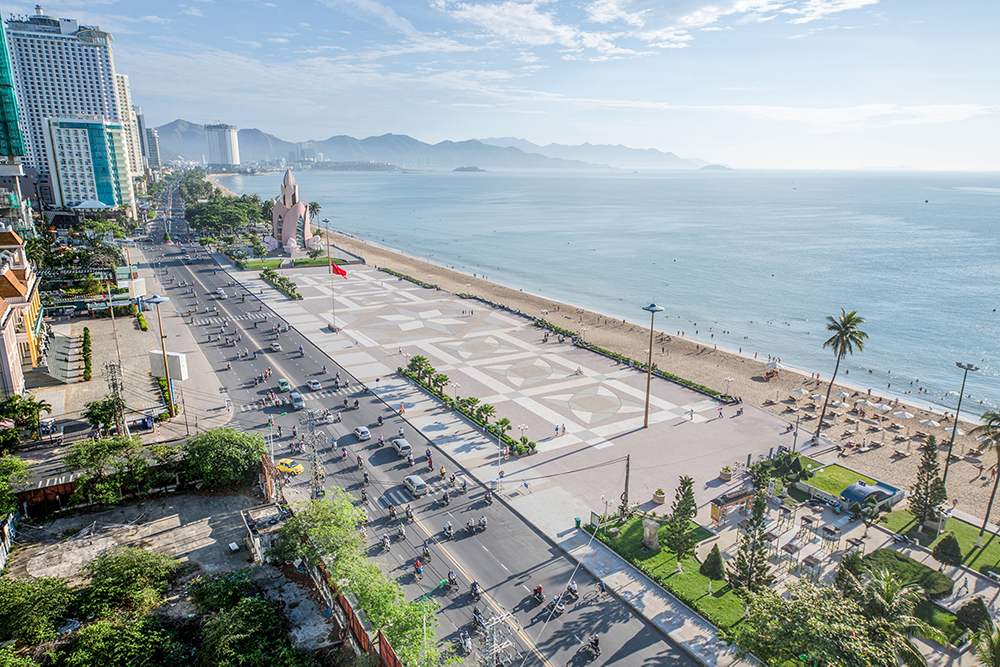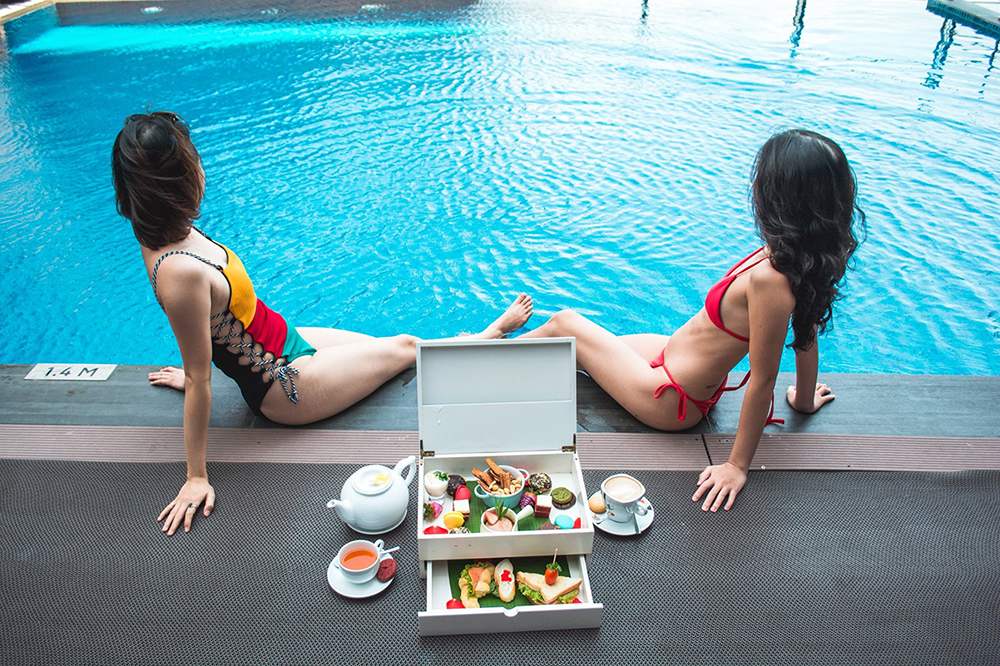 Modern Gym and Spa – Novotel Nha Trang Review
In Balance Fitness gym includes modern equipment to ensure the quality of training sessions, changing rooms are available with towels, sauna, and dry sauna for free.
In Balance Spa uses 100% natural products of Render-Vous, with a team of professional, well-trained technicians.
Novotel Nha Trang deserves to be a 4-star hotel when meeting a high-class gym and spa, maintaining the dream body and comfortable spirit for visitors.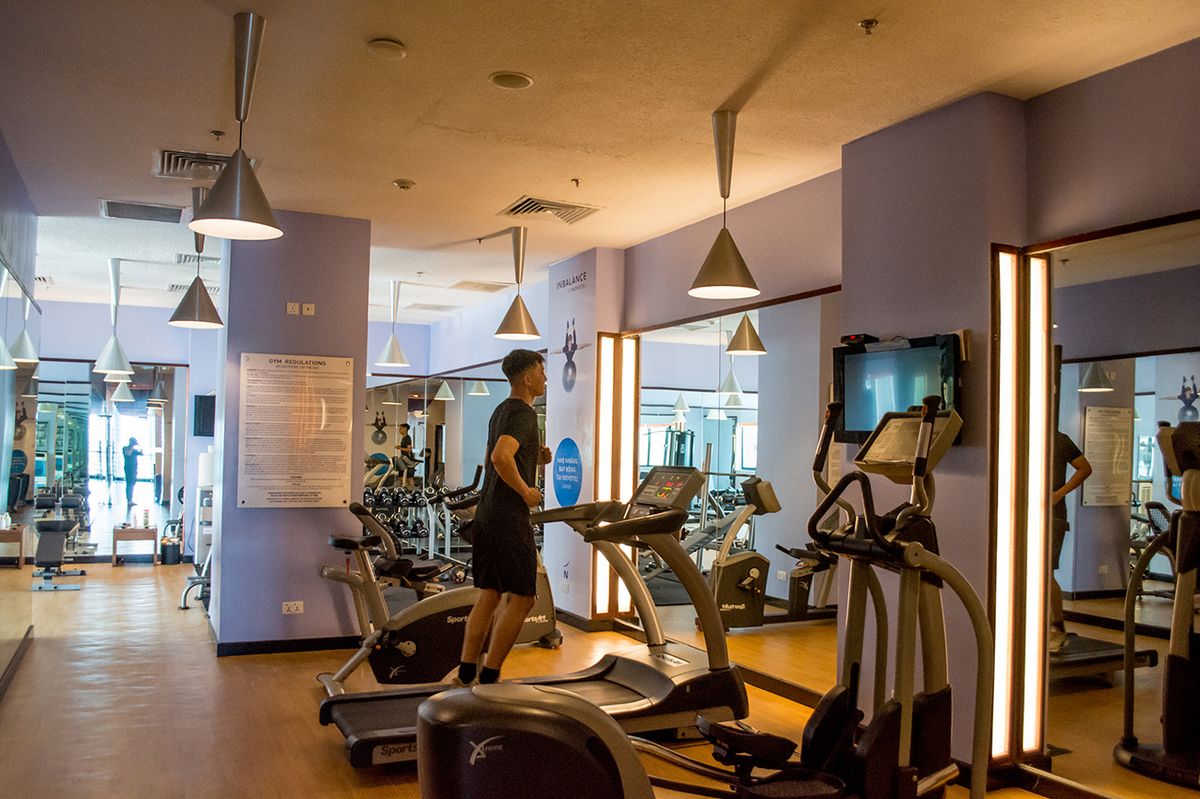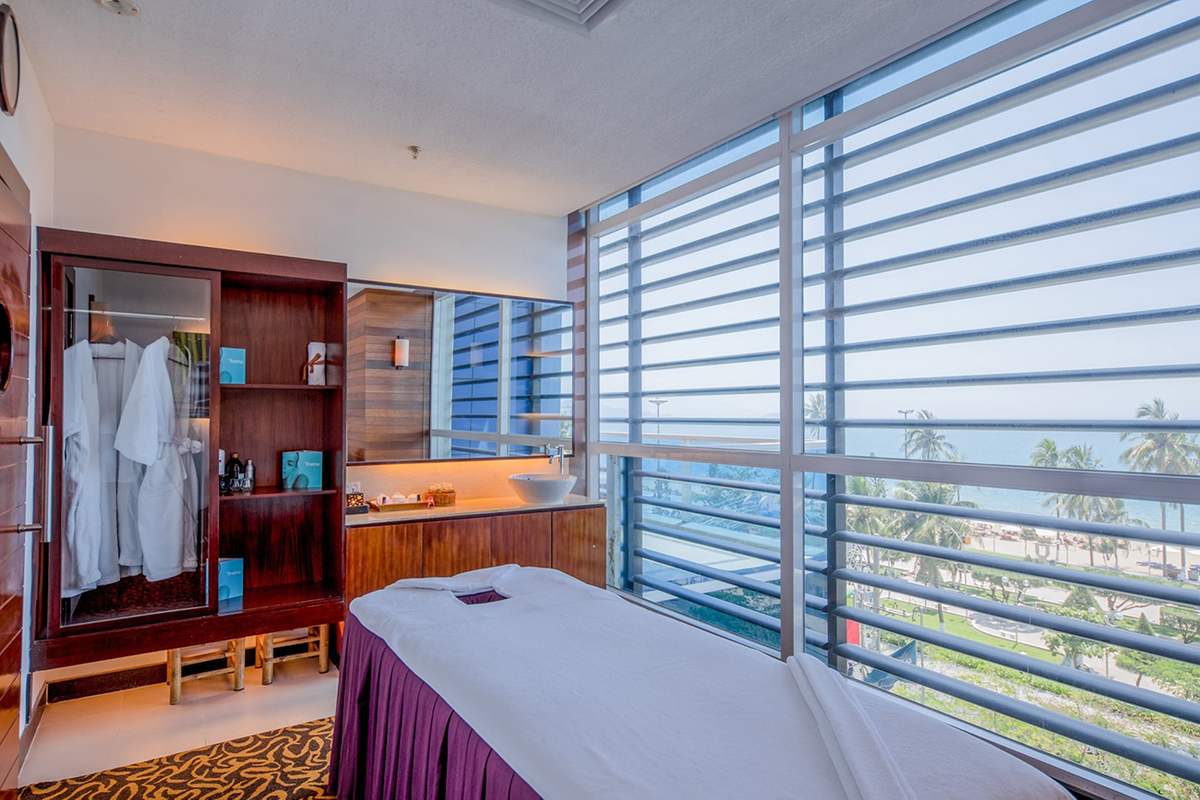 Standing tall on the main road right on the coast of Nha Trang, the 4-star Novotel Nha Trang hotel clearly shows the quality and class that is different from the neighboring hotels. Especially affordable price, perfect location, and many high-class utility services make everyone want to stay here once.