Cuc Phuong National Park is an attractive destination in Ninh Binh for those who love to explore nature. This article will share the most necessary travel experiences in Cuc Phuong National Park.
Brief introduction of Cuc Phuong National Park
Cuc Phuong National Park is also known as the Cuc Phuong forest. This wood is a large nature reserve located on the boundary of three areas: Northwest, Red River Delta, and North Central Coast. The area stretches across three provinces: Ninh Binh, Hoa Binh, and Thanh Hoa. Cuc Phuong Park is located in the Tam Diep mountain range, about 120 km south of the center of Hanoi capital. With an area of ​​approximately 22,408ha, this place is currently the habitat of a vibrant and diverse ecosystem.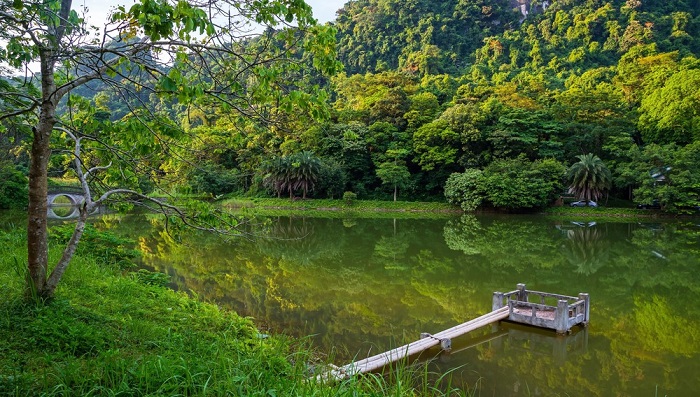 The Cuc Phuong National Park travel experience that you should know
What time of year should you travel to this National Park?
In the rainy season, there is a large amount of rain in the Cuc Phuong forest. If you go around this time, your trip will be significantly affected. According to the travel experience of Cuc Phuong National Park shared by many people, you should come here in the dry season, the period from December to April next year. Now the weather is dry and rarely rainy, so it will be very convenient for your journey to explore the Cuc Phuong forest.
How to move to Cuc Phuong
Passenger cars
Passenger buses are always a popular choice when traveling from Hanoi to Ninh Binh. At Giap Bat bus station every day, there are still many bus trips running Hanoi – Ninh Binh, you can choose. You can ride the bus of Duc Hanh garage starting from Giap Bat at 10 am daily or Phu Duyen bus leaving at 3 pm daily. The bus will let you down at the bus station of Nha Quan – Ninh Binh. From here, you continue to take a bus or taxi to Cuc Phuong National Park.
Go by personal means
If you have your car, you can also drive yourself. You just follow the Ninh Binh highway. At the end of the road, turn to Highway 1 A. When you head to Ninh Binh city, turn to Trang An. Through the Bai Dinh tourist site, Dong Chuong Lake will reach Cuc Phuong National Park.
Great experiences that you should not miss
Camp at Cuc Phuong forest
Cuc Phuong Park is an ideal place for camping or organizing picnics in which the most beautiful place in Cuc Phuong for camping is Bong village. There are many high and flat land covered with dense foliage so very cool. Also, there are squares lined with cement to serve the camping needs of visitors. However, a travel experience in Cuc Phuong National Park, you should know that if you plug in the day, there will be no charge, and if you plug in overnight, you will have to pay a small fee there.
Walk to explore the primeval forest
Cuc Phuong has dense ancient forests that have an extraordinarily cooling and pleasant atmosphere. Coming here, everyone wants to explore these forests. And to meet this demand, the Cuc Phuong forest management board has built walking paths through the woods, paved with concrete. Just walking in the forest, listening to the birds singing, the sounds of animals calling each other, and breathing the fresh air here is terrific.
See colorful birds
With a fresh environment, Cuc Phuong National Park is an ideal habitat for many different species of birds. There are 308 species of birds, including many rare and endangered species such as red-headed woodpeckers, white pheasants, brown herons, zebra-tail tail, etc. Therefore, when coming to the national park Gia Cuc Phuong, do not miss the opportunity to see the beautiful birds here.
Explore the caves
Cuc Phuong has not only beautiful natural landscapes, diverse ecosystems but also has many beautiful caves for us to explore. Each cave here has its beauty, containing countless interesting things no less mysterious. Some of the most famous caves here that you should explore are Trang Khem cave, Mang Chieng cave, Nguoi Xua cave, Con Moong cave, etc.
See the old trees
Cuc Phuong is an ancient forest with a large area and is strictly protected by the Vietnam government. Therefore, at present, there are still many grand old trees with hundreds of years of age. Some famous trees attract many visitors here, such as the ancient tree with a height of 45m, a diameter of 5m, or a thousand-year-old game tree or an old crocodile nearly 50m high with massive roots.
Above are some experiences of Cuc Phuong travel that we want to share with you. Hopefully, it will be useful for you in the upcoming trip.
Source: dulichvietnam.com.vn