Talking about Sapa tourism, people often think of famous places such as the majestic Fansipan peak, peaceful and poetic Cat Cat village, or poetic and lyrical Ham Rong mountain. In recent times, there is a place that young people usually check-in is the O Long tea hill. This place attracts visitors by the rare scenery of green hills, especially the breathtaking cherry blossom hill.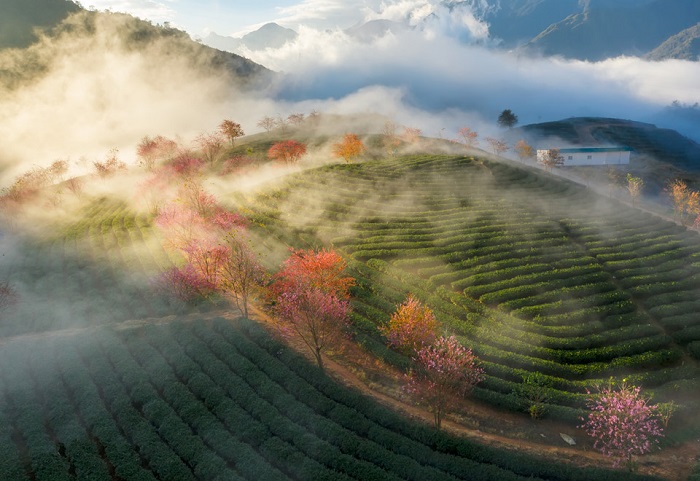 Brief introduction to O Long tea hill
In Vietnam, we have many beautiful and famous tea hills located in Thai Nguyen, Moc Chau, Son La, or Da Lat. However, rarely do tea hills possess a unique and lovely beauty like O Long tea hill. This tea hill is Highway 4D, about 7 km northwest of Sapa town center, Lao Cai.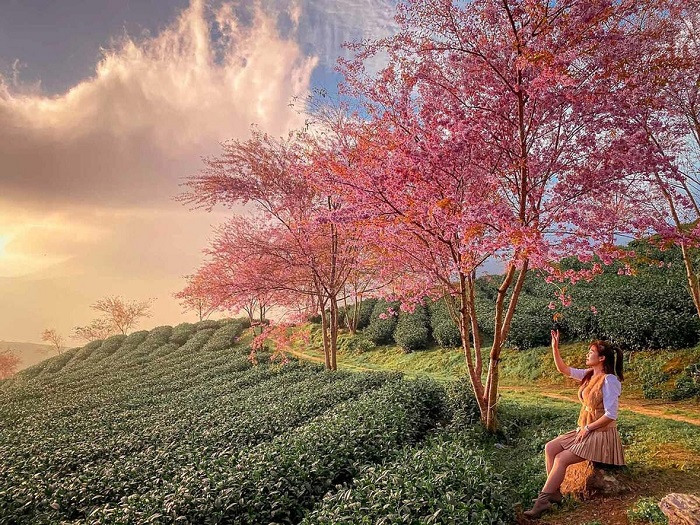 O Long tea hill is located at about 1800 meters above sea level and is looked after and managed by a H'Mong family. Although it is a not new place, not everyone who comes to Sapa knows this place when coming to Sapa.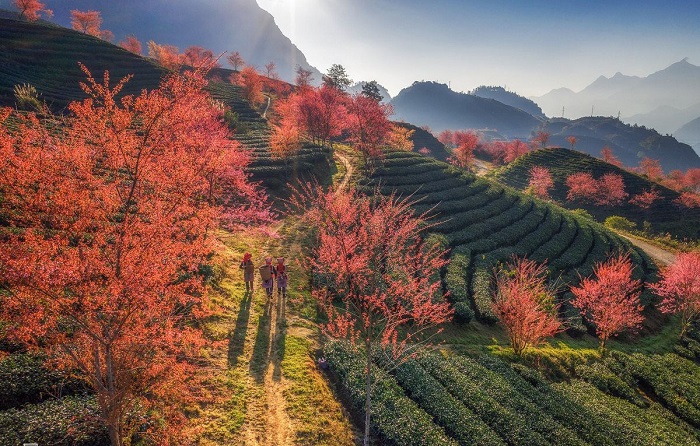 O Long Tea Hill possesses the beauty that makes any visitor be surprised. Showing up in front of your eyes is the image of green hills. Dotted on it are cherry blossom trees with vibrant pink color or forest plum trees growing alternately—all combined to create a natural poetic, lyrical, but equally lively picture.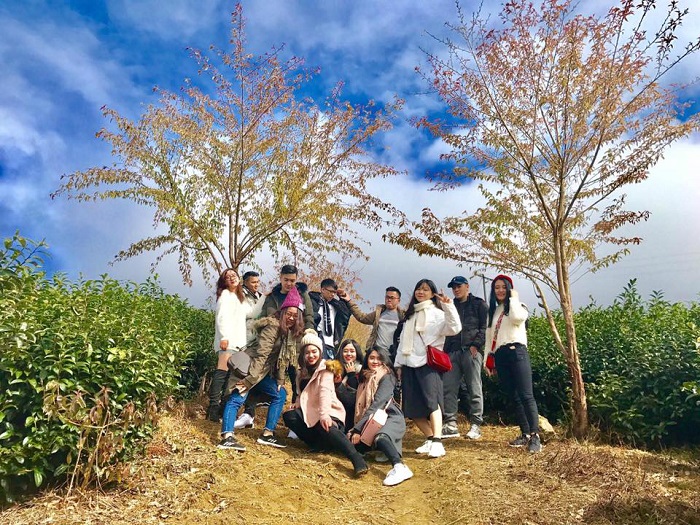 Way to O Long tea hill
O Long tea hill is quite easy to find as it is located only about 7km from the center of Sapa town and right near the highway. It would be best if you went along QL4D from the town center to Kindergarten. To 3 will see a small road on the right-hand side. You turn on this road, continue about 500 meters, and you will arrive.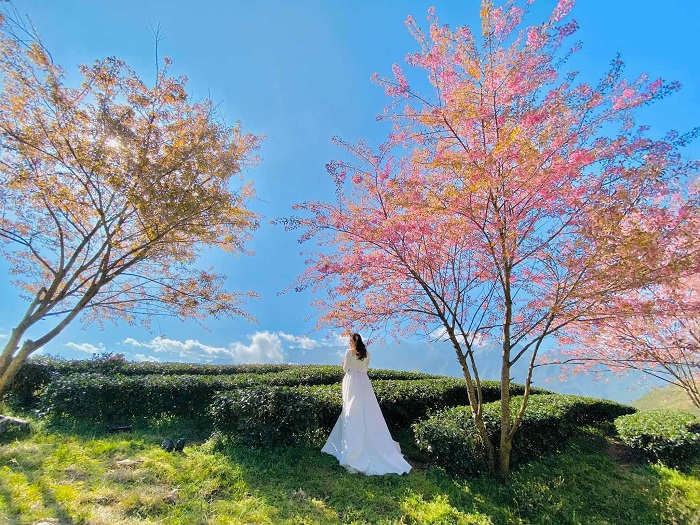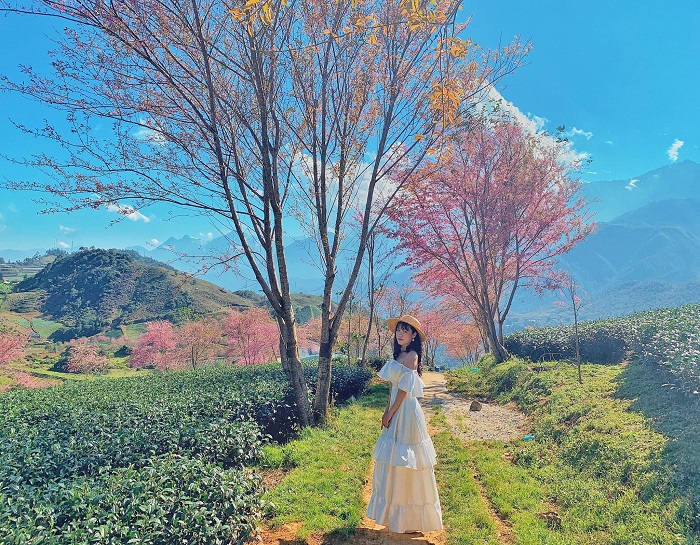 What time of year should you visit O Long tea hill?
Sapa is a popular tourist destination that you can visit at any time of the year. However, the ideal time to explore this place is the end of the year, from November to January next year. This is when the green tea hills are beautiful, and the cherry blossom trees begin to bloom, creating a captivating scene.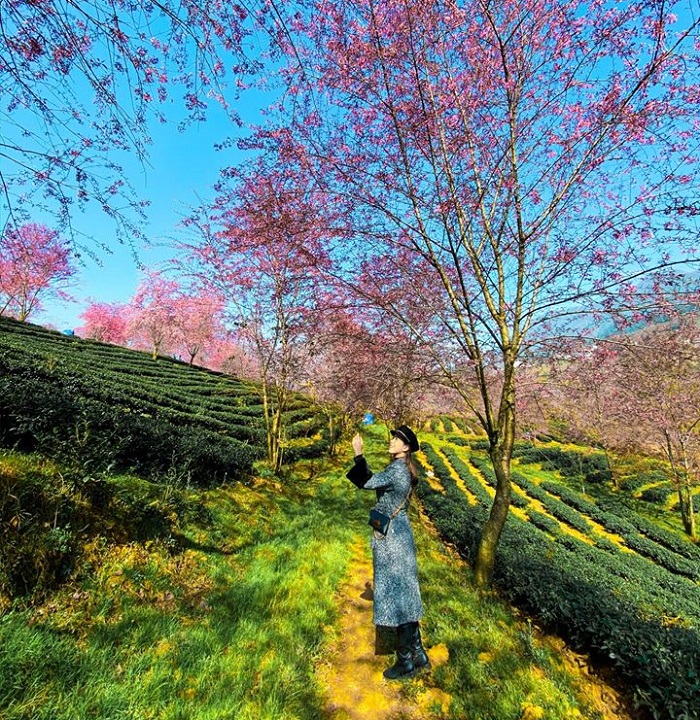 If you want to admire the extreme beauty of the O Long tea hill , you should come here at dawn or dusk.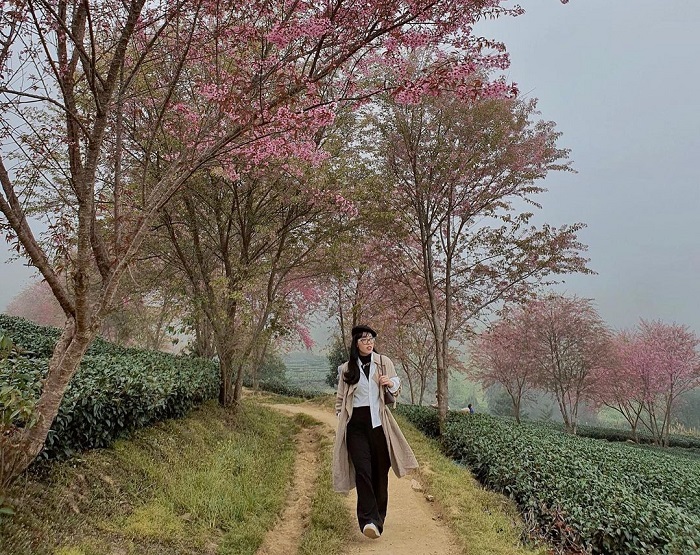 Ticket price to visit O Long tea hill
O Long tea hills are grown to supply production materials for a tea processing factory owned by a Taiwanese businessman and managed and kept by a H'Mong family. This tea hill is registered as an agricultural business, so it is not allowed to sell tickets. So you won't need to buy a ticket. However, to visit O Long tea hill, you need to ask for permission to protect.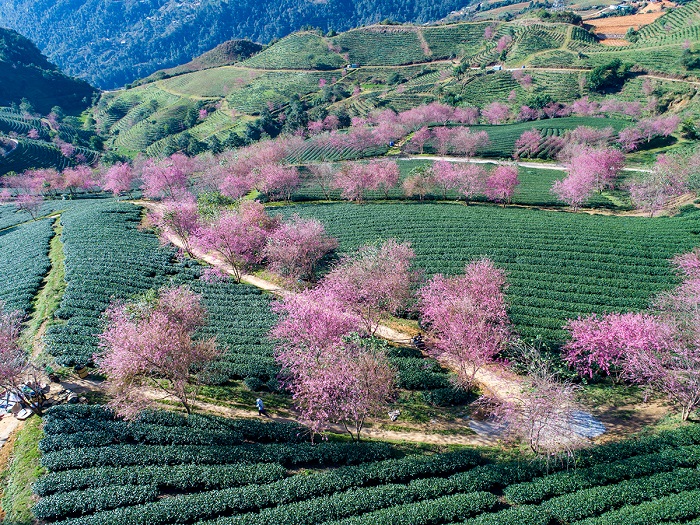 Interesting experiences when coming to O Long tea hill
Admire the beauty of O Long tea hill from above
Even if viewed from any angle, O Long tea hill is magnificent and perhaps most impressive, especially when viewed from above. Green tea hills are like giant bowls upside down. They are neatly trimmed and deftly trimmed by the worker's hands, making the scene more eye-catching.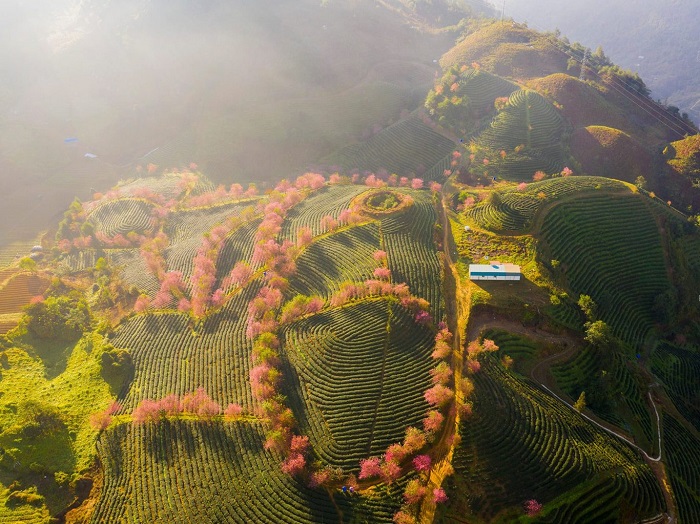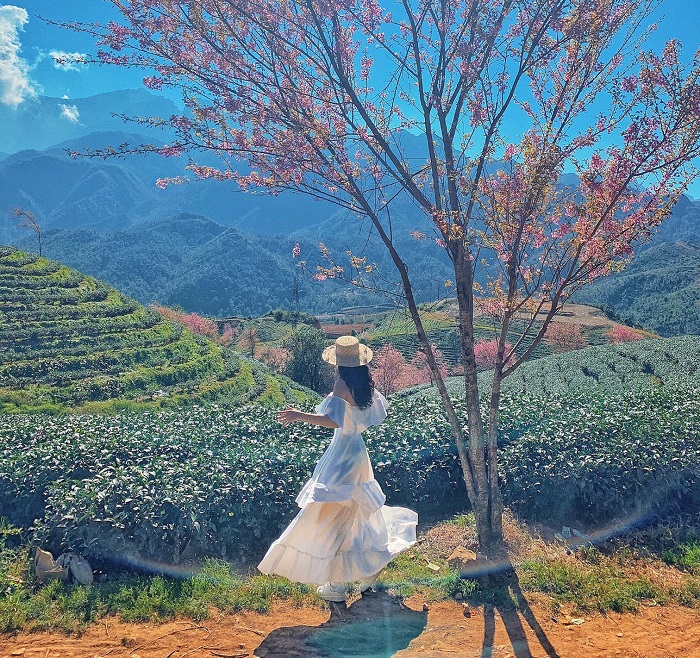 Check in the most beautiful cherry blossom hill in Vietnam
What makes O Long tea hill so special compared to many other tea hills in Vietnam is alternating cherry blossom trees. The vibrant pink cherry blossoms combine with the tea hill's green to create a beautiful and different beauty. Cherry blossoms usually bloom best around January of the calendar. And here, for sure, you will get super quality virtual live backgrounds.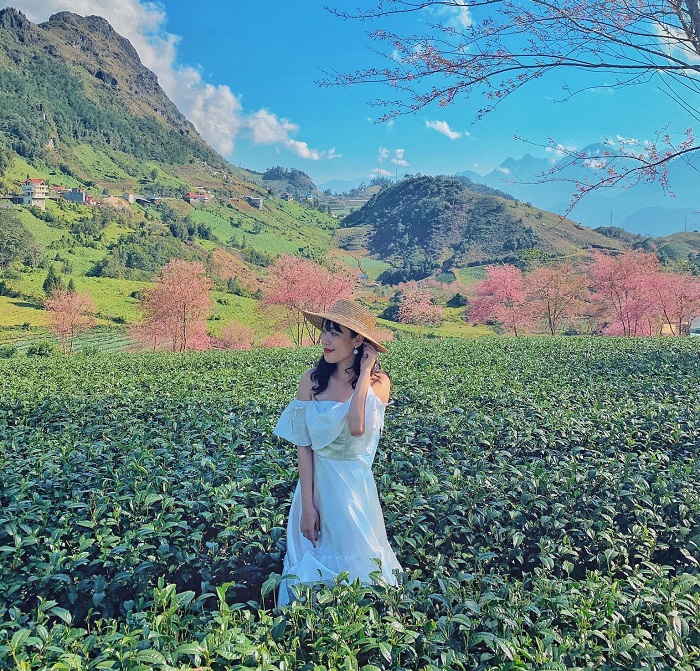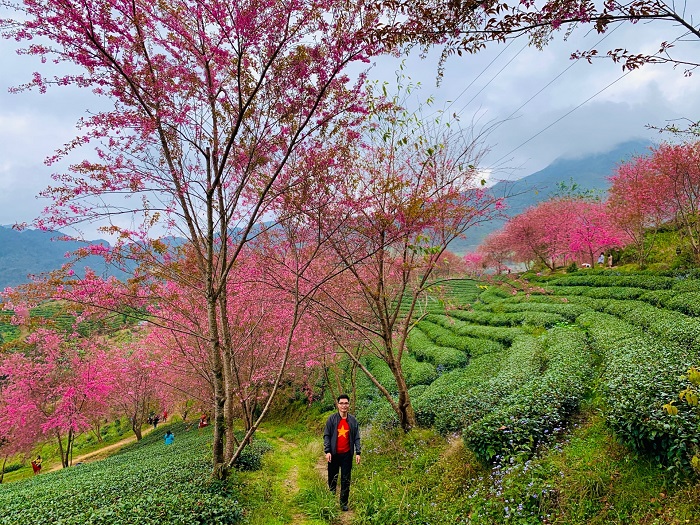 Visiting tea processing factory
Traveling to O Long tea hill, you are immersed in the poetic and lyrical natural scenery. You have the opportunity to visit the tea processing factory and learn about the entire tea production process. This will definitely be an unforgettable experience in life.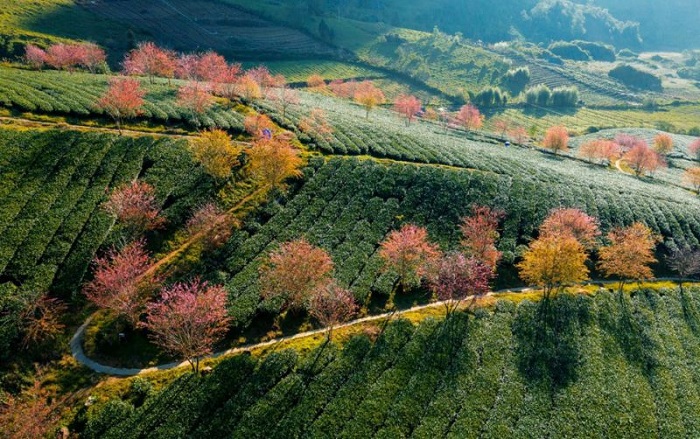 A few notes when visiting O Long tea hill
When visiting the tea hill, visitors should pay attention to maintaining environmental sanitation, absolutely not littering indiscriminately, not breaking trees and flowers.
If you go in winter, you need to wear warm enough to protect your health.
When applying for permission to visit the tea hill, you need to be gentle and skillful to receive consent.
O Long Tea Hill deserves to be a check-in place not to be missed when coming to Sapa. What are you waiting for? Why don't you pack and explore this exciting place this winter? Don't forget to follow our latest Lao Cai travel news.