One of the must-go destinations when traveling to Bac Kan is Ba Be Lake. To help you have a complete and memorable trip, we will share the most necessary travel experiences in Ba Be Lake.
Introduce briefly about Ba Be lake
Ba Be is a beautiful freshwater lake, one of the top 100 largest freshwater lakes in the world. Ba Be Lake is located on the campus of Ba Be National Park in Nam Mau Commune, Ba Be District, Bac Kan Province, about 240km from the center of Hanoi City. The reason the lake is called Ba Be is that the lake is divided into three different branches with names, respectively: Pe Lam, Pé Lèng, and Pé Lu. On rainy days, the water level in the lake falls between 20 and 25m. In the shallowest days, the average water level also ranges from 5 to 10m.
Ba Be travel guides that you need to know
Ba Be Lake is surrounded by majestic rocky mountains and dense primeval forests. Therefore, the atmosphere here is always cooling and pleasant. In general, you can visit Ba Be Lake at any time of the year. However, according to Ba Be Lake travel experience, you should go in the summer. Besides, if you want to participate in the vibrant and bustling festivals, you can come here on the 9th and 10th of the first lunar month every year.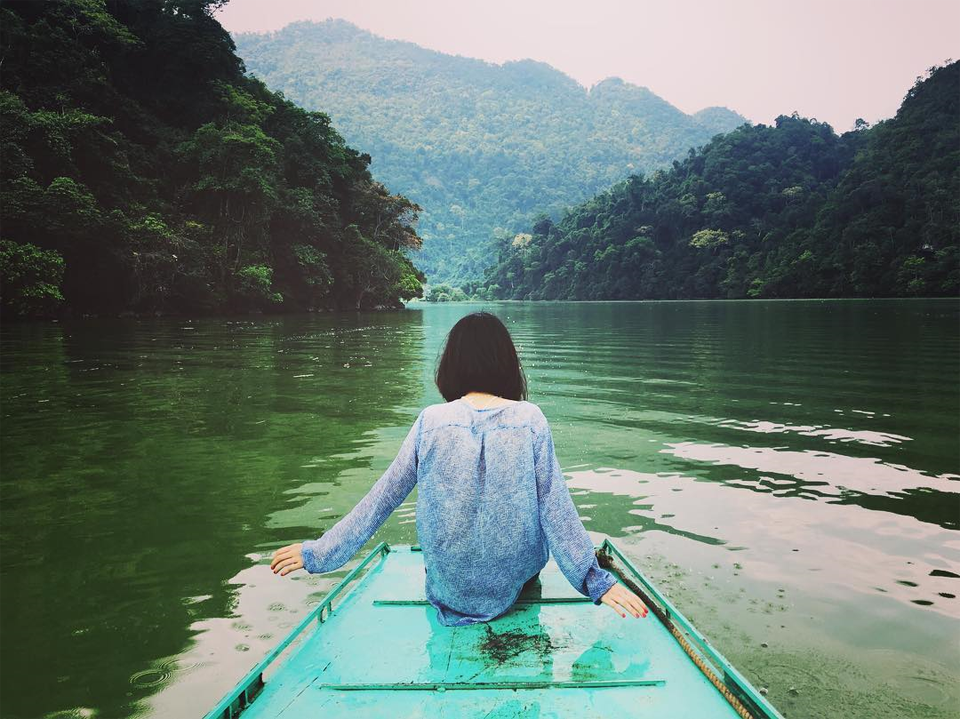 How to move to Ba Be
Go by motobike
For young people who like to explore and conquer, motorbikes are always the ideal vehicle. However, the distance from Hanoi to Ba Be is quite far, about 240km so you need to prepare carefully before the trip. If you are traveling from Hanoi, you should follow NH3 to Bac Kan province. Then continue to find your way to Phu Thong town and turn left to follow TL 258 about 40km to reach Ba Be.
Travel by coach
If you do not have Ba Be tourism experience or are not very familiar with the road, there is another way that you can choose that is to take a bus. You can easily catch a car at My Dinh bus station. According to Ba Be Lake travel experience, you should go by Thuong Nga company, usually depart at 15:15 daily. Ticket prices will range from 100,000 to 150,000 VND
Where to stay at Ba Be Lake?
Currently, the service of motels and hotels in Ba Be Lake has not been very developed. The most popular type of accommodation here is homestay.
According to Ba Be travel experience, here are some good homestay that you can refer to and choose:
Mr Linh's Homestay
Address: Ban Coc Toc, Nam Mau commune, Ba Be
Room price from: 100,000 VND / 1 night
Ba Be Lake View Homestay
Address: Ban Pac Ngoi, Nam Mau, Ba Be
Room price from: 175,000 VND / 1 night
Hoang Chuyen Homestay
Address: Ban Pac Ngoi, Nam Mau, Ba Be
Room price from: 70,000 VND / 1 night
Quynh Mai Homestay
Address: Ban Bo Lu, Nam Mau and Ba Be
Room price from: 100,000 VND / 1 night
Where to hang out at Ba Be Lake?
Mua Ha Cave
Ba Be Lake is endowed with many magnificent and beautiful caves. One of the most beautiful and famous caves here is Mua Ha. Mua Hạ owns an impressive limestone system with different shapes and colors that will make you feel extremely excited.
Puong Cave
Another beautiful cave in Ba Be that you should explore the Puong Cave. This cave has a length of about 300m and is connected at both ends. Puong Cave is over 30m high with cliffs and beautiful limestone blocks. The deeper you go, the more you will see the mysterious and fascinating of this cave. Above the ceiling of the cave is tens of thousands of bats living.
Boat trip on Ba Be Lake
When traveling to Ba Be Lake, do not miss the opportunity to sail on the lake and enjoy the incredible beauty of Ba Be Lake. If traveling in small groups, you can rent a boat for only about 200 to 350k. The feeling of sitting on a boat floating on a calm lake surface, watching the peaceful scenery and breathing the fresh air here is fantastic.
Dau Dang Waterfall
Ba Be has not only mysterious caves but also beautiful waterfalls. One of the most beautiful waterfalls here is the Dau Dang waterfall. It was created by the Nang River, which is contiguous between Bac Kan and Tuyen Quang provinces. The terrain here is not very flat, so conquering the Dau Dang waterfall is not simple. However, in return you will witness a majestic, pristine natural beauty of this waterfall.
Pac Ngoi village
Pac Ngoi village is a small village of the Tay people located at the foot of the mountain, next to the Nang river. At Pac Ngoi village, you will learn about the unique customs and practices of the Tay ethnic people here.
Above are some of the Ba Be Lake travel experiences we want to share. Wish you will have a fun and memorable trip.
Source: dulichvietnam.com.vn