The land of 'yellow flowers and green grass' is always a paradise for summer trips. If you are planning to travel to Phu Yen, the six tourist destinations in Phu Yen in the article below will be a suggestion for your trip schedule.
The best time to visit Phu Yen in the year is from January to August every year. At this time, it is sunny, there is little rain and there is almost no appearance of extreme weather.
Coming to the land of yellow flowers and green grass, the thing that gives you a headache is choosing where to have fun. Because this place has so many attractive tourist destinations. If you are looking for beautiful landscapes, do not take long to move and comfortable check-in live virtual, you can refer to the impressive 6 tourist destinations in Phu Yen below:
6 attractive tourist destinations in Phu Yen
Da Dia reefs
Traveling to Phu Yen, of course, you cannot miss "Vietnam's first beauty spot". This unique attraction is located in An Ninh Dong commune, Tuy An district. Ganh Da Dia is a collection of tens of thousands of prismatic basalt columns placed close to each other like a giant honeycomb facing the sea.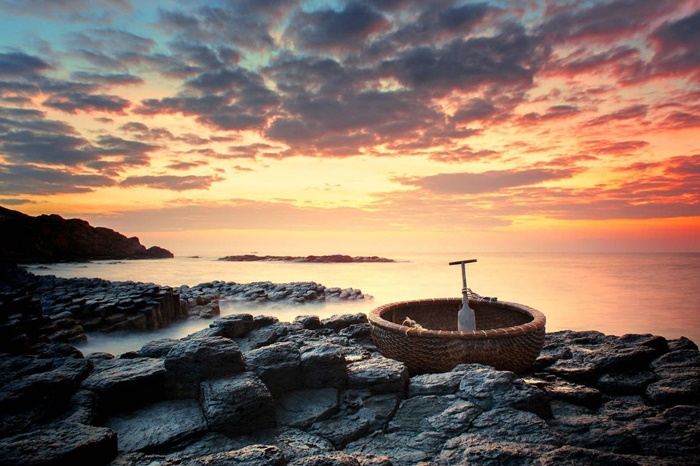 Disc Stone Disc is one of the five most famous rocks in the world. This place is especially beautiful and even a bit haunting every sunrise or sunset. Ganh Da Dia is also the place for travelers to get the most unique Phu Yen check-in photos.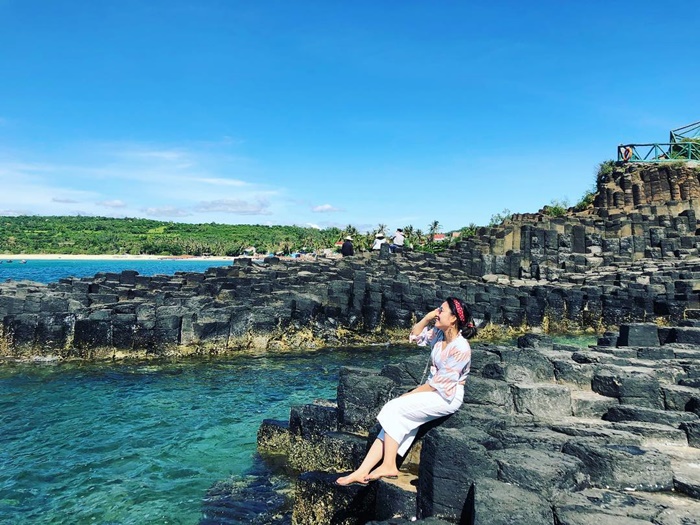 Ganh Da Dia is open from 7 am – 6 pm every day, the last hour to accept visitors is 17:30. Ticket price of Ganh Da Dia: 20,000 VND / adult and 10,000 VND / child.
Ganh Den
After visiting Da Dia reefs, you can walk about 15 minutes to Ganh Den. This place with gorgeous, pristine natural stone beaches.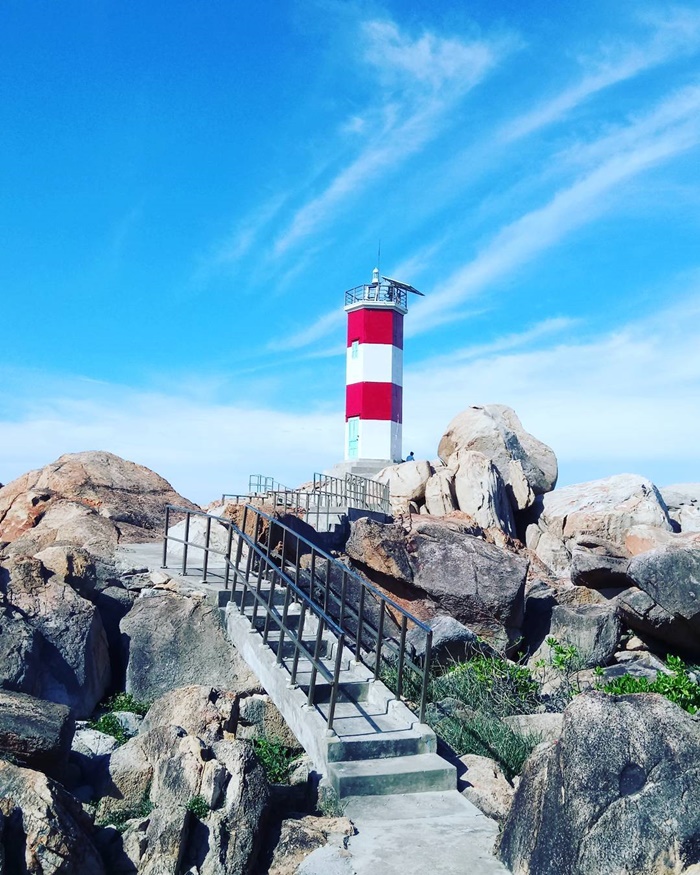 There is also Ganh Den lighthouse – one of the most beautiful lighthouses in Vietnam. Although its design is quite simply painted red and white, but extremely prominent with the surrounding scenery.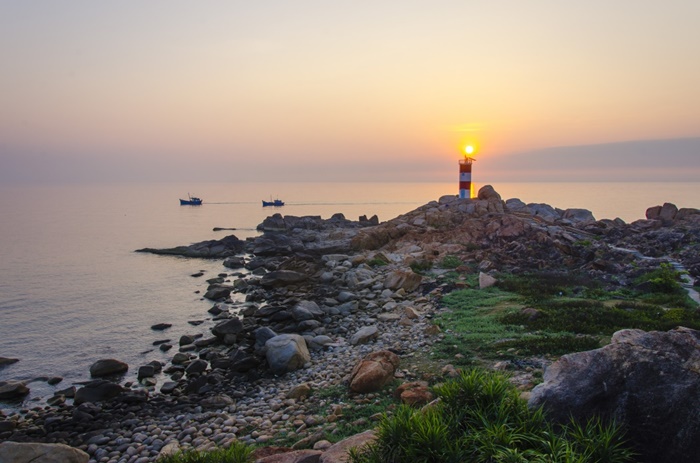 Xep Beach
After appearing in the movie "I see yellow flowers on the green grass" with beautiful images, Bai Xep has immediately become a super "hot" tourist destination. Bai Xep is located on the coast, about 500m long with a very pristine scene.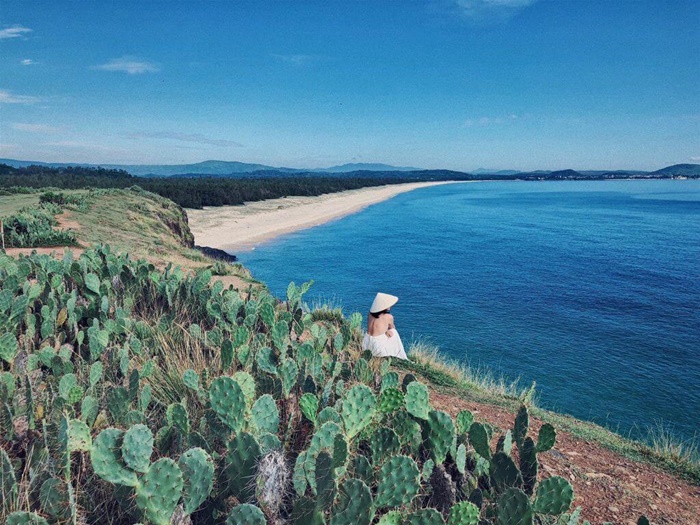 The greenery of the plants and trees, combined with the white sand and the sea, created an incredible peaceful setting. Coming to Bai Xep, you can admire the beautiful scenery around. Along with that, this place is also the place to get check-in, eye-catching virtual photos.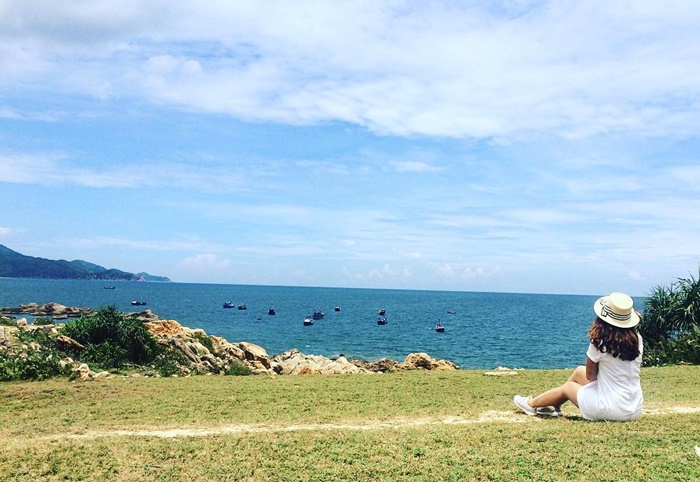 Ro Village embankment
Originally a coastal breakwater, but the unique feature of the Ro river embankment is the covering of beautiful green moss. About a year ago, it became a desirable tourist destination in Phu Yen. Coming here, you will surely get lots of stunning virtual photos.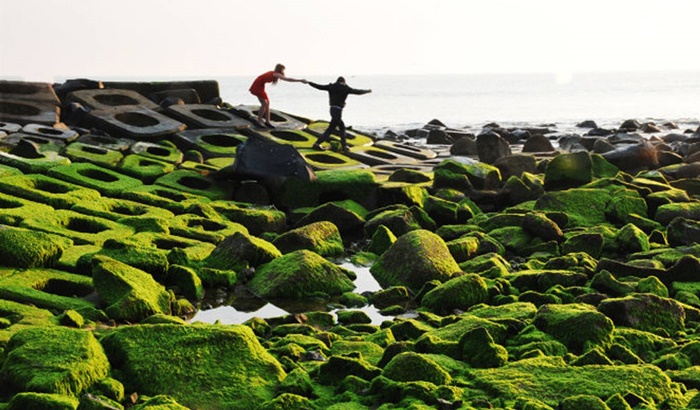 To move to Ro Village embankment, from the center of the city, you will go south, go to Hung Vuong bridge, turn to the intersection with traffic lights, then turn left.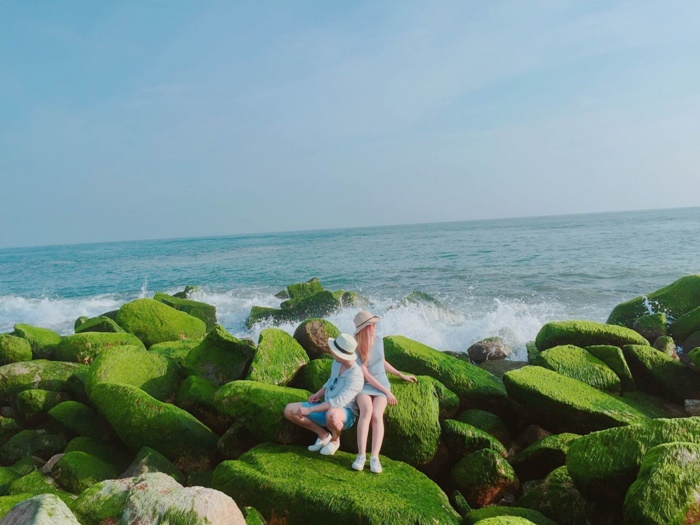 O Loan lagoon
O Loan lagoon is in Tuy An district, 20km north of Tuy Hoa city. This is one of the tourist attractions in Phu Yen that is extremely attractive. If you have the opportunity to visit O Loan Lagoon, you should stand on the top of Quan Cau Pass and admire the whole scenery of the lagoon. The water is green with many hills and sugarcane fields surrounding it.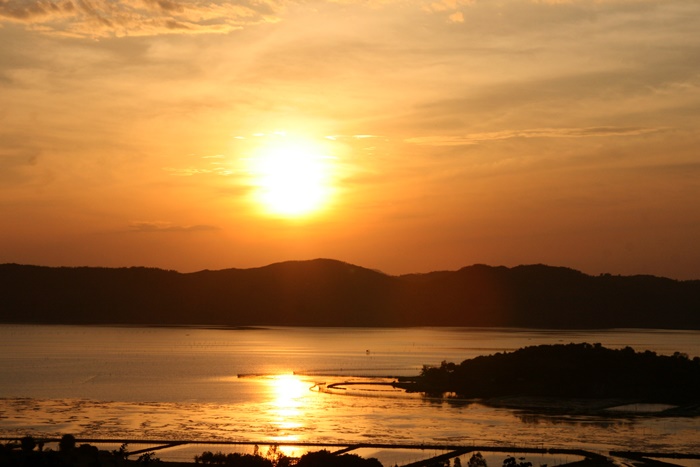 On January 7 of the lunar calendar every year, people living around O Loan Lagoon organize a traditional boat racing festival. O Loan Lagoon has also been classified as a national monument.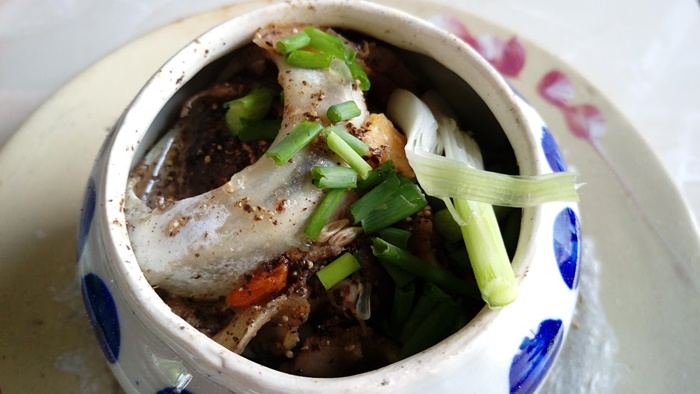 In particular, visitors who want to enjoy fresh seafood dishes, specialties of the land of yellow flowers and green grass must visit O Loan Lagoon. The most famous seafood dishes are blood cockle, shrimp, fish, king crab, grouper, tuna eye.
Dien Cape (Dai Lanh)
Dien Cape (Dai Lanh cape) in the north of Deo Ca. This place is familiar with many people who love to explore with the concept of "checking in extremely crowded". Dai Lanh Cape is the place to welcome the first sunrise across the country. If you want to admire this beautiful sunrise, you need to go very early (from about 5 am). The cape also has a Dai Lanh lighthouse built by the French in the late 19th century. Don't forget to save some pictures of this beautiful lighthouse too.

Dai Lanh Cape is located about 30km from Tuy Hoa City. Along the route to this attraction, the scenery is also magnificent. If you have a lot of time, hire a motorbike to have the best view of Tuy Hoa's landscape.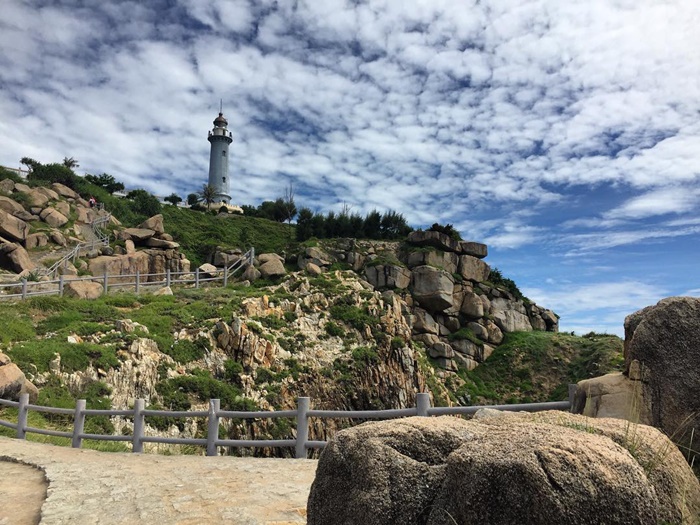 Ticket price to visit Dien Cape: Adults (from 16 years and older) 20,000 VND / person / one way. Children (from 6 years old to 16 years old) VND 10,000 / person / time.
Above are just six attractive Phu Yen tourist destinations for your summer trip to 2020. Wishing you a journey to explore this pristine, peaceful land is fun.